New Hot: The Return of the Greats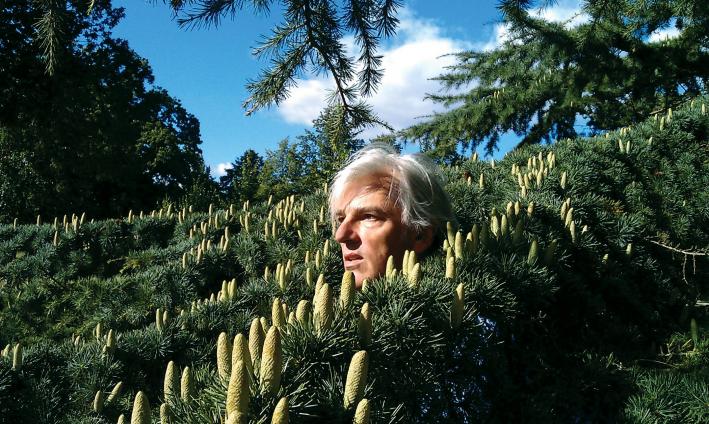 This week on New Hot, read about two new bands from Thurston Moore and Trent Reznor, as well as the next solo record from The Soft Boys' Robyn Hitchcock. These are our three recommended releases for Tuesday, March 5.
Robyn Hitchcock — Love From London
Calling Robyn Hitchcock a prolific musician is an understatement. He was a founding member of the influential proto-punk band The Soft Boys in the late '70s before moving on to a successful solo career, one which included backing bands The Egyptians and The Venus 3. On the side, he writes short stories and paints, much of which is used in the liner notes for his albums. And he acts. You may remember him in The Manchurian Candidate and Rachel Getting Married. Hitchcock is turning 60 this year, and to celebrate the occasion, he's releasing his 19th solo album Love From London.
Robyn Hitchcock: "Be Still" — Rate, Request or Recommend this song »
How To Destroy Angels — Welcome Oblivion
When Trent Reznor isn't composing film and video game scores, teasing the world with Nine Inch Nails news, or winning Oscars, he's busy starting even more new projects. The next one on the docket: the debut album from How To Destroy Angels. The quartet brings together Reznor's wife Mariqueen Maandig, as well as long-time collaborators Atticus Ross and Rob Sheridan, and takes the name from the 1984 debut single from Coil. While we wait for Nine Inch Nails to tour later this year, How To Destroy Angels will keep Reznor fans occupied, and they'll play both weekends of this year's Coachella Music Festival.
How To Destroy Angels: "How Long" — Rate, Request or Recommend this song »
Chelsea Light Moving — Chelsea Light Moving
2011 was a rough year for Thurston Moore. He split with Kim Gordon, and shortly thereafter initiated Sonic Youth's indefinite hiatus. So it's no surprise he's trying to keep busy. Last year, he and Gordon released an album with Yoko Ono, he joined black metal band Twilight and he announced the debut album for Chelsea Light Moving would be coming in 2013. The new band is a mash-up of Sonic Youth tendencies, the dozens of side-projects he's been involved with since the late '70s and an ample dose of minimalism. The moments of sparseness are no doubt a tribute to the Chelsea Light Moving company, an actual moving company run by Philip Glass and Steve Reich.
Chelsea Light Moving: "Empires Of Time" — Rate, Request or Recommend this song »
Resources