SXSW on the ground: a hundred bands at once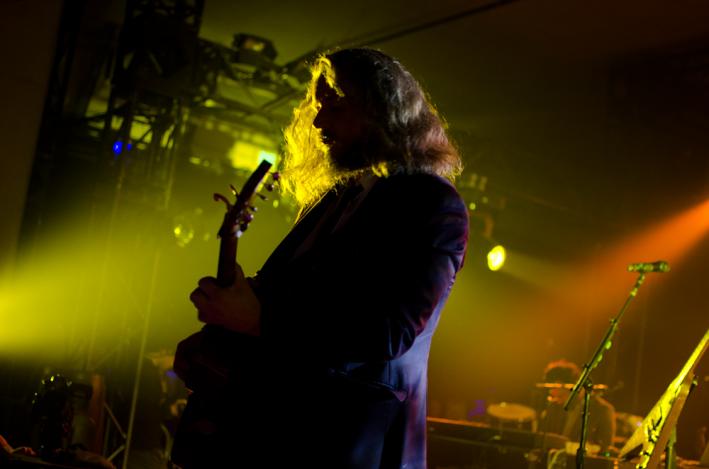 Imagine landing in a city where hundreds of bands are playing all at once. How do you choose which bands to see and what shows will be worth remembering?
That's the feeling that hits when you land in Austin, TX, for SXSW. The answer for me last night was to take it all in and don't waste time standing in line.
That means Iggy Pop had to be appreciated from the street outside the Mohawk so that there was time to take in 15 bands in 5 hours. The list of shows from Wednesday ranged from veterans like Nick Cave to the relatively unkown like Daniel Ramano.
The highlight performance from Wednesday evening was Jim James at the Hype Hotel (a parking garage converted into a venue for SXSW). Performing his new solo album in it's entirety, Jim James held a crowd of otherwise fickle SXSW showgoers with a MMJ style light show complete with soulful sax interludes and facemelting guitar solos.
Here are some of the other bands we caught in Austin on March 13. Tune-in to our broadcast Friday starting at 12pm.
Jake Bugg (UK)
Shout Out Louds (Sweden)
Delorean (Spain)
Robyn Hitchcock (UK)
Houndmouth (US)
Nick Cave (AU)
Waxahatchee (US)
Guards (US)
Diamond Rugs (US)
SuisiNoboAz (JP)
PAWS (Scotland)
Phosphorescent (US)
Daniel Romano (US)
Foxygen (US)
Jim James (US)
12 Photos
Minnesota band The Melismatics

(Geoff Leung for The Current

)

Jim James performed his solo album for fans at the Hype Hotel in Austin on March 13, 2013.

(Geoff Leung for The Current

)

Mac Demarco at the Paste Stages on 6th

(Geoff Leung for The Current

)

Karen O of the Yeah Yeah Yeahs

(Adam Kissick for NPR

)

Nick Cave and the Bad Seeds live at Stubb's, March 13, 2013

(Adam Kissick for NPR

)

Waxahatchee's Katie Crutchfield began her set at the indoor stage at Stubb's by strumming three songs alone on an electric guitar, before being joined by two band mates.

(Adam Kissick for NPR

)

Guards perform at South by Southwest.

(Geoff Leung for The Current

)

Guards perform at South by Southwest.

(Geoff Leung for The Current

)

Foxygen perform at South by Southwest.

(Geoff Leung for The Current

)

Foxygen perform at South by Southwest.

(Geoff Leung for The Current

)

Savages perform at South by Southwest.

(Geoff Leung for The Current

)

Savages perform at South by Southwest.

(Geoff Leung for The Current

)
View 11 more photos