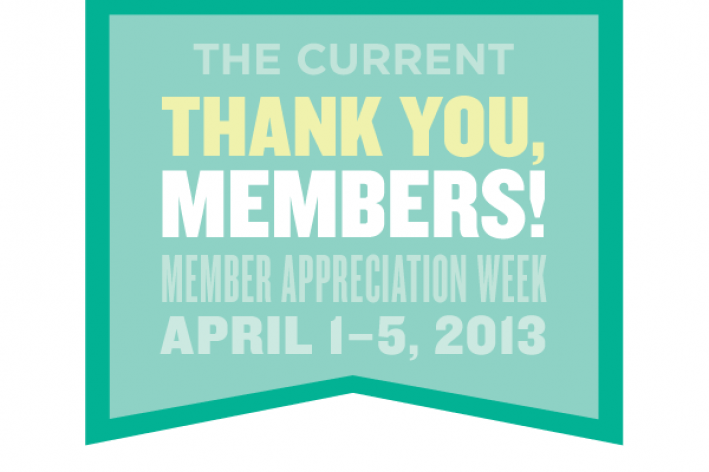 Most of the studios within MPR have a very clean and tidy appearance. But there needs to be a little visual chaos to go along with the aural chaos we create every day. The Current plays rock and roll - so we have photos of our heroes (Keith Richards, Iggy Pop, Liam Gallagher, Little Richard) and our friends (autographed stuff from Metric, My Morning Jacket, Raphael Saadiq).
-Jim McGuinn, Program Director
If you'd like to see the studio in person, contact us for a tour.
9 Photos
Outside the studio, the large Current logo made in tile mosaic, made by Mercury Mosaics in Northeast, where the Morning Show went on a Coffee Break On The Road once. -Steve Seel, host of The Current's Morning Show (There's a smaller mosaic that Mac Wilson's friend Chris Miller made. Miller is active with the LoLa Art Crawl.)

(MPR Photo / Nate Ryan

)

And then there's the Paula Abdul 45 tacked up on the wall - always at the ready - in case of emergency, let MC Skat Kat (who is actually our production director Derrick Delite Stevens) out of its cage and onto the air!
-Jim McGuinn


(MPR Photo / Nate Ryan

)

My favorite thing in the studio is that Beatles poster that suddenly appeared one day behind the DJ chair. Not because I like The Beatles (although I do), but because their heads in that poster are roughly life-sized. So when you're coming down the main stairs and you peer into the studio, it looks like the DJ has people in the studio with them. And then you realize the people in the studio with them are The Beatles, and it's even funnier.
- Jacquie Fuller, Host of Teenage Kicks


(MPR Photo / Nate Ryan

)

We had a Moby promotional poster up on the wall in the studio that someone had defaced because it was so dumb looking. Who knew that when Moby came in for a session he would have wanted to see the studio? I saw his bald head just in time and had to think quick and rip it down before he could enter the studio and held the poster behind my back the whole time he was in here. AWKWARD. Come to think of it I think it was me that defaced it.
-Mary Lucia, Host


(MPR Photo / Nate Ryan

)

One of my favorite features in The Current's studio (492) is the glass window that separates it from studio 443. I have watched some incredible people file into that room to be interviewed. Some of my highlights so far have been Jim Ed and Dale talking with Ned Beatty, Steve Seel with Brian Eno, Mary and Johnny Rotten and Andrea with Prince's new band just to name a few!
-Barb Abney, Host


(MPR Photo / Nate Ryan

)

The 'Olan Mills' photo of me and Jill (taken by Luke Taylor). We made this silly pose as part of an impromptu photo shoot when we first teamed up as co-hosts of the Morning Show. Everybody thought it looked like some kind of weird yearbook photo, so Jacquie made it into an 'Olan Mills' photo with the vignette effect and Olan Mills logo.
-Steve Seel, host of The Current's Morning Show


(MPR Photo / Nate Ryan

)

The photo of Jill with Joan Jett. One of Jill's female rocker heroes. Not sure why the image is vertically 'squashed,' but that gives it some of its weird character.
-Steve Seel, host of The Current's Morning Show


(MPR Photo / Nate Ryan

)

The 'guest mic' position. This is where Jill stands during the morning show. Notice: there is no knee-room under the table for a co-host to put his or her knees, which was a major design flaw. So, the second-position host must always stand. This is also where Bob Collins stands in the afternoon.
-Steve Seel, host of The Current's Morning Show


(MPR Photo / Nate Ryan

)

The 'Kiddie Table.' The small table closest to the door where, when the space is needed, a third guest sits. It's at the height of the mixing console when the console is in its fully-lowered (i.e. sitting) position - which it never is. So it looks like a kiddie table or some kind of table of shame.
-Steve Seel, host of The Current's Morning Show


(MPR Photo / Nate Ryan

)
View 8 more photos
---
comments powered by

Disqus