The first local #1 of 2013: The Chart Show - April 4, 2013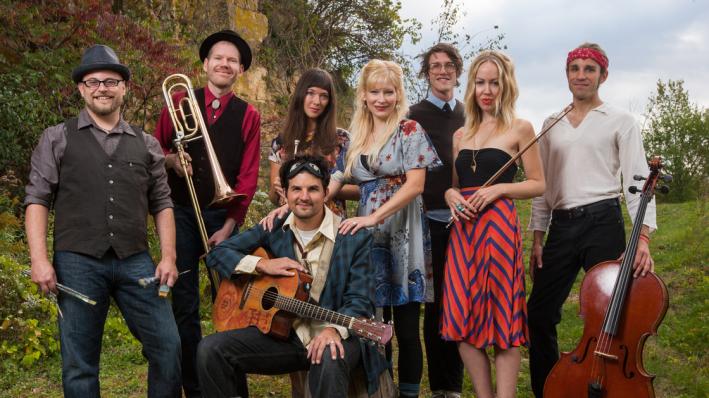 The first local #1 of the year! Cloud Cult patiently waited, Alt-J were inducted, now they take their turn at the top.
And they are also inducted into the Hall of Fame. There's still a few tickets left for their April 28th show at First Ave!
Thao is also inducted. They stopped in to do a session for us this week. Big moves up for our CD of the Week from Cold War Kids, and Dawes, who did a UBS Forum session for us which we'll air on Monday at 7 p.m.
Two new entries: Jim James, who's in town the 21st at First Ave, and another recent session guest,
Little Green Cars.
Happy Member Appreciation Week! Gotta go make some thank you calls to a few members!
| TW | LW | Wks | | The Current Chart Show |
| --- | --- | --- | --- | --- |
| | | | Artist | Song |
| 1 | 2 | 12 | Cloud Cult | 1X1X1 |
| 2 | 5 | 8 | Macklemore and Ryan Lewis | Thrift Shop |
| 3 | 4 | 11 | Of Monsters And Men | Dirty Paws |
| 4 | 8 | 4 | Yeah Yeah Yeahs | Sacrilege |
| 5 | 9 | 3 | Tame Impala | Feels Like We Only Go Backwards |
| 6 | 3 | 4 | The Postal Service | A Tattered Line Of String |
| 7 | 12 | 5 | Iron and Wine | Lovers' Revolution |
| 8 | 17 | 4 | Dawes | From A Window Seat |
| 9 | 13 | 2 | Vampire Weekend | Diane Young |
| 10 | 20 | 7 | Cold War Kids | Miracle Mile |
| 11 | 15 | 7 | Eels | New Alphabet |
| 12 | 16 | 2 | Divine Fits | Like Ice Cream |
| 13 | 18 | 3 | Phoenix | Entertainment |
| 14 | 7 | 12 | Thao and the Get Down Stay Down | Holy Roller |
| 15 | X | 1 | Jim James | A New Life |
| 16 | 10 | 3 | Atoms For Peace | Judge Jury and Executioner |
| 17 | 11 | 2 | BOY | Waitress |
| 18 | X | 1 | Little Green Cars | Harper Lee |
| 19 | 19 | 2 | Depeche Mode | Heaven |
| 20 | 14 | 5 | Leagues | Spotlight |