The Best of the in-studios: Cloud Cult, Silversun Pickups or Tegan and Sara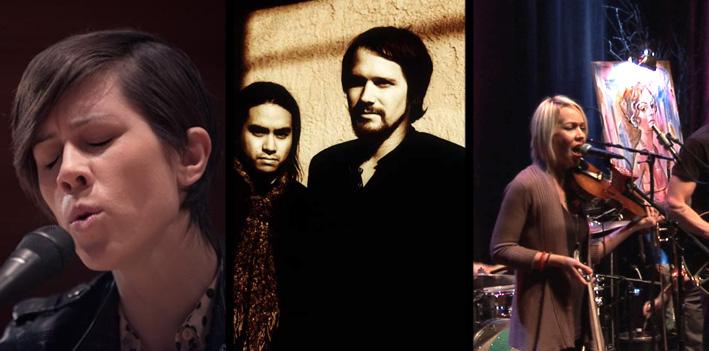 April is Public Radio Music Month, and what is more "public radio music" than the in-studio session? Stations across the nation put hours and hours of work into bringing up-and-coming artists and high-profile bands into their studios, often capturing some of the most poignant... or raucous performances out there.

So to celebrate Public Radio Music Month, we're having a daily vote for the best in-studio tracks from The Current's performance archive. We've gone through and picked some of the most beloved performances by the staff and by our audience. We'll play the winner during the Live Current track of the day the following day.

Now, let the games begin! Today's vote: Cloud Cult, Silversun Pickups or Tegan and Sara.

"); } function create_e1d6852e964e_external_field() { } function enable_e1d6852e964e_ajax_form() { $("#fbSubmitButton").click(function() { $.ajax({ type: "POST", url: "/www_publicradio/applications/formbuilder/user/form_display.php?form_code=e1d6852e964e", data: $("#form_display_e1d6852e964e").serialize(), complete: function (transport) { //turn off the ajax loader $("#indicator_e1d6852e964e").hide(); }, beforeSend: function () { $("#indicator_e1d6852e964e").show(); }, success: function(html) { $("#resp_e1d6852e964e").html(html); $("#indicator_e1d6852e964e").hide(); create_e1d6852e964e_external_field(); enable_e1d6852e964e_ajax_form(); } }); return false; }); } create_e1d6852e964e_external_field(); enable_e1d6852e964e_ajax_form();
Related Stories
Cloud Cult perform live at The Current in the UBS Forum This Twin Cities staple has been making emotionally-fused experimental rock for years, packing venues with capacity crowds entranced by live painting, dozens of instruments and encouragement to sit on the venue floor and become fully absorbed with the sound surrounding them.
Tegan & Sara performs in The Current studios Canadian twins Tegan and Sara combine crafty song writing with pop sensibilities on their new CD "The Con," which was produced by Chris Walla of Death Cab For Cutie.
Silversun Pickups perform live in The Current studios Silversun Pickups' first hit "Lazy Eye" didn't follow any of the conventions of songwriting - including a bridge or any sort of chorus - but they still create complete and compelling songs.
1 Photo
Public Radio Music Month

(PRMM

)