The Current's Most Anticipated Albums of Spring 2013: Part 2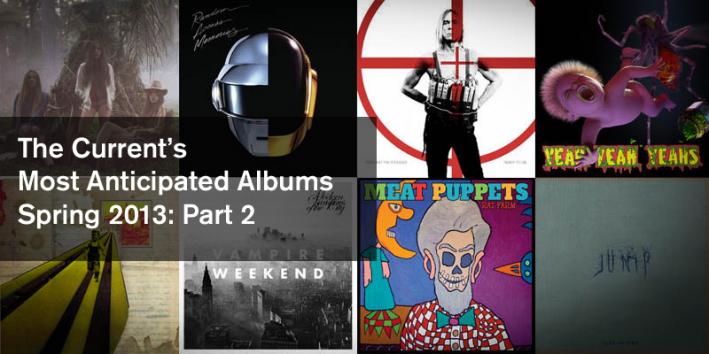 Here's Part 2 of our round-up of The Current staff's most anticipated albums due out this spring. Don't miss Part 1 from yesterday, and let us know what we missed in the comments!
Jill Riley, Host
The Yeah Yeah Yeahs – Sacrilege
I've been patiently waiting for the new record from the Yeah Yeah Yeahs and it's finally coming out April 16th. The first single from Mosquito, "Sacrilege," was released in February and the staff of The Current is extremely excited to hear more from the record. "Sacrilege" is a great Yeah Yeah Yeah's rocker with Karen O's vocals on top of the gospel choir in the hook. It's haunting and beautiful. English model/actress Lily Cole stars as the small town jezebel in the single's steamy video!
Mary Lucia, Host
Guided by Voices – English Little League
Granted, Robert Pollard of Guided By Voices puts out a new record every three days, but being the super fan I am, I'm still always just as excited to hear what he's cooking up. Clearly, he is never in lack of material or inspiration, and that's what makes him so interesting to me. The fact that most songs clock in at about 2½ minutes each doesn't hurt either. Some bands go years between records, but not Bob Pollard! He'll write eight songs in his sleep and have them out before you can give his last record a proper listen. To me what that says is he has to write music—it isn't a luxury, it's a necessity. Can't wait to hear what he had to write with the newest CD from Guided by Voices, English Little League.
Jon Schober, Local Music Assistant/Music Assistant
HAIM – TBD
If you haven't heard of HAIM yet, you'll likely know them in just a few months. The trio of sisters from Los Angeles has been around since 2006 and has gained a cult following in the UK opening for Mumford and Sons and Florence and The Machine. The Fleetwood Mac comparisons for the band are running rampant—chalk it up to similar geography and recording styles—and they are definitely taking their time releasing a debut. Due out at some point during the late summer or early fall, we at least have two samples from the record: the infectious and extremely early single "Don't Save Me," as well as the more recent "Falling." HAIM is gradually becoming the next obsession for music critics, with many of the UK's most influential media outlets calling them the "band-to-watch" in 2013.
Austra – Olympia
Canada's Austra released their debut in 2011 when like-minded bands such as Glasser, Zola Jesus and Esben and The Witch were all getting extensive coverage in the music press. Feel It Break was a gothic-tinged club record that felt like a reincarnation of '80s new wave. Like many of those underground bands, Austra promptly disappeared from the radar after a rigorous tour schedule. Now the band has teamed up with a larger—and more famous—production team to bring sophomore album Olympia to the masses. Expanding on lead singer Katie Stelmanis' opera background, her vocals soar even further on lead single "Home," which was mixed by Tom Elmhirst (Adele, Florence and The Machine, The Black Keys).
Brett Baldwin, Managing Web Producer
Vampire Weekend – Modern Vampires of the City
Considering that until now I haven't really been much of a Vampire Weekend fan, I'm oddly excited to hear Modern Vampires of the City. It all started with our live broadcast from SXSW—I'd absorbed songs like "Cousins" and "A-Punk" seemingly through osmosis; finding myself starting the set again and again to just hear the energy and playfulness of each track. When the band simultaneously released two singles the following week, I was eager to hear what was in store. While "Step" seemed a bit of a snoozer, I immediately fell for the honky-tonk holler and the bombastic production of "Diane Young." Live cuts of "Unbelievers" are promising too—and while I'm not entirely certain that song will be on the record, I can't wait to hear what else is.
Jim McGuinn, Program Director
Iggy & the Stooges – Ready to Die
Suddenly it's the '70s again—first, David Bowie returns with his strong The Next Day release, echoing his work from the late '70s, then comes word that Bowie's old running (and writing, playing, and drug-taking) partner Iggy Pop is ready to drop another bomb on us with the Raw Power version of the Stooges, featuring James Williamson on guitar. It's titled Ready to Die, but from the sound of the first teaser track "Burn," Iggy sounds more alive than ever. Iggy is 65 but still his sinewy punk self, as evidenced by a packed show at SXSW a few weeks back, and the band is about to deliver an album that engineer Ed Cherney has dubbed a return to "old time Stooges," which means fast, loud, raw power for all.
Andrea Swensson, Writer/Blogger
Lucy Michelle – Attack of the Heart
After releasing four albums as the frontwoman of an eclectic folk band, Lucy Michelle breaks away from her Velvet Lapelles to explore a sparser and more pop-oriented approach to songwriting on Attack of the Heart. And she chose quite the distinguished pair of collaborators for this solo venture: bassist John Munson (Trip Shakespeare, Semisonic, the Twilight Hours) and pianist Chan Poling (The Suburbs) back Michelle on the record in addition to co-producing and assisting with songwriting. Michelle's vocals are toned down quite a bit on these tunes—she still manages to sneak in some subtle swoops, but refrains from flat-out warbling—and she really shines in the album's more delicate moments, her voice stripped of its cutesiness and adopting a more mature, nuanced tone.
Peter Valelly, Associate Digital Producer
Daft Punk – Random Access Memories
I was 14 when I stumbled upon Daft Punk's 2001 album Discovery a few months after its release, and the album's gleeful collision of house, disco, synth-pop and even flashes of prog was epochal and revelatory. Discovery was at once an awe-inspiring, restlessly inventive pop experience and a masterclass for my uninitiated psyche in everything dance music should be: euphoric, playful, arresting, transcendent. As far as I'm concerned, it stands as one of the finest albums of the 2000s in any genre. While 2005's follow-up Human After All was fairly disappointing—although a recent re-listen revealed many worthy tracks—the French duo have retained a reputation as an awesomely potent live act, and now they're due to release a fourth full-length studio release after an eight year gap. The scarce fragments we've heard from the tightly guarded Random Access Memories, due out May 21, are definitely promising, suggesting a warped electro-disco sound, and sessions for the album purportedly included collaborations with musicians as wide-ranging as Chic's Nile Rodgers, legendary disco producer Giorgio Moroder, singer-songwriter Paul Williams, Pharell of the Neptunes/N.E.R.D. and eclectic pianist and producer Chilly Gonzales. A strange line-up for sure, but if anyone can pull it off, it's Daft Punk. Color me stoked.
Barb Abney, Host
The Meat Puppets – Rat Farm
I'll admit to being a fair-weather fan of The Meat Puppets since I was introduced to their sound via Too High to Die in 1994. Then, a couple of years ago, I had the opportunity to interview the band. I won't lie, it was a hard interview. Sometimes those Kirkwood brothers would rather play than talk. They'd rather NOT answer a question someone has asked them 10,000 times. But that conversation made me want to know more about their catalog and career. On April 16th, the Meat Puppets will release their 14th studio record, Rat Farm. I've read that Curt Kirkwood wanted each of the songs on this record to be able to stand on their own. And they do! Very well! Their music has never sounded so tight or so focused which is apparent from the lead-off tune, the title track from the record. The harmonies are exquisite, the music is flawless—to the point where it seems like a collection of singles!
Junip – Junip
On April 23rd, The Sweedish trio Junip will be releasing their self-titled sophomore effort. The music of Junip is like a trusted friend that respects your boundaries. It keeps you company, but doesn't interrupt as the music builds in intensity from a proverbial whisper to a symphonic crescendo, with ease. It's like a hoodie that wraps you in warmth but doesn't overwhelm. It may be the perfect spring record! We'll find out on April 23rd.
Related Stories
The Current's Most Anticipated Albums of Spring 2013: Part 1 Spring is rapidly (and finally!) arriving, and with it comes a torrent of music news, including album releases, tour announcements, and summer festival line-ups. If it all sounds a little overwhelming, no worries: The Current's rounded up some of the new music we're most excited to hear for your perusal!
---
comments powered by

Disqus