A close race to the top: The Chart Show - April 11, 2013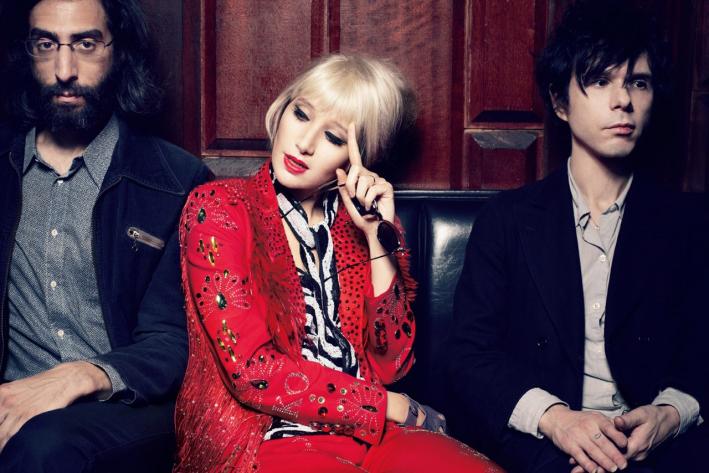 Yeah! The Yeah Yeah Yeahs have it!! By a nose, they climb to the top. Only a handful of votes separated the top 4. Check out the revealing interview on Spin—apparently they chose the album name Mosquito because of a Charles Darwin theory?!
Of Monsters and Men couldn't keep up the pace to vie for the top but get inducted for the third time. The Postal Service surprisingly faded on the week the Give Up album is re-issued and they make their big return at Coachella. Mates of State will join them Aug 2nd at Roy Wilkins, and tickets are still available.
We lost Atoms For Peace after 3 weeks. Atlas Genius and Local Natives get their second entries, and Junip featuring Jose Gonzalez is on the chart for the very first time.
| TW | LW | Wks | | The Current Chart Show |
| --- | --- | --- | --- | --- |
| | | | Artist | Song |
| 1 | 4 | 5 | Yeah Yeah Yeahs | Sacrilege |
| 2 | 5 | 4 | Tame Impala | Feels Like We Only Go Backwards |
| 3 | 9 | 3 | Vampire Weekend | Diane Young |
| 4 | 7 | 6 | Iron and Wine | Lovers' Revolution |
| 5 | 3 | 12 | Of Monsters and Men | Dirty Paws |
| 6 | 8 | 5 | Dawes | From A Window Seat |
| 7 | 13 | 4 | Phoenix | Entertainment |
| 8 | 10 | 8 | Cold War Kids | Miracle Mile |
| 9 | 2 | 9 | Macklemore and Ryan Lewis | Thrift Shop |
| 10 | 6 | 5 | The Postal Service | A Tattered Line Of String |
| 11 | 11 | 8 | Eels | New Alphabet |
| 12 | 12 | 3 | Divine Fits | Like Ice Cream |
| 13 | 15 | 2 | Jim James | A New Life |
| 14 | X | 1 | Local Natives | Heavy Feet |
| 15 | X | 1 | Atlas Genius | If So |
| 16 | 18 | 2 | Little Green Cars | Harper Lee |
| 17 | X | 1 | Junip | Line Of Fire |
| 18 | 17 | 3 | BOY | Waitress |
| 19 | 19 | 3 | Depeche Mode | Heaven |
| 20 | 20 | 6 | Leagues | Spotlight |