The best of the in-studios: First Aid Kit, Fitz and the Tantrums and the Lumineers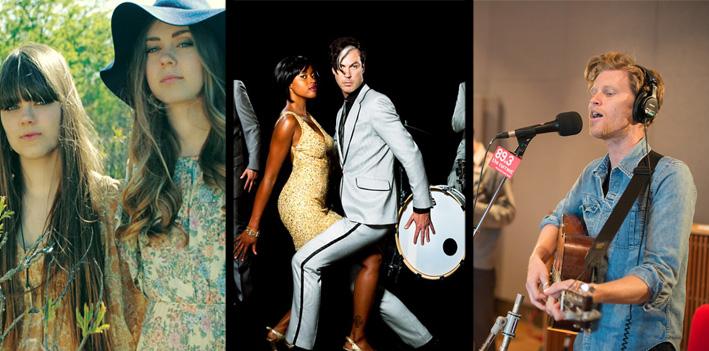 April is Public Radio Music Month, and what is more "public radio music" than the in-studio session? Stations across the nation put hours and hours of work into bringing up-and-coming artists and high-profile bands into their studios, often capturing some of the most poignant... or raucous performances out there.
So to celebrate Public Radio Music Month, we're having a daily vote for the best in-studio tracks from The Current's performance archive. We've gone through and picked some of the most beloved performances by the staff and by our audience. We'll play the winner during the Live Current track of the day the following day.
Now, let the games begin! Today's vote: First Aid Kit, Fitz and the Tantrums and the Lumineers
The winner is First Aid Kit!
Related Stories
First Aid Kit performs in The Current studio Swedish folk duo First Aid Kit have been playing, recording and releasing music together since they were both in their teens. Their sophomore release, "The Lion's Roar," features guest appearances from Joe Pernice and Conor Oberst and was released in January.
Fitz and the Tantrums perform in The Current studio Emerging from Los Angeles' growing indie-soul scene, Fitz & the Tantrums began as the one-man project of Michael Fitzpatrick, but has now expanded into a seven-piece band. Fitzpatrck--"Fitz" for short--plays the church organ and shares vocal duties with singer Noelle Scaggs.
The Lumineers performs in The Current studios It's not difficult to imagine The Lumineers being from the Midwest - let's just go ahead and annex their hometown of Denver. Their roots revivalist image and solid harmonies are indicative of the kind of music this region has helped popularize over the years. Their story is one which many bands can connect with - slowly gaining popularity across a self-booked tour with just an EP in tow. The Lumineers have now gathered more than a few accolades to make their self-titled debut one of the most anticipated records this year, and they're already selling out venues in support of it.