Album Review: Iron and Wine - Ghost on Ghost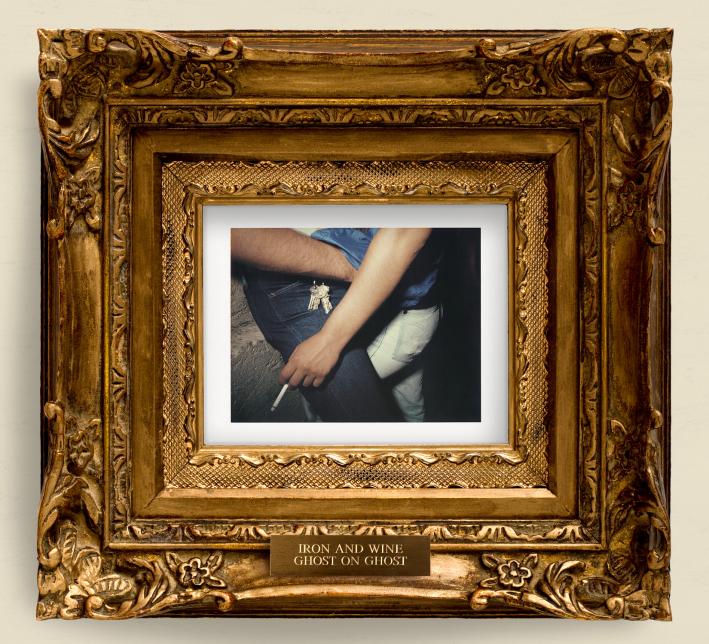 Contribute today and get Ghost on Ghost by Iron and Wine as a thank-you gift.
When last we checked in on Iron and Wine, Sam Beam was demonstrating just how far he'd come from his early lo-fi days with Kiss Each Other Clean, a record that I described at the time as Beam's grown-up answer to Brian Wilson's desire to sculpt "teenage symphonies to God." A studio exercise bursting with sonic color, the album demonstrated that Beam could not only write a melody that could practically stop time, but that he also could utilize every production trick at his disposal to turn those melodies into four-minute snatches of aural cinema.
So where to go after you've delivered a Master's thesis on ear-tingling arrangement and production? Beam's answer is to bring that process full circle and turn the tricks back around in the service of the song—and I'm pretty much ready to proclaim Ghost On Ghost one of the best records of the year, because it will be that hard for other artists to compete with it.
Sam Beam has always demonstrated a profound gift for crafting a melodic line, but that gift seems to be growing by such leaps and bounds at this point that his craft now seems almost invisible. Some of these songs sound as if they fell directly out of the sky, perfectly pre-formed by the muses and bestowed upon Beam like a heavenly visitation. "Caught In The Briars" opens the record, its melody gliding along just above the ground like a mag-lev train—smooth, sweet and effortless—while multi-tracked Sams pop in and out to provide deftly-placed oohs and ahs, sonic frosting lending a sugary tickle that runs through most of the album's twelve tracks.
The second tune, "The Desert Babbler," serves up a dreamy "What's Going On"-esque beat, airy strings, and another chorus of Sams, somehow summoning everything that crushed your heart about great '70s pop, put into a blender and liquefied to just the degree that you can't quite put your finger on the references. Then, we actually get a song called "Joy." I think it operates somewhere between 10cc's "I'm Not In Love" and, I don't know, some kind of freaky admixture of every heady but drunkenly seductive pop ballad written during the Nixon administration. As I listen to it again writing this sentence, I'm just about to lock myself in an endless loop inside it like a lotus eater, refusing to ever come out again.
The mood turns darker for "Low Light Buddy of Mine" and "Singers and the Endless Song," but the sonic palette remains full , with big-band jazz horn stabs and skittering acoustic drums (in fact, the album's nod to live acoustic jazz performance may be a refreshing step back from the temptation to continue ramping up the multi-tracked busy-ness of Kiss Each Other Clean). It's been proposed elsewhere that Beam's increasingly baroque arrangements represent a self-conscious attempt to distance himself from the early lo-fi associations that no doubt still dog him to this day. I'm not sure why we should make that assumption. Did Beam ever proclaim that his hissy two-track beginnings were an actual aesthetic, or was it merely a by-product of those early circumstances? To me, Sam Beam has demonstrated his mastery of composition, arrangement and production so emphatically at this point that this strikes me as the real Iron and Wine, the one we were destined to have once Beam was no longer constrained by the limitations of a four-track in a dusty bedroom.
As deliriously good as this album is, it is also of course a reminder of how backwards and unjust our experience of popular music is in our society when the actual number of people who will ever hear it is so comparatively small. Sure, Iron and Wine is a big brand-name on the indie rock upper-middle-class caucasian hipster circuit, but I mean, Jesus H. Christ. Sam Beam is now operating at the level the great pop geniuses—the Stevie Wonders, Todd Rundgrens and Princes. We used to reward this kind of thing with major radio play, million-dollar contracts, Grammys. A just world would find some of that kind of attention and praise sent Sam Beam's way.
Resources
Related Stories