Chart Show success vs. chart success - The Chart Show, May 2, 2013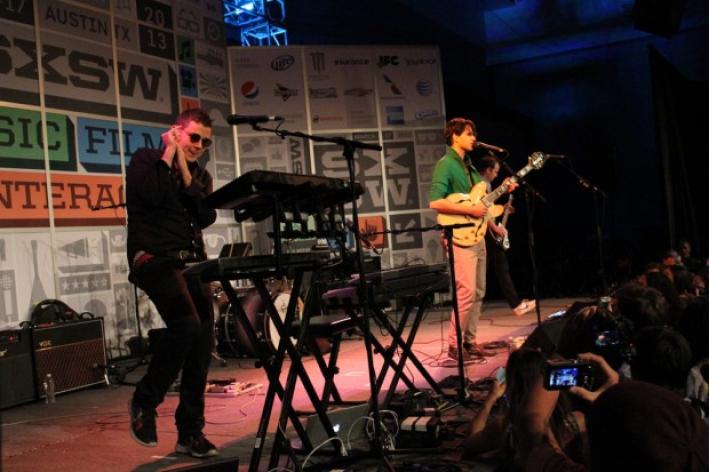 After the great reception our audience has given Vampire Weekend and the high profile gigs they have been getting with Steve Buscemi filming their show, it will be interesting to see where they chart when the album comes out. Spin makes the point of comparing how the alternative pop bands like Phoenix are doing in the sales charts alongside Rihanna and company.
French superstars Daft Punk went straight to #1 in the UK last week for the very first time and are our highest new entry.
It was a good week for local music and you can read about the contemporary scene's roots in City Pages this week, highlighting how important record stores and bars are to the process! They also reviewed Cloud Cult's sold out show over the weekend. Apparently they decided to play "1X1X1" when they were told that it had been inducted into the Chart Hall of Fame!
Speaking of... Macklemore gets his second song in the HOF. Locals Polica and Dessa come in to replace superstars David Bowie, Cold War Kids, and Little Green Cars. And the superstar with local roots (hence the name Har Mar) is back in town this week at The Turf.
| TW | LW | Wks | | The Current Chart Show |
| --- | --- | --- | --- | --- |
| | | | Artist | Song |
| 1 | 1 | 6 | Vampire Weekend | Diane Young |
| 2 | 4 | 7 | Tame Impala | Feels Like We Only Go Backwards |
| 3 | 3 | 7 | Phoenix | Entertainment |
| 4 | 2 | 8 | Yeah Yeah Yeahs | Sacrilege |
| 5 | 6 | 9 | Iron and Wine | Lovers' Revolution |
| 6 | 7 | 8 | Dawes | From A Window Seat |
| 7 | 12 | 3 | Cloud Cult | Good Friend |
| 8 | 11 | 2 | Alt-J | Dissolve Me |
| 9 | 14 | 2 | Thao and the Get Down Stay Down | We The Common |
| 10 | 16 | 5 | Jim James | A New Life |
| 11 | 5 | 12 | Macklemore and Ryan Lewis | Thrift Shop |
| 12 | X | 1 | Daft Punk | Get Lucky |
| 13 | 10 | 4 | Atlas Genius | If So |
| 14 | 9 | 6 | Divine Fits | Like Ice Cream |
| 15 | 13 | 11 | Eels | New Alphabet |
| 16 | 19 | 2 | Har Mar Superstar | Lady, You Shot Me |
| 17 | X | 1 | Polica | TIFF |
| 18 | 15 | 8 | The Postal Service | A Tattered Line Of String |
| 19 | 17 | 4 | Junip | Line Of Fire |
| 20 | X | 1 | Dessa | Warsaw |