Will Daft Punk get lucky this week? - The Chart Show - May 9, 2013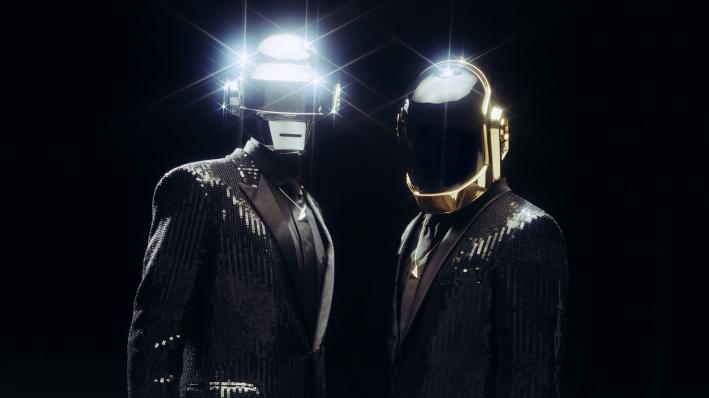 The Robots are coming! The robots are coming!!
Daft Punk, notorious for wearing helmets when they perform as if robotic, have a huge hit on their hands.
Vampire Weekend did well to hold them off this week, but next?! "Get Lucky" has done well on other charts here and is #1 in UK.
It has been suggested that the French dance music pioneering duo could hire actors to play them on stage these days, but they answer this by saying that they have too much fun performing, and no wonder! They have also been quoted this week as saying that they really should not still be having hits as they are over 20 years old as a band and noone makes a good album after that long! They might have a point. SPIN this week did a really nice feature looking back at their cover stars of the 90s, the heyday of the magazine and alternative rock. I don't think any of those cover stars are still making great albums.
We lost the Postal Service and Atlas Genius. Eels are inducted for the very first time. James Blake and Jake Bugg are brand new names to our chart, along with CD of the Week stars Fitz and the Tantrums.
| TW | LW | Wks | | The Current Chart Show |
| --- | --- | --- | --- | --- |
| | | | Artist | Song |
| 1 | 1 | 7 | Vampire Weekend | Diane Young |
| 2 | 12 | 2 | Daft Punk | Get Lucky |
| 3 | 5 | 10 | Iron and Wine | Lovers' Revolution |
| 4 | 8 | 3 | Alt-J | Dissolve Me |
| 5 | 3 | 8 | Phoenix | Entertainment |
| 6 | 7 | 4 | Cloud Cult | Good Friend |
| 7 | 9 | 3 | Thao and the Get Down Stay Down | We The Common |
| 8 | 14 | 7 | Divine Fits | Like Ice Cream |
| 9 | 2 | 8 | Tame Impala | Feels Like We Only Go Backwards |
| 10 | 6 | 9 | Dawes | From A Window Seat |
| 11 | 15 | 12 | Eels | New Alphabet |
| 12 | 10 | 6 | Jim James | A New Life |
| 13 | 4 | 9 | Yeah Yeah Yeahs | Sacrilege |
| 14 | X | 1 | Fitz and the Tantrums | Out Of My League |
| 15 | X | 1 | James Blake | Retrograde |
| 16 | 17 | 2 | Polica | TIFF |
| 17 | 16 | 3 | Har Mar Superstar | Lady, You Shot Me |
| 18 | X | 1 | Jake Bugg | Two Fingers |
| 19 | 19 | 5 | Junip | Line Of Fire |
| 20 | 20 | 2 | Dessa | Warsaw |