New Hot: Atlantic bands dominate this week's releases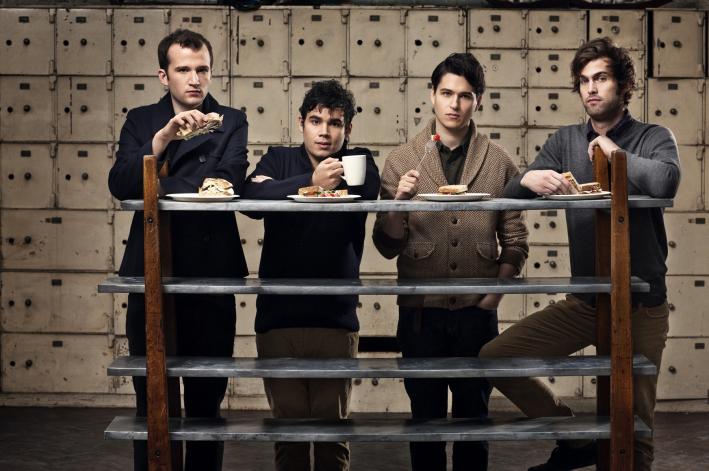 This week on New Hot, read about a British singer whose debut is getting a United States release, as well as an album whose title comes from a Junior Reed song. These are our three recommended releases for Tuesday, May 14.
Vampire Weekend — Modern Vampires Of The City
It's hard to believe it's only been five years since Vampire Weekend's debut. The band has been omnipresent since then with both critical acclaim and scathing judgments regarding their style and sound. The new album Modern Vampires Of The City is the third in a self-described trilogy, and their most extensive attempt yet to distance themselves from the baroque pop niche they became popular for. The quartet has succeeded with their most experimental release yet. Recorded in several locations (Hollywood, Los Angeles, New York City and Martha's Vineyard) starting in 2011, the band used a simple idea to figure out which songs would make the cut: if they sounded like anything they did before, they were rejected. Largely influenced by the imagery of New York City (including a 1966 photograph by Neal Boenzi), they announced the album in a classified ad in the New York Times.
Vampire Weekend: "Diane Young" — Rate, Request or Recommend this song »
Laura Mvula — Sing To The Moon
At just 25 years old, you can add Laura Mvula to the list of quickly rising singers in the UK. She dabbled in soul and jazz in the mid-2000s before her demos were discovered while she was working as a receptionist. Two honors followed: she was shortlisted for the Critics' Choice award at the 2013 BRIT Awards and she was nominated for the BBC Sound of 2013 poll, finishing fourth (sidenote: HAIM was the winner). Her debut album Sing To The Moon peaked at number 9 on the UK charts, an enormous feat for a new artist. After being out across the Atlantic for over two months, the record will see its official release in the States this week.
Laura Mvula: "She" — Rate, Request or Recommend this song »
John Grant — Pale Green Ghosts
John Grant is considered one of the most respected artists out on the frontier, especially in Denver where he played with The Czars and released six albums between 1996 and 2005. He began a solo career in 2010 after the band broke-up, releasing Queen Of Denmark with the help of alt-rockers Midlake. Three years later and Grant has hit his stride. Now living in Iceland, Pale Green Ghosts was recorded with the help of Sinead O'Connor on backing vocals. Deeply personal with multiple anecdotes referencing his coming out, it has struck a chord with music critics and even picked up a rare, perfect 5-star review from The Guardian.
John Grant: "GMF (Greatest Living Creature)" — Rate, Request or Recommend this song »
Resources