Today in Music History: Brian Eno Is 66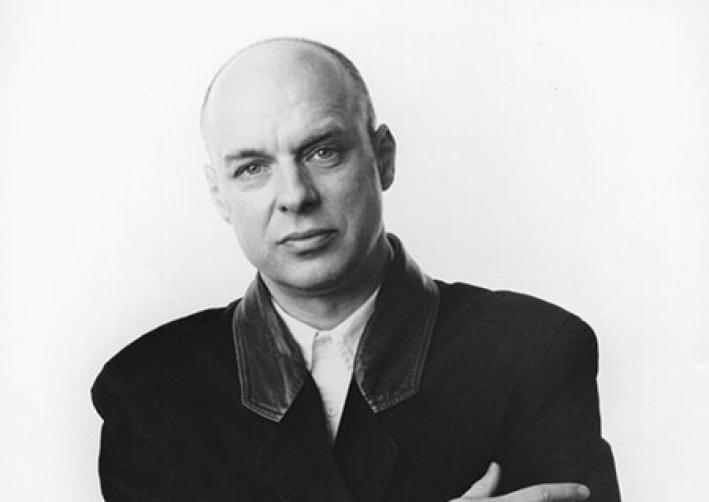 History Highlight:
Brian Eno is 66 today. Musician, producer, composer and music theorist, Eno has long been recognized has one of pop music's Big Thinkers, with a distinguished career that began as the glammed-up keyboardist in Roxy Music, expanded to forays into experimental music, and found him emerging as one of the most sought-after producers in rock. Today, he's just as likely to be found producing a hit record by Coldplay as he is to be lecturing at a university about some deeply cerebral subject. Eno-philes love to remind the world that "God spelled backwards is dog, but Eno spelled backwards is One."
Also, Today In:
1970 - Many fish in a nearby large lake succumbed to the volume of a Pink Floyd concert at the Crystal Palace in London. Death by decibels.
1974 - Bill Wyman, the Rolling Stones bassist, released his first solo album, Monkey Grip, thus becoming the first Stone to release a solo effort. The album was not a big seller.
1982 - Stevie Wonder and Paul McCartney started a seven week run at No.1 on the US singles chart with "Ebony And Ivory." The song gave McCartney his 24th US No.1 as a songwriter.
1994 - Blur scored their first UK No.1 album with Parklife, which went on to spend over two years on the chart.
2000 - Bob Dylan and violinist Isaac Stern each received approximately 110,000 dollars from the Swedish government as part of the Polar Music Prize for their contributions to the world of music.
2003 - Country singer June Carter Cash, country singer and the wife of Johnny Cash died in Nashville, Tennessee, of complications following heart valve replacement surgery, aged 73.