Alt-J back on top!: The Chart Show - May 16, 2013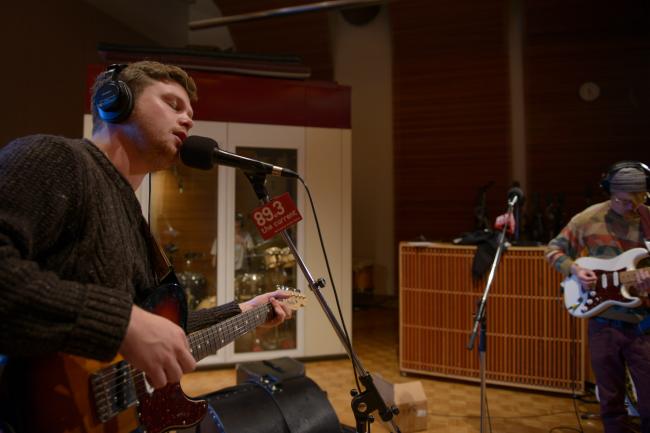 A very tight race at the top again this week which Alt-J impressively won with the third track from their album beating out the super hot new single from Daft Punk. DP's full album comes next week and is already on the web. Pitchfork does a cover story about them and SPIN asks: how have they turned their fortunes around?! Were they ahead of the times and now we've all caught up? Interesting too that Phoenix are apparently stunned by the reaction they've gotten in the USA and remain only a cult band in their native France. BTW, this is the first time ever that we have two French artists in the top 5! C'est magnifique!
We lost Junip, James Blake and Jim James—bad week if your name starts with J, unless it's Jake. UK buzzed about boy Bugg will be over for Lollapalooza and plays The Fine Line on Aug 5th.
We've got the biggest contingent of locals for a long time too, five now with the addition of Lucy Michelle on her own for the first time. We'll be celebrating the local scene this Sunday with MN Music Day, 24 hours of nothing but locals. All the regular DJ's will be on, 2-4 p.m. for me.
It's never too late if you haven't been able to join MPR yet. Thanks for your support, we couldn't do it without ya!
| TW | LW | Wks | | The Current Chart Show |
| --- | --- | --- | --- | --- |
| | | | Artist | Song |
| 1 | 4 | 4 | Alt-J | Dissolve Me |
| 2 | 2 | 3 | Daft Punk | Get Lucky |
| 3 | 1 | 8 | Vampire Weekend | Diane Young |
| 4 | 6 | 5 | Cloud Cult | Good Friend |
| 5 | 5 | 9 | Phoenix | Entertainment |
| 6 | 3 | 11 | Iron and Wine | Lovers' Revolution |
| 7 | 7 | 4 | Thao and the Get Down Stay Down | We The Common |
| 8 | 9 | 8 | Tame Impala | Feels Like We Only Go Backwards |
| 9 | 8 | 8 | Divine Fits | Like Ice Cream |
| 10 | 14 | 2 | Fitz and the Tantrums | Out Of My League |
| 11 | 16 | 3 | Polica | TIFF |
| 12 | X | 1 | The National | Don't Swallow The Cap |
| 13 | 13 | 10 | Yeah Yeah Yeahs | Sacrilege |
| 14 | 20 | 3 | Dessa | Warsaw |
| 15 | 18 | 2 | Jake Bugg | Two Fingers |
| 16 | 10 | 10 | Dawes | From A Window Seat |
| 17 | X | 1 | Lissie | Shameless |
| 18 | X | 1 | Devendra Banhart | Never Seen Such A Good Thing |
| 19 | 17 | 4 | Har Mar Superstar | Lady, You Shot Me |
| 20 | X | 1 | Lucy Michelle | Beat Like Mine |