Weekend Arts Roundup: Galleries Galore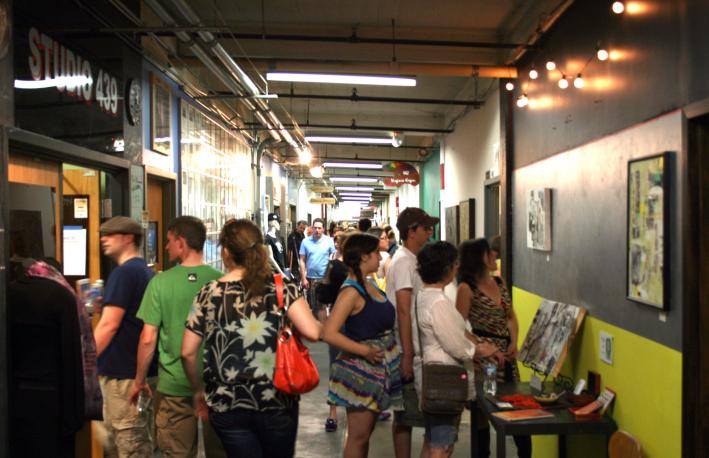 MPR News Arts Reporter Marianne Combs joins The Current's Steve Seel and Jill Riley to talk about arts events happening at galleries all over Minneapolis this weekend.
Art-A-Whirl: More than 70 venues in Northeast Minneapolis -- studios, art galleries, shops, homes, clubs, businesses, restaurants -- open their doors for this massive open-studio tour. As Marianne describes it, Art-A-Whirl is an "opportunity to take the pulse of the Minneapolis arts scene in one go." Presented by the Northeast Minneapolis Arts Association (NEMAA), Art-A-Whirl is open Friday from 5 to 10 p.m., Saturday from noon to 8 p.m., and on Sunday from noon to 5 p.m.
HOTTEA: Eric Rieger, aka HOTTEA, is a "yarn bomber"; that is, a person who wraps threads of yarn around objects (e.g. light poles, fence posts) to create works of art. Reiger had once been a graffiti artist, but grew tired of run-ins with the law and switched to the still subversive yet environmentally friendly medium of yarn. The Burnet Gallery at Le Méridien Chambers Hotel in Minneapolis is hosting a retrospective exhibition of various yarn works by HOTTEA. The exhibition opened last Friday and continues to July 7.
Bad Art Installation: Community Collectors Trunk Show: Saturday is International Museum Day, and at the Osher Gallery at the American Swedish Institute, participants are invited to create a bad art installation by bringing examples of questionable art. The dubious pieces will be put on the walls of the Osher Gallery, after which attendees will decide which five items are the most tasteless in the collection. The Bad Art Installation happens Saturday, May 18, from 1 to 3 p.m.
What types of things might one bring for submission? Listen to the audio to hear ideas from Steve, Jill and Marianne. And what are your thoughts about Thomas Kinkade? Feel free to share your thoughts below.
Marianne Combs joins The Current's Morning Show for the Weekend Arts Roundup every Thursday at 8:30 a.m. Read about all the latest arts news at the State of the Arts blog at mprnews.org.
Related Stories
---
comments powered by

Disqus