What's your favorite rock t-shirt you've owned?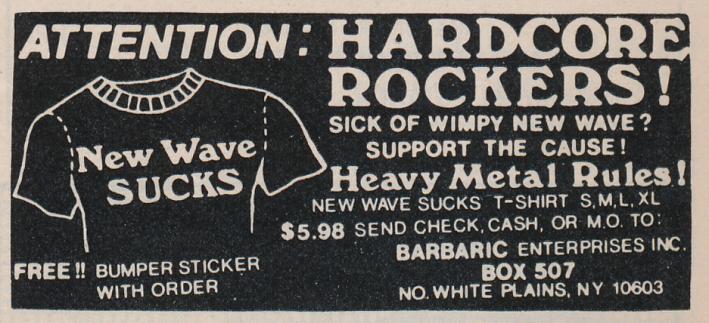 Here at The Current, we've recently been pondering a question familiar to many a musichead: what is your favorite rock t-shirt you've owned? Check out our staff's responses below, and let us know yours in the comments!
Mary Lucia, Host
It's not necessarily my favorite, but I have a story about a listener sending me a WWLD? T shirt (What would Lemmy do?) It warms my heart to know that people know of my love of Motörhead, even when I'm spinning the new Laura Marling.
Barb Abney, Host
Truthfully, my favorite concert t-shirt is one my family has requested I never wear again; It has been washed so many times it is virtually translucent and is peppered with holes which I have attempted to mend over the years in mis-matched thread. It is from David Lee Roth's 1988's Skyscraper tour and features his larger-than-life face on the front with "Diamond Dave" written below it.
But my second-favorite is a very close second, indeed. It features the Bodies of Water era lineup of Solid Gold, with their faces arranged to resemble a classic Metallica shirt. It was designed for exclusively for their first sold-Out headlining show at First Avenue in June 2010. I have worn this more than any other shirt in my collection as of late because of the conversation-friendly design AND comfort.
Mark Wheat, Host
I always remember where I was when I heard that John Lennon was dead: standing in line waiting to buy tickets to see Ian Dury and the Blockheads. In 1980, Ian was more important to me than John. He was funny, with whip-smart lyrics. That night I brought the Blockheads t-shirt which I wore until it fell apart. It always reminded me to take myself a little less seriously. I'm still working on that!
Bill DeVille, Host
My favorite shirt is from the legendary Stax Records in Memphis, TN. The label was home to Booker T and the MG's, Rufus Thomas, Albert King, Otis Redding and others. It's my second Stax shirt... I wore out the first. My wife got me a new one for Christmas a few years ago. Thanks Julie! The shirt and the music on the Stax label will never go out of style!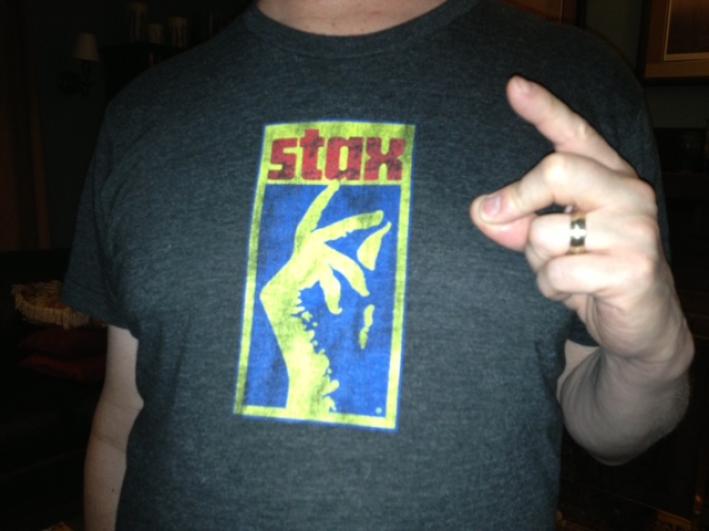 Brett Baldwin, Managing Digital Producer
When I was in 9th grade, I got to go see Van Hagar (nee Halen)—my favorite band at the time—at McNichols Arena in Denver, Colorado with my best friend Luke. My 17-year-old sister drove us and it was such a great show. Eddie Van Halen actually pulled out a power drill for "Poundcake" and we were close enough to see that Sammy Hagar had the newest Nike Air Huaraches. Between the opening act and the main event, Luke and I went to the merch table and spent $40 each on the same god-awful tie-dyed For Unlawful Carnal Knowledge t-shirt. On the way back home, he and I agreed that, since my sister drove us, I had dibs on wearing the shirt the next day. Of course, when the school bus—which picked me up first—rolled up to his stop, he was wearing it too. Not cool. But when we got to school, we both had to turn our shirts inside out because of the acronym made from For Unlawful Carnal Knowledge. I still have the shirt, and probably always will.
Jacquie Fuller, Host
I don't know what it is about concert shirts, but I can't seem to hold onto them to save my life. I wear through them, I get too fat for them , ex-boyfriends walk off with them, or they get stolen (a few favorites—a glow-in-the-dark Arcade Fire shirt, a couple of Superchunk tees, and a Yo La Tengo shirt with KITTENS—were victims of a U-Haul break-in during my cross-country move to Minnesota back in '05.) But there's one shirt—long gone to the ravages of one of the aforementioned culprits—that I pine for, particularly when I see it listed on Etsy for $100. I was 13 when I saw Echo and the Bunnymen play in San Diego. Not only was it an amazing show, but at the end, frontman Ian McCullough announced that he was leaving the band. I remember being so glad that I'd seen them while I still could, and feeling like THE coolest kid in middle school when I rocked that shirt the next day with my black miniskirt and creepers, "Bedbugs and Ballyhoo" still ringing in my head. If this shirt could give me that feeling again, I'd happily fork over a hundred bucks for it.
Peter Valelly, Associate Digital Producer
I've picked up a lot of tees at shows over the years, including a few from high school that I wore so much that they've fallen apart (Yo La Tengo, The Roots), a couple I've outgrown (The Mountain Goats), and at least one I'll hang onto forever because the show was so insanely memorable (my signed Atlas Sound shirt from Bradford Cox's much-publicized "My Sharona" meltdown last winter at the Cedar). But my favorite music t-shirt is actually not from a show I attended. It's a shirt from the Michael Jackson Bad tour (which took place when I was roughly 2) that a friend picked up from a thrift store, wore for a few years, and then gave to me as a gift when she was getting rid of belongings in the process of moving away from the Twin Cities. It's cool and comfortable, plus it reminds me simultaneously of my friend and of the King of Pop. What more could you ask for?
So, what is your favorite rock t-shirt you've owned?
---
comments powered by

Disqus