Neko Case drops album details, returns to Twin Cities for 2 nights in October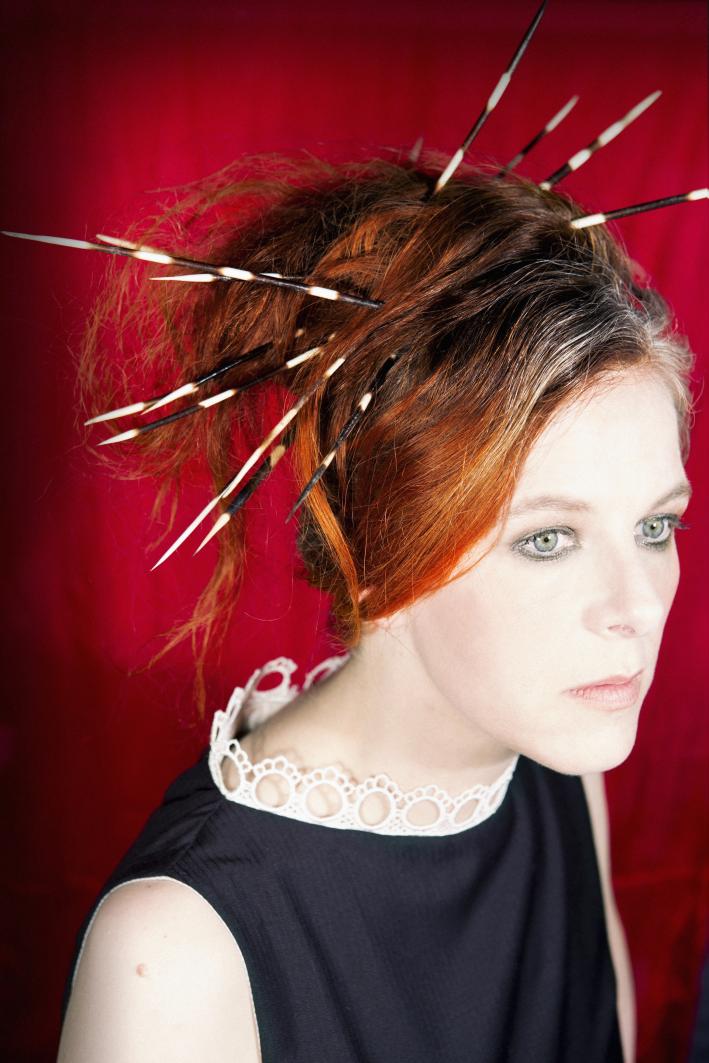 More than 3 years have passed since Neko Case debuted new solo material. In 2009, Middle Cyclone found Case at the top of her game with singles like "People Got a Lotta Nerve."
Last week, the singer-songwriter revealed the new upbeat, riff-heavy single "Man". The track is straightforward: it opens up with an upbeat melody and impressionable lyrics. Neko Case begins by singing, "I'm a man, that's what you raised me to be." Fuzzy, staccato riffs are found throughout and the self-proclaimed masculine identity is complemented with hints of delicate baroque harpsichord keys.
Album details
Case released a teaser video on YouTube on Friday, June 7th. It has maybe one tiny detail couched in a breathtaking array of scenes, namely that the album is entitled The Worse Things Get, The Harder I Fight. The Harder I Fight, The More I Love You. The release date for the album is set for September 3, 2013, and it features collaborations from familiar Case-cohorts, including: Giant Sand's Howe Gelb, Calexico, My Morning Jacket, The New Pornographers, Visqueen, Steve Turner (from Mudhoney) and Los Lobos.
Tracklisting
01 Wild Creatures
02 Night Still Comes
03 Man
04 I'm From Nowhere
05 Bracing for Sunday
06 Nearly Midnight, Honolulu
07 Calling Cards
08 City Swans
09 Afraid (Nico cover)
10 Local Girl
11 Where Did I Leave That Fire
12 Ragtime
Tour
After a short tour of Canada in July, Ms. Case will tour the U.S. this Fall in support of the forthcoming record. She has two dates at First Avenue on October 16th and 17th. Tickets for those dates go on sale Friday, June 14th, but we'll have pre-sale information starting on Thursday, June 13th.
Go to Neko Case's site and scroll to the correct date for First Avenue (or other) dates!
Incomplete tour dates are as follows:
For all those asking why I'm not touring their town, the complete your dates aren't up yet. (Lookin' at you Europe, Texas and the east)

— Neko Case (@NekoCase) June 11, 2013
6/22 North Adams, MA - Solid Sound Festival (MASS MoCA)
7/6 Ottawa, Ontario - Ottawa Blues Festival
7/7 Toronto, Ontario - Toronto Urban Roots Fest
8/9 Edmonton, Alberta - Edmonton Folk Festival
8/11 Regina, Saskatchewan - Regina Folk Festival
8/24-25 Monterey, CA - First City Festival at Monterey Fairgrounds
9/6 Chicago, IL - A.V. Fest-Hideout Block Party
9/8 Portland, OR - MusicFest NW
9/11 San Diego, CA - House of Blues
9/12 Phoenix, AZ - Orpheum Theater
9/13 Santa Fe, NM - Lensic Performing Center
9/14 Denver, CO - The Ellie Caulkins
9/16 Salt Lake City, UT - Red Butte Garden
9/17 Boise, ID - The Knitting Factory
9/18 Seattle, WA - The Paramount
9/19 Eugene, OR - The Cuthbert Amphitheater
9/20 Vancouver, British Columbia - Orpheum Theater
9/25 Philadelphia, PA - Electric Factory
9/26 New York, NY - Radio City Music Hall
10/4-6 Austin, TX - Austin City Limits Festival
10/5-6 Los Angeles, CA - Way Over Yonder Fest
10/11-13 Austin, TX - Austin City Limits Festival
10/15 Lawrence, KS - Liberty Hall
10/16-17 Minneapolis, MN - First Avenue
10/19 Columbus, OH - Newport Music Hall
10/20 St. Louis, MO - The Pageant
10/23 Nashville, TN - The Cannery
10/24 Atlanta, GA - Buckhead Theatre
10/26 Durham, NC - The Durham Performing Arts Center
10/27 Charlottesville, VA - The Paramount
11/1 Boston, MA - Orpheum Theatre
Resources
Related Stories
1 Photo
Neko Case playing at Rock the Garden in 2011.

(MPR / Nate Ryan

)
---
comments powered by

Disqus