Album Review: Mavis Staples - One True Vine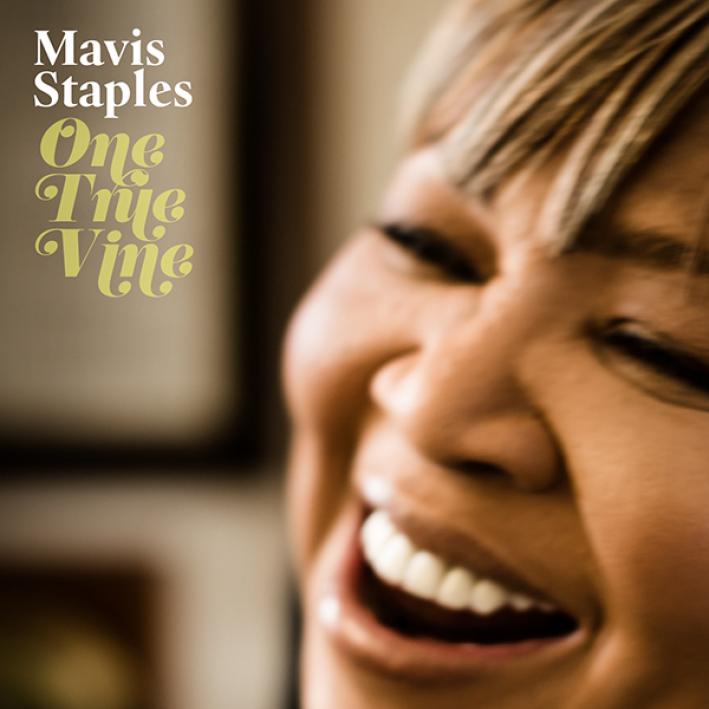 Contribute today and get One True Vine by Mavis Staples as a thank-you gift.
Like 2010's You Are Not Alone, Mavis Staples' latest album One True Vine was produced by Jeff Tweedy of Wilco. Recorded in his Chicago loft, Tweedy and his son Spencer back Staples' signature vocals by performing nearly every instrument heard on the album. Though, One True Vine has sparse instrumentation---her voice is the real showcase. Mavis' velvety alto expressiveness is rich and deep on tracks like the Tweedy penned "Jesus Wept," Nick Lowes poppy gospel-tinged "Celestial Shorts," and a cover of Funkadelic's "Can You Get to That." Rest assured, she'll take you there...
Who is Mavis Staples? Her mother died when she was still a child, so she and her 3 siblings were raised primarily by her father. "Pops" as she called him, performed gospel music throughout her childhood. After facing frustration with his fellow delta blues bandmates, he saw a gospel group before his eyes: Staples and her siblings.
Mavis and her 3 sisters backed Pops' guitar with their vocals and Staples proved to be a star singer. She became the family group's lead with vocals that defied her age by sounding like a woman several decades older and many times larger. The family band headed in a new direction after signing with a small label. They booked gigs, one being in Montgomery, Alabama with Martin Luther King Jr. in attendance. They talked with Reverend King after the show, and he influenced their music making moving forward. Known as The Staple Sisters, the group achieved their greatest success in the early 1970s as they moved away from traditional gospel and protest songs to recording anthems of empowerment like "I'll Take You There" and "Respect Yourself," which Madonna liberally borrowed for her hit "Express Yourself."
Mavis and One True Vine hit close to home. She cover's Low's "Holy Ghost" off the recent Low release The Invisible Way, and---I found this very fascinating---she carried a romance with folk legend Bob Dylan after being a long time admirer (who knew?). They ended up dating for 7 years, but things ended when she turned down his hand in marriage. She explained her reasoning---they were young and stupid, plus she believed Dr. King wouldn't have wanted her to marry a white guy. Dylan has referred to Staples ever since as the "love that I lost."
Mavis Staples will undoubtedly go down in history as one of the greatest gospel singers of all time, powering one of America's great family bands, The Staple Singers. From traditional gospel music to protest songs that underscored some of the decade's most dramatic social changes, to the self-empowerment anthems and soulful love tunes of more recent years, she proves to be a gospel legend. At more than 70 years-old she has no intention of giving up the calling that has consumed her since her childhood. I love the fact that she's buddies with Jeff Tweedy and I love the image of them kicking it in a studio in 2013 to record the great One True Vine.
One True Vine is out now on Anti- records.
Resources
What is Spotify?
Related Stories
The Ten Best Otis Redding Covers From The Rolling Stones to The White Stripes, the list of artists who have covered Otis Redding songs may surprise you. We pick the best in this special playlist.
Theft of the Dial: Alan Sparwawk (Of Low and Retribution Gospel Choir) Alan Sparhawk is now a member of two bands from MN. Most recently, he's been known for his work in Retribution Gospel Choir, who played Rock The Garden this summer. But he's perhaps still best known for Low, the quintessential slowcore band from Duluth that he forned in '93 with his wife Mimi. They've put out a dozen releases, and they recorded a new one over this summer that will be out in the spring of 2011.
1 Photo
Mavis Staples

(Courtesty the artist

)