Alt-J continues to dissolve their competition - The Chart Show - July 2, 2013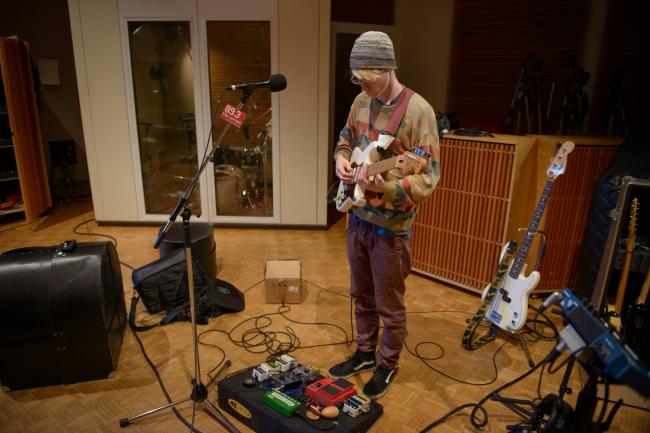 Alt-J may never headline a huge festival like last weekend's Glastonbury in the UK, but they held off all-comers again to remain #1 on The Current's chart. Reports from the biggest festival of the year suggested their airy, intricate songs got lost in the field, but then apparently paled in comparison to The Rolling Stones! Rumours swirled that Daft Punk might show up to the festival, but they didn't even join their buddy Nile Rodgers for a cameo appearance.
Good to see the Glastonbury's headliner Mumford and Sons back in action. They'll be joined by our highest new entry this week Vampire Weekend for a massive gig July 6 at the new Olympic Stadium in London.
Other new entries: Edward Sharpe and the Magnetic Zeros make a debut this week with "Better Days" following their crammed Cabooze show in Minneapolis on June 25. Before their performance, they shared some tracks with Barb Abney for a Theft of the Dial. Phoenix's "Trying To Be Cool" debuts at the #6 spot. The Neighbourhood, who play the big Summerfest Music Festival in Milwaukee Thursday, just makes the cut this week at #20. They'll be playing at Minneapolis' Varsity Theater on Friday.
Cloud Cult has been inducted into the Chart Hall of Fame. They play Duluth's Twin Ports Bridge Festival this Saturday.
With all the chart debuts, we lost Polica, John Grant (who stopped by last week to perform in The Current studios), Bombino, and Nine Inch Nails.
| TW | LW | Wks | | The Current Chart Show |
| --- | --- | --- | --- | --- |
| | | | Artist | Song |
| 1 | 1 | 11 | Alt-J | Dissolve Me |
| 2 | 2 | 10 | Daft Punk | Get Lucky |
| 3 | X | 1 | Vampire Weekend | Ya Hey |
| 4 | 4 | 8 | The National | Don't Swallow the Cap |
| 5 | 7 | 4 | CHVRCHES | Recover |
| 6 | X | 1 | Phoenix | Trying To Be Cool |
| 7 | 10 | 2 | Dawes | Most People |
| 8 | 8 | 9 | Fitz and The Tantrums | Out of My League |
| 9 | 11 | 7 | Sigur Ros | Isjaki |
| 10 | 3 | 4 | Lissie | Shameless |
| 11 | 5 | 6 | Eels | You're My Friend |
| 12 | 6 | 5 | Savages | Husbands |
| 13 | 15 | 12 | Cloud Cult | Good Friend |
| 14 | 14 | 3 | Iron and Wine | Grace For Saints and Ramblers |
| 15 | 17 | 4 | Janelle Monae | Q.U.E.E.N. feat. Erykah Badu |
| 16 | 13 | 5 | Queens of the Stone Age | MY God Is the Sun |
| 17 | 9 | 9 | Jake Bugg | Two Fingers |
| 18 | 16 | 10 | Dessa | Warsaw |
| 19 | X | 1 | Edward Sharpe and the Magnetic Zeros | Better Days |
| 20 | X | 1 | The Neighbourhood | Sweater Weather |
Related Stories