First Listen: Indie supergroup Thriftstore Masterpiece re-envision Lee Hazelwood's 'Trouble Is a Lonesome Town'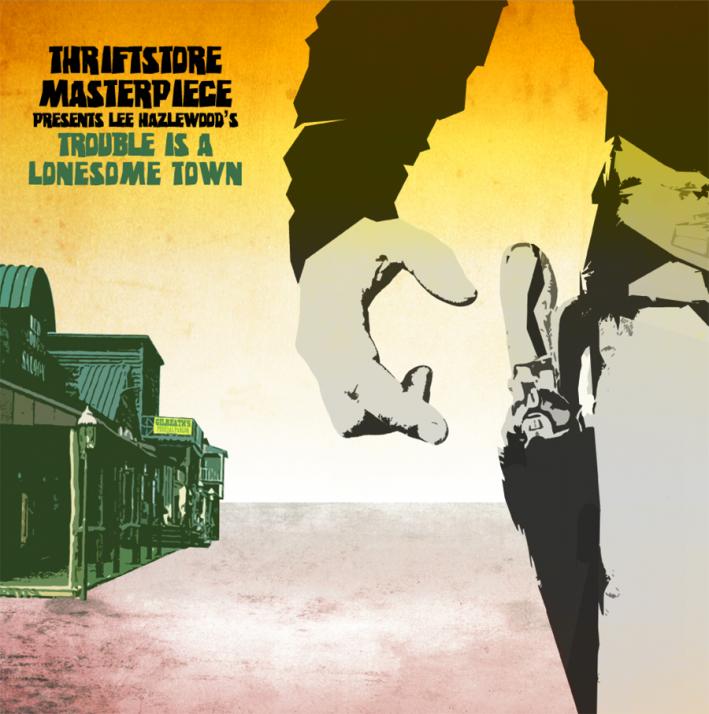 Country singer-songwriter Lee Hazelwood, who worked with artists like Nancy Sinatra and Duane Eddy, released his debut album in 1963 to little fanfare, though the outlaw, thieves, and down-and-out laborers concept album was ahead of its time in thought.
Tracks on Trouble Is a Lonesome Town were originally recorded as demos. Hazelwood hoped that other musicians would take the reins and recreate the songs in the studio themselves.
Charles Norman, who performs under the stage name Charles Normal, found Hazelwood's debut while he lived in Oslo, Norway. And it stuck with him.
Over the course of his 25 year career performing, Normal has picked up his fair share of music buddies. In fact, after hooking up with Guns N' Roses keyboardist Dizzy Reed, Normal played bass on the tracks that would become the band's infamous Chinese Democracy.
Since then, he's performed with other musicians, gaining more buddies along the way and decided to carry out Hazelwood's original vision for the album and corralled his talented friends to rerecord the 10 featured tracks.
Together they would rerecord Trouble Is a Lonesome Town. (His mailman Jerry also appears on the album, too, lending his lilting drawl as the record's narrator.)
After six years in the making, Thriftstore Masterpiece finally release their rendition of Trouble Is a Lonesome Town.
Thriftstore Masterpiece is:
Charles Normal - Producer and mastermind behind Thriftstore Masterpiece
Frank Black - Lead singer and front man of the influential alternative rock band Pixies.
Isaac Brock - Lead singer, guitarist, banjoist and songwriter for indie rock band Modest Mouse.
Courtney Taylor-Taylor - Lead singer and guitarist of alternative rock band The Dandy Warhols.
Kristin Blix - Vocalist for alternative pop band Guards of Metropolis.
Larry Normal - Musician and a leading pioneer of modern Christian Rock music.
Eddie Argos - Lead singer of English rock band Art Brut.
Pete Yorn - A singer-songwriter, guitarist and drummer best known for his extensive catalog including his breakthrough debut musicforthemorningafter.
Trouble Is a Lonely Town track list:
1. "Long Black Train" featuring Frank Black
2. "Ugly Brown" featuring Larry Norman
3. "Son of a Gun" featuring Frank Black
4. "We All Make the Flowers Grow" featuring Kristin Blix
5. "Run Boy Run" featuring Frank Black
6. "Six Feet of Chain" featuring Pete Yorn
7. "The Railroad" featuring Isaac Brock
8. "Look at That Woman" featuring Courtey Taylor-Taylor
9. "Peculiar Guy" featuring Eddie Argos
10. "Trouble Is a Lonesome Town" featuring Larry Norman
Resources
Related Stories
Pete Yorn performs in The Current studios Though first finding his footing in writing music for movies, Pete Yorn's folky songwriting has grown far from the silver screen.
Art Brut performs in The Current studios Art Brut's first full-length CD was "Bang Bang Rock and Roll" released in May 2005. Since that time, the band has been out touring making even better music and they released their second full length project entitled, "It's A Bit Complicated" in June 2007.