Album Review: Preservation Hall Jazz Band - 'That's It!'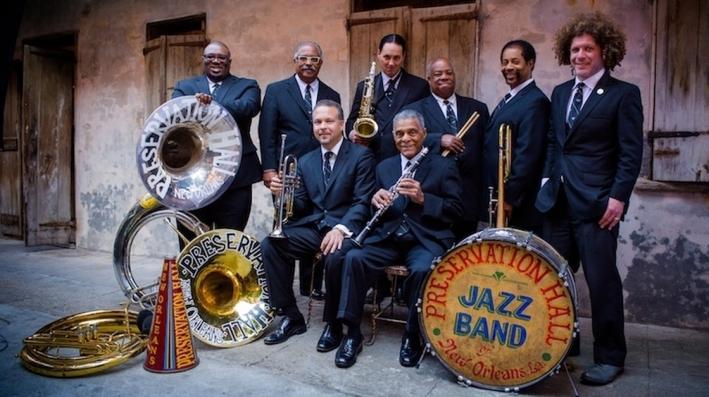 It's weird to say, but That's It!, the new album from Preservation Hall Jazz Band, is about 100 years in the making. Not that the songs are 100 years old, or the musicians, but the spirit and roots of this music harkens back to the earliest days of 20th Century New Orleans jazz, while at the same time taking a cherished institution and pointing it to the future.
Preservation Hall itself was founded in 1961 by Allen and Sandra Jaffe, East coasters who had moved to New Orleans and converted a space at 726 St. Peter Street in the French Quarter into a salon; a gathering place for artists, musicians, and thinkers to hang out. They began hosting nightly intimate performances by musicians who had been around since the birth of jazz - folks who were there with Louis Armstrong, Sidney Bechet, or Jelly Roll Morton. In time this group of players coalesced around the space into Preservation Hall Jazz Band, and began spreading the New Orleans sound back to the country via tours (one of their first important gigs was at the Guthrie in 1963). Over the next 50 years the band would turn over (Octogenarian Menudo!), with new recruits coming in from Europe or through New Orleans' great tradition of youth brass and jazz bands. Still today, with three sets per night every night, you can go to Pres Hall to see and hear affiliated bands keeping this style of music alive and more vibrant than ever.
Now organized and led by tuba and bassist Ben Jaffe, the son of Allan and Sandra, Preservation Hall Jazz Band is stepping out from their history of reviving the old songs to offer a batch of new compositions, all written or co-written by members of the touring Pres Hall band, and co-produced by My Morning Jacket's Jim James. Collaborating on some songs were our friend Dan Wilson and '70s legend Paul Williams (from Daft Punk to Preservation Hall in 2013!). But the real stars are the ensemble of 8 players, including lead vocalists Charlie Gabriel and Clint Maedgen.
These guys ooze New Orleans. A little back on the beat, with a virtuosity that sounds effortless, and with joyful timelessness, That's It! is a record that feels right in so many ways. You can appreciate this album for the history lesson it provides, for the novelty of hearing a band rock without guitars or electric instruments, or relax and don't think about it - just dig the magic that seeps from every groove.
On a recent trip to New Orleans my family got to hang out with Ben Jaffe and his family. He gave us a tour of the 9th Ward, past Fats Dominos' house, and the devastation still omnipresent post-Katrina, but we also got to see and soak up the funky bars, great local community radio (props to WWOZ!), record shops, restaurants, neighborhoods, and people that make New Orleans America's most amazing city. That uniqueness comes through.
Listen to That's It! in its entirety with a First Listen from The Current.
The closest comparison to this album might be Buena Vista Social Club, which exposed some obscure but incredible veteran Cuban musicians to the world. And if you think about it, New Orleans and Havana share a lot in common, from the humidity to the poverty to the history to the dysfunction that Ben characterized when I asked him about Nola's notorious government, "oh, it's the LEAST corrupt local government... in the Caribbean."
No city has been pushed down harder, yet fought back with more resiliency, and you can hear it on this album. Like all the young people inspired to move to New Orleans to help rebuild the city after Katrina, it's easy to see that it is more than a city - it's a way of life, from the music, to the food, to the way the city wraps itself around the Mississippi - there's no place like it. New Orleans is a city worth saving and celebrating. That's It! is part of its soundtrack - past, present, and future.
Resources
Related Stories