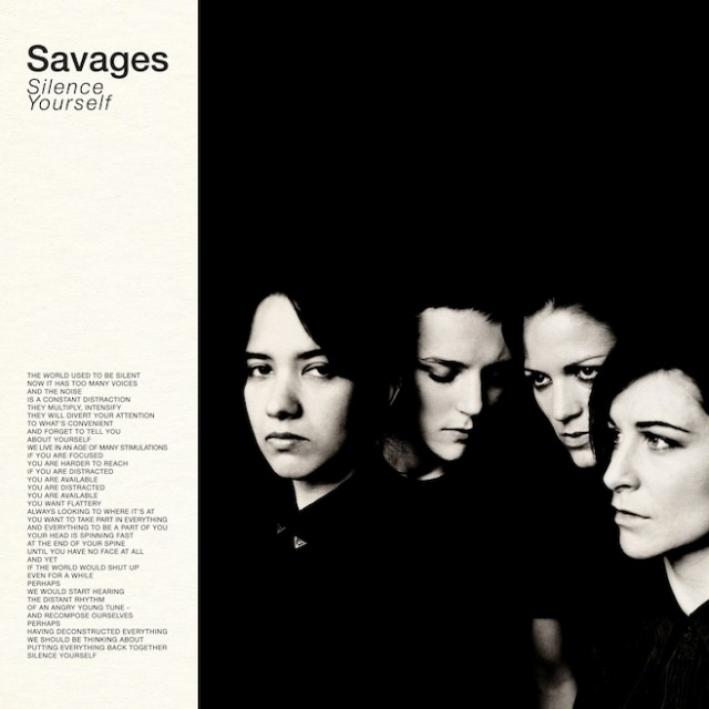 Leading up to the release of Savages' debut Silence Yourself, the London quartet posted a simple philosophy online: their intention was to "create a sound — indestructible — musically solid, written for the stage and designed with enough nuances to provide a wide range of emotions."
Live shows are a prime translation of that philosophy. When people write about the impact of Savages and their M.O., a sign posted at one of their first gigs often gets mentioned: "Our goal is to discover better ways of living and experiencing music. We believe that the use of phones to film and take pictures during a gig prevents all of us from totally immersing ourselves. Let's make this evening special. Silence your phones."
"Silence Yourself." "Silence Your Phones." Songs like "Shut Up." There's obviously a visible trend. Savages wants us to disconnect ourselves from reality and reflect on what's going on in front of us. The themes that pulsate through their debut give us a distinct idea on what we need to focus on, namely the essence of humanity, persistent violence and sexuality. In the end, if Savages have done their jobs correctly, we'll be feeling that wide range of emotions alluded to in their musical philosophy.
It's easy for post-punk to evoke all sorts of expression — just look at the impact early acts made on the human psyche. Groups like Joy Division, Gang Of Four, Suicide and just about everything John Peel talked about in the '80s — they were unabashed in their commentary. And sure, we've had fearless bands in the time since that heyday closed shop. But now we're kind of in a post-punk revival. The world is a lot more screwed up than we could have ever imagined. Progress is actually not too apparent in the grand scheme of things. And it's the darkness of Savages' debut that really hones in on this fact — at least in the musical sense.
When lead single "Husbands" made it out into the world, they were instantly propelled from obscurity to something much larger. On record, it's a driving damnation with a seamlessly constructed guitar line and fiercely emphatic drumming. And if you've seen their performance of it on Jools Holland, you'll think of the song in a much different way — you may even consider it the best live television performance you've seen in recent memory.
That song has become the cornerstone of a debut that took almost two years to complete. And it's a prime example of Jehnny Beth's rapid-fire, dehumanizing delivery: "I woke up and I saw the face of a guy / I don't know who he was, he had no eyes / His presence made me feel ill at ease." And I firmly believe it is the strongest song made so far this year.
"She Will" is a poignant meditation on reclaiming sexuality and desire. It's a bold declaration on how women are depicted and how they are pushing those historical representations away. The song is a series of "go-get-em" convictions: "She will open her heart / She will choose to ignite / She will forget her pain."
The album is split into two somewhat distinct sections, marked by the minimalistic instrumental "Dead Nature" at the mid-point. It seems obvious that the band intended for this to be the sequencing, as even their lyric sheet splits the album on each side. After the first five songs, you might definitely need a break from the grating nature of the beast. However, as soon as the second half starts, we are launched into the most intense part of Savages' catalogue with "She Will," "No Face," "Hit Me" and "Husbands" providing our ears 12 minutes of constant, glorious turbulence.
And while this type of music isn't everyone's cup of tea, Savages should be commended on their ability to stay true to what they believe in right off the get-go. The amount of attention on this band is comparable to so many other buzz acts that got big quickly. But the four musicians in Savages have a distinct purpose to fulfill, and there's no stopping them.
Resources
Related Stories
Savages storm The Current studios Between their much-buzzed-about set at the Pitchfork Music Festival on Saturday and their sold-out show at the Triple Rock Social Club last night, excitement over Savages is at an all time high.