Mystery man Daughn Gibson stops by New Hot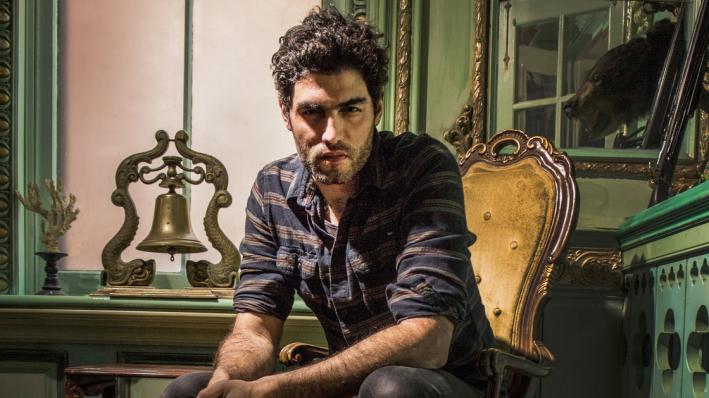 Daughn Gibson is one of those musicians who seemed to matriculate out of thin air. Signed to Sub Pop off the strength of his debut All Hell, this Pennsylvania born-and-raised 6'5", deep-voiced crooner has challenged listeners with some of the most ingenious vocal tricks in recent memory. Many people already know his backstory: he played drums in Pearls & Brass, was a trucker, worked in warehouses, tested radiation on broadcast towers, worked at an adult bookstore and did sound at dive bars. The guy's somewhat of a nomadic enigma. During his recent stop in Minneapolis, Gibson caught up with New Hot host and Music Director David Safar to talk about his sophomore album Me Moan.
David Safar: It's been a really eventful year for you after your debut last year — you signed with Sub Pop. What's that experience been like?
Daughn Gibson: It's been great. It took me completely by surprise. My buddy Matt put out All Hell last year and he passed it over to them and they gave me a call and that was kind of it. So the past year's been great and definitely different than any other year of my life.
You said it's been a surprise. What's been surprising about it? Just that they wanted to put out your music or you weren't expecting them to hear it?
I guess I hadn't really considered that the record would do anything or go anywhere or anybody would really care about it. So they were honestly probably one of the first five people to hear it besides Matt and my wife and a couple of my friends.
Before you started releasing solo albums, you played drums in a band called Pearls and Brass. What drew you away from that?
I moved out to Carlisle which is center of the state. My other dudes lived in Philly, in Allentown. And we just parted ways. Went on a couple last tours and we never even communicated anything about stopping playing. We just kind of stopped. That's how we always rolled. We've known each other since we were little kids. Nothing conscious, or like "Oh, now I'm going to try this kind of music." Things just naturally evolved that way.
You played drums in that band. Was that your first instrument?
Yeah, I started playing drums when I was about 10 years old. Started playing this piece of plastic in front of a teacher at school and then moved on to playing the marching band which I hated. And then somebody gave me a drum set and I discovered punk music and that was it.
You went from playing — you could call Pearls and Brass a metal band, heavy rock band — playing drums now to being what some people might call a singer-songwriter. Did you ever expect that to happen?
No, I always did that stuff. I always had this little digital recording device. I would make songs on my own and then not play them for anybody. I started messing with Ableton which is this software mostly for making beats and sampling. Because I never practiced drums — I don't know if any drummer really does — this was another way to think about rhythms and melodies and put them together in a way that I thought was interesting without having to rely on just a guitar or just a piano. It took me about a year before I started making the music I make now — just feeling my own style out and mimicking other people. Just cultivating something that I really liked.
Who do you look to mimic?
At first it was Burial and Demdike Stare and Gonjasufi. I was just listening to a lot of that stuff and really working with samples and just throwing records on and cutting them up and seeing how ridiculous I could make a stitch.
Your new album incorporates a collage of sounds. I imagine some of them might be samples; some of them might be sounds you created. And it doesn't really fit into one genre. Can you describe that sound you were intending to make on this new record?
It varies depending on the lyrics. If I have a story in mind, I want the backdrop to color the story a little bit more. It makes a lot more sense within context. I never go into anything with any specific idea. I just throw things at the wall and see what looks good and then subtract.
What stories are you telling on this new album?
A lot of it is the same approach I took with All Hell where I just have these little notes about people, these little stories, little anecdotes that I've heard over the years, and I just elaborate on them. On this record, "Phantom Rider," the second song, is about an experience me and a buddy of mine had driving across country. We stayed in what we thought was a haunted motel room and we both had an episode of sleep paralysis together. We're hallucinating in the room and we're convinced that the room is totally haunted and we're being terrorized. That song came out of that — more or less a very personal experience. Other things are just chaotic details of people's lives and me trying to sympathize with them in some way and develop their characters a little more.
What new music are you listening to these days?
This producer Powell — I think out of the UK — he puts out EPs. It's very non-descript electronic music. Kind of like Suicide and some techno elements to it. Clay Wilson is another producer out of the UK I listen to a lot. And I've been listening to this Slow Machete record which is kind of like if Bon Iver just started using samples and throwing stuff together. There's all kinds of stuff I grab. Especially from Boomkat which is this online record store more or less. They always highlight stuff that's generally always good. That's my favorite record store.
When you're on the road and listening to music, are you also writing at the same time?
Yeah, I recently started doing that. I'm in the van and I just put my headphones on. I crack open my laptop and just start working on stuff. It's totally uncomfortable to do being crammed, amidst all this gear and suitcases and stuff, but I try to work for an hour or two a day in a different setting than my house just to see what happens. Especially working on music while you're moving is kind of a totally different approach.
Is that how you wrote the new album? It came out in a pretty short amount of time.
I didn't write anything on the road for that one. I just planted myself at home in my little room and woke up every morning and worked on stuff. It's a great, focused way to work, but I believe on changing it up. If you want a different outcome, you gotta change your setting even if it's just going to the coffee shop. But since I'm on the road this year — gonna be on the road quite a bit — it's time I learned how to write and move at the same time.
If someone's listening to your record for the first time, is there a setting that you think it's best to listen to in?
I always think driving at night and listening to it, especially if you're in Pennsylvania.
In Pennsylvania, where you grew up?
Yeah, there's nothing too direct about that. I'm not necessarily inspired by Pennsylvania trees or mountains, but I definitely enjoy listening to it in that setting if I'm driving up to Coal Country and coming down a big mountain at night. I think it's great. To me, that's the best setting for it.
Resources
Related Stories
First Listen: Daughn Gibson, 'Me Moan' On Gibson's new album, Me Moan (out July 9), that powerful instrument is still nuanced enough to capture details such as downing an afternoon shot at a local bar.