Lollapalooza: 3 days of music and thousands of fans, but only one must-see show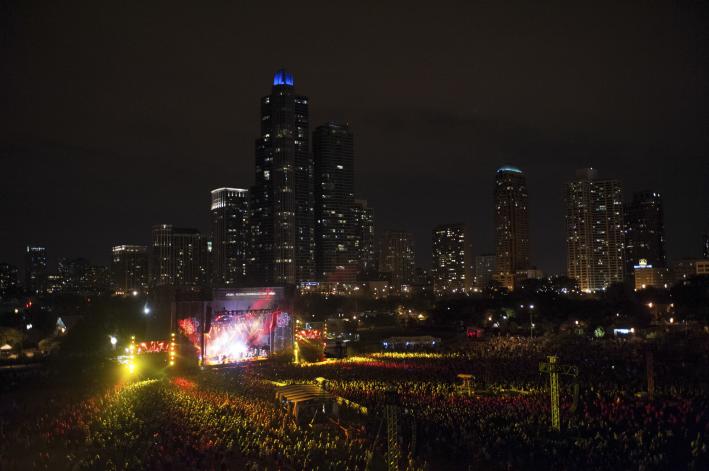 Day 3: Sunday, August 4, 2013
Highlights of the final day included sets from Vampire Weekend, Phoenix, Two Door Cinema Club, Alt-J and more - but the most important show wasn't at Lollapalooza at all. The place to be was the Metro after-party for the final performance ever by The Postal Service.
It's such a first world problem. By Day 3 of Lollapalooza, concert goers are worn out - too much music, too many stages, too long a walk from one end of Grant Park to the other. Please cue the world's smallest violin, but by the end of Sunday my legs were aching, my stomach craved vegetables, and my ears were fried. (And I wasn't even raving at Perry's EDM stage.) Sure, I'm older than the average fest-goer, but nearly everyone on Sunday night was moving a little slower and not that worried about missing some ... or most of a set.
The Cure vs. Vampire Weekend vs. Phoenix
That lackadaisical attitude makes a crackin' 75-minute romp from Vampire Weekend far more interesting than Robert Smith's two-hour Cure re-boot fest closer, complete with Bob looking a bit like a doddy Goth Grandma caught in a rainstorm, playing every song in the same plodding tempo and tone. I for one would not love him less if he performed without messy lipstick and disheveled hair, and would love him more if he mixed up the arrangements of his songs.
Vampire Weekned on the other hand, were crisp and forceful, running through half of Modern Vampires and all the hits from their first two albums to an enthusiastic packed crowd. Against all odds they have become one of the most important and beloved bands of the past decade.
Phoenix went head-to-head with The Cure and brought more of an edge to the polished sound of Bankrupt!. The crowd indicated that they have also turned themselves into one of the biggest bands of our time.
Some quick and instant reviews from Lolla:
Major Lazer know how to throw a party, packing the Perry stage with sonic delights and more humor than one usually gets from dance music.
Alt-J may not have blown minds, but they definitely lived up to the hype, playing for their biggest US crowd to-date.
Chan Marshall's (of Cat Power) voice remains one of the best in music, but it is sad to see so few fans at her side-stage gig. (Apparently unless your name is Kanye or Liam you are only allowed so many bizarre self-sabotaging events before people stop caring.)
Wavves were tighter than expected, despite the presence of a bassist who played a Flying V and looked like a crazy combination of Van Halen's Michael Anthony sporting Sammy Hagar's locks.
Baroness played groovy metal, punctuated by forays into Thin Lizzy-esque harmony guitar playing.
MS MR went over well, augmenting their originals with a cover of LCD Soundsystem's "Dance Yrslf Clean" that left non-Current listeners wondering, "what was that song?" Skaters sounded like something that happened five years ago and doesn't need reviving.
Jake Bugg sounded great, delivering his Brit-folk to an enthusiastic crowd.
Palma Violets were scrappy and energetic Brit-Rock. Underground rapper Angel Haze had one of the biggest early day crowds, while Lianne La Havas had a sparse crowd but included a cover of Stevie Wonder's "Jamming" in her set.
The Postal Service at the Metro
Leaving before the end of The Cure's set, (sacrilege!) we headed up to Cabaret Metro for the last-ever show by The Postal Service. Taking the stage at midnight in a live simulcast with Chicago's WXRT radio, Postmen Ben Gibbard and Jimmy Tamborello were augmented by Jenny Lewis and Mynabirds' Laura Burhenn to bring to life the songs of Give Up, their lone album and the record that launched a thousand bedroom indie-pop dreams.
Having seen them at the Entry ten years ago in front of about 40 people, Music Director David Safar, wasn't sure how it would be different after a decade's worth of music passing, while I wondered how this would work live. I half-expected it to be nothing more than Jimmy pushing a button on his laptop and Ben standing at a mic, singing ... there was that, but so much more.
Jenny Lewis brings her presence, charisma, and let's face it, sex appeal, to every stage, and seemed to inspire Ben Gibbard to be looser and funkier than he would ever dare in his Death Cab day job.
Moving from guitar to keys to live drums within the space of a single song, Gibbard attacked the tunes with exuberance, wrapping his tales of lost-and-found love around Tamborello's now iconic click-hop beats. Fleshing-out their set with a Beat Happening cover and "Tattered Line of String," the show was essentially all of Give Up, with the enthusiastic crowd singing along to hits like "The District Sleeps Alone Tonight," "Brand New Colony," and "Such Great Heights."
That song stands as such an "Aughts Classic," that when the group came back for their encore, they played it a second time. Before launching into it, however, Ben introduced the band, and then stated that it was "the last song of the night, on the last night of the tour, and the last show we'll ever play together" before inviting the crowd to sing along as they reprised their best-known song. It was about as cool of a way to break up as you could imagine.
Day 2: Saturday, August 3, 2013
Another day, another couple hundred thousand Bud Lights. Lollapalooza is big business. From the millions spent to both prepare and recover Grant Park, the millions spent on hotels and restaurants in Chicago during the weekend, the millions spent bringing acts like The Cure, NIN, and Mumford and Sons to the stage, this is a fest on a scale larger even than Bonnaroo and Coachella.
With dueling headliners, it's interesting to observe to which stage the crowd surges. Friday the masses favored NIN over the Killers. Saturday it was Mumford and Sons over Postal Service, with probably 60,000 overfilling the southern half of Grant Park to cheer on Marcus and Co. And last night, after Mumford and Sons played to enraptured audience, David Safar and I were among the chosen few to be whisked backstage to where Team Mumford and Team National were hanging out with each other and the likes of Mayor Rahm Emanuel, giving the Twin Cities' rock and roll mayors a run for their money with his knowledge and passion for music.
At that moment, we were at the epicenter of the rock universe, and it felt a little weird. Having been there with The National since early days of The Current, and with Mumford and Sons since the early days of Mumford and Sons, how did this happen? When did Indie culture become King of Rock? Because Lollapalooza is really not very Indie anymore, it's big business.
The majority of the fans are not members of a disparate musical tribe gathering to revel in their shared freakishness - that's what Lollapalooza was in 1991; today Lollapalooza is the coronation and confirmation of massive success. Sure there's a lot of up-and-coming music on the secondary stages, and a little Farmer's Market food court (where I was told that cupcakes and donuts are out. Puff Balls are the new pastry-of-record for hipsters.) and a small "social activists" area where one can still sign on to Rock the Vote, but the festival has certainly morphed greatly from the initial inspiration of Perry Farrell to where it is today. But hand-wringing and overthinking aside, there was a lot of music to love on Day 2 at Lollapalooza 2013. Here's what we saw.
Mumford and Sons
Massive, joyous, dynamic, huge, yet still sweet. It feels like U2 circa 1985, when they began to realize they were the biggest band in the world, and what that meant — for them, for fans, for haters. The songs from Babel have translated well to their stage arrangements, the addition of occasional horns, strings, and drums gives the music more variety, and the charm and camaraderie shared by the four Mumfords helps explain how this little folk band with big songs have become so massive. Seeing all those people was an awesome sight, and the band seemed genuinely touched at the response. They included a bluegrass style all gather round one mic version of Springsteen's "I'm On Fire," and when fireworks went off behind their stage (a White Sox win a few miles away?) while they sang it may have been the emotional peak of Lollapalooza.
Matt and Kim
No one leaves a Matt & Kim show disappointed. The married duo's energy, songs, sound are all built on making the audience give in completely and go crazy. From releasing balloons into the audience to climbing from behind the kit to surf the crowd, Kim is a dynamo of positivity, and with their third Lollapalooza appearance packing a big crowd at the Petrillo stage, it seems destined that Matt and Kim will be headliners next time they play the fest.
The National
What's with lead singers walking on top of audience members? Not only did the exhibitionistic Kim of Matt & Kim do this, but so did The National's Matt Berninger, climbing over barricades to get into the crowd near the close of their set. For a band that makes brooding indie rock, they have become increasing unafraid to use all of the stage and paint on a wider sonic canvas live, adding the horn players and stretching the duel guitars of Bryce and Aaron Dessner further with each tour. A great set that bodes well for their Twin Cities gig this week.
Foals
English guitar rock that also went over well, taking bits of the swirl of sonic forefathers Ride and swagger of the Brit-pop era.
Heartless Bastards
Without a DJ or a banjo on stage, they seemed out of place here, yet Heartless Bastards cranked-out their southern gothic rock to a small but appreciative audience on the Grove sidestage.
Unknown Mortal Orchestra
Like Heartless Bastards, another oddity that played to a sparse crowd, Unknown Mortal Orchestra channel some spirit of the '60s with extended instrumental breaks, matching uniforms of black on black with sunglasses, and helium pitched vocals.
Adventure Club
The moment of maximum sonic dissonance for me was wandering between the stage known as "Perry's" that features EDM DJs, and the adjacent Red Bull stage to see The National. The act I spent the most time watching over at Perry's was Adventure Club, a Canadian dubstep duo that started playing dance music after becoming bored with playing punk rock. They brought a bit of the punk vibe to their sonic boom, and thousands of Lolla's younger fans squiggled their headbanded, glitterized bodies while giant video screen and sound system deliciously destroyed synapses with huge builds and drops.
Two Door Cinema Club at House of Blues
Following the 10pm Lolla shut down, 100,000 people come streaming out of Grant Park to attack Chicago. All the great local venues book afterparty late night shows. Last night we wound up at the House of Blues, watching Irish rock band Two Door Cinema Club. House of Blues in Chicago is an amazing venue — with folk art on every wall, well designed stage, sound and lights — and cool nooks and crannies and secret passageways that make just finding your spot an adventure. A slightly jet-lagged Two Door Cinema Club put on an impressively tight show, illustrating that not only is getting their sound and production into a small club a treat for showgoers, but that this young band has already matured in the few short years they've been playing. They are skipping the Twin Cities on their upcoming tour, (which takes them through North America, Japan and a slew of European festivals) and that's our loss. Lead singer Alex Trimble has upped his game, and had command of the stage while dressed in a suit and tie and waving his Conan-esque locks about the stage, delivering songs from both their studio albums and a few new ones too.
More highlights
Among the other highlights of Day 2 we met up with James Brown's former manager SuperFrank Copsidas, and went to Jazz Record Mart where we met Bob Koester, the 80-year old founder of the store and Delmark Records, a blues and jazz label that has released over 600 albums in it's 60+ years.
We'll be leaving Sweet Home Chicago with some Magic Slim, Junior Wells, and Sun Ra vinyl, and the memory of being regaled by one of the true legends in the history of American music. Not a bad day indeed.
Day 1: Friday, August 2, 2013
The Current's Music Director David Safar and I flew down to Chicago to check out Lollapalooza this weekend. With 300,000 tix sold to the event across three days, it's the biggest music fest in the world right now. And big is the key here. In the 9 years since the touring version of Lolla has been parked in Chicago's Grant Park, it has grown to 8 stages and over 100 acts. It takes over Chicago's Lake Front and Millenium Park area, with the inconic Buckingham Fountain in the exact center of the festival.
So how was Day one? We arrived with proceedings in full swing about 5 p.m., but still caught a few great shows:
Nine Inch Nails
Jim McGuinn: On the first Lollapalooza tour in 1991, NIN played early in the day and their performances re-invented rock and roll, melting faces and establishing themselves on that tour as a key band of the '90s. They remain a key band of the '90s, playing a set at Lolla2013 that spiked whenever they returned to the heavy radio hits off Pretty Hate Machine and Downward Spiral. Still great live, but not as far ahead of the world anymore. But is it possible to change rock and roll twice, and can it ever be done from the Bug Light Stage at a festival like Lollapalooza?
David Safar: The only CD I ever got in trouble for owning was Downward Spiral. Having never seen them before, Nine Inch Nails' music still sounds ambitious two decades later. Felt like an early kickoff to the fall tour, with great sound and lights and Trent Reznor performing at the top of his game.
New Order
Jim McGuinn: Better than I ever imagined! One of the few veteran acts here that I'd never seen over the years, and they blew me away. A greatest hits set, rocked harder than their recordings, with stunning visuals, and closing with a clutch of Joy Division songs. Perfect festival performance for both the hardcore fans and the uninitiated. They made it look easy - left me wondering why so few have successfully ripped off their sound in 30 years.
David Safar: Maybe the last remnants of the true Manchester scene, but I left to see QOTSA.
Queens of the Stoneage
David Safar: A high energy set with Josh Homme's vocals better than ever and closing with an extended version of "A Song For the Dead" for the hardcore fans. I want them to come to Minneapolis.
Lana Del Rey
David Safar: Packed the Grove stage with fans as concerned with their fashion as music.
Hot Chip
Jim McGuinn: See above comment on New Order. Another electronic-based rock band that rocks harder then you would expect live, and over the years have accumulated enough jams to please a festival.
Band of Horses
David Safar: "Is There a Ghost" was immediately recognizable even across the massive crowd.
Jim McGuinn:
Crystal Castles
David Safar: A barrage of noisy squelchy squiggly synths and heavy beats.
Jim McGuinn: Twitchy and propulsive. Are there good songs under the cacophony? These are most likely the weirdest Canadians playing here.
More random observations:
Lolla makes Rock the Garden feel like a gig in your living room, which is probably way nicer and intimate and relaxed. 100,000 people means a lot of shades of humanity and rock fans. Generally everyone seems to get along great and I saw no real bad vibes thus far.
There are corporate sponsors EVERYWHERE. Red Bull and Bud Light have the main stages decked out, along with Toyota, Samsung, Fender, Vitamin Water, Thorny Rose Wines, and many more.
This place is massive. If you are lucky and have media passes (ahem!) you might be able to catch a ride on a golf cart to get the nearly mile from one headline stage to the other. David rode the festival express, and witnessed about 50 kids bum rushing the security fences, hopping along the tops of port-a-potties to get in to see Chance the Rapper. Anarchy!
There's a Kidapalooza stage, not far from the Uncorked Wine Bar chillout area. Fun for the whole family!
Some dude near me was holding up a photo of Nicolas Cage on a stick, and when it keep getting on the video screens people laughed.
Best line overheard at the festival: "I would rather someone take a sh*t on my head than watch the Killers." Second best line overheard: "Mom, can't you flash your boobs or something so we can go backstage?"
22 Photos
Robert Smith of The Cure at Lollapalooza 2013.

(MATT ELLIS

)

The National

(DAVE MEAD / Lollapalooza

)

Lana Del Rey

(Will Rice / Lollapalooza

)

Mumford and Sons

(DAVE MEAD / Lollapalooza

)

Matt and Kim

(MATT ELLIS / Lollapalooza

)

The Lumineers

(DAVE MEAD / Lollapalooza

)

Hot Chip

(MATT ELLIS / Lollapalooza

)

HAIM

(Jack Edinger / Lollapalooza

)

The Postal Service

(MATT ELLIS / Lollapalooza

)

Lollapalooza August 2, 2013

(Ashley Garman / Lollapalooza

)

Nine Inch Nails

(DAVE MEAD / Lollapalooza

)

Queens of the Stone Age

(Cambria Harkey / Lollapalooza

)

Crystal Castles on stage

(MATT ELLIS / Lollapalooza

)

New Order

(MATT ELLIS / Lollapalooza

)

Kim, the enthusiastic drummer for Matt & Kim jumps into the audience.

(MPR Photo / Jim McGuinn

)

Lollapalooza August 3, 2013

(MATT ELLIS / Lollapalooza

)

Phoenix trying to be cool at Lollapalooza.

(Cambria Harkey / Lollapalooza

)

Charles Bradley

(MATT ELLIS / Lollapalooza

)

Major Lazer performs at Lollapalooza

(Jack Edinger / Lollapalooza

)

Buckingham Fountain

(MPR Photo / Jim McGuinn

)

Vampire Weekend

(MPR Photo / Jim McGuinn

)

Cat Power

(Will Rice / Lollapalooza

)
View 21 more photos