Rising Chicago band Twin Peaks stops by New Hot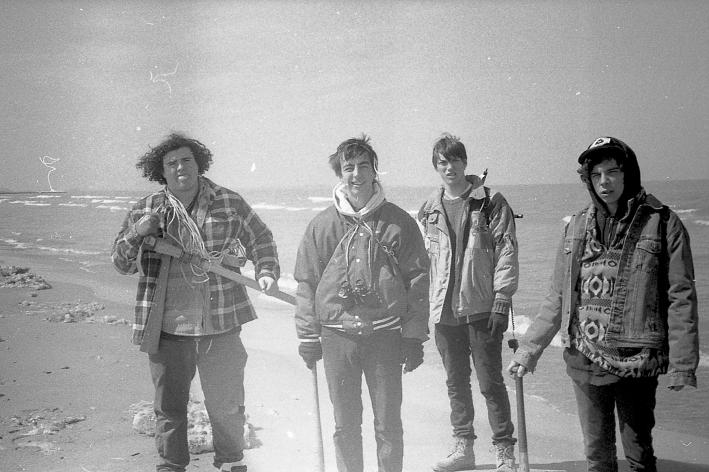 Chicago quartet Twin Peaks suddenly rose to a higher profile at the beginning of summer after blogs across the world picked up on their song "Stand In The Sand." It served as the first taste for many of Twin Peaks' scuzzy, nostalgia-laced pop sound, and the strength of their debut Sunken has further propelled them into the public spotlight. For this interview on New Hot, the band talks about the now-infamous Foxygen show in Minneapolis, their "controversial" name and how quickly they had to transition from college dropouts to a touring act.
Jon Schober: The new record is called Sunken. It's out now on Autumn Tone. I want to talk to you guys a little bit about the run-down. Cadien, how did you guys all get together?
Cadien Lake James: I used to play in a band with my brother, and then he went off to tour with another band. I'd played in a bunch of random bands with Jack throughout the latter-half of elementary school. We were in high-school at this point when he plugged me up with Connor. We started playing together with a buddy of ours called Lucas and then Clay ended up joining later in high-school. We were under a different name our sophomore year of high-school when we started playing together. And then by the beginning of senior year, Clay was playing with us. We toured after our senior year and then the rest is history I suppose.
So three of you guys went out to Evergreen College and dropped out of there. Did you all go back to Chicago right away and then start rewriting history?
Cadien: Yep, we drove down from Olympia, picked up Clay from LA and ran back to Chicago.
Sunken was originally recorded and released about a year ago. Which of you guys can tell me what was the catalyst for how Autumn Tone picked it up and how the buzz began again?
Clay Frankel: We recorded in about a week and then toured off of it, so we started getting attention on the west coast kind of fast. And then once we went to school — we had been playing in Chicago a lot — we started making a name for ourselves and got connected to Autumn Tone through our buddies The Orwells. They basically helped us get that connection, and we really hit it off with them.
And The Orwells, are they from Chicago as well?
Connor: Well, the misconception is that they're from Chicago but, being city boys, we like to make it known that they're from the suburbs.
Sunken is this rare, kind of beautiful thing where you've got these eight tracks and they're all distinctly different. But they also get lumped together pretty quickly as this lo-fi garage rock experiment that makes everyone just assume it's going to sound one way. But I think you surprise a lot of people over the course of the record. Did you have a lot of rejects in the process as you're recording?
Cadien: Well, we had been playing a lot of the songs — those eight songs that were on the album — as a set for maybe about a month or two. We had booked this tour over the second half of our senior year — this basement show tour going to the West Coast — and then we realized we have nothing to sell. We had no recordings except a couple, random demos. So a week before we left, we went down to the basement and recorded the set. It was really just a rack-and-shamble recording setup, which I like.
It was two mics going into one track on GarageBand, and we were doing everything with condenser mics. I like that because instead of having a eight drum mics that I can go in and remix later, it was kind of like, I got the drum track for this, I have to work with it like this, this is the best it'll sound and then you don't spend five days laboring over mixing the bass drum and snare drum. It's got a little more feel or magic to it I guess.
So there's things obviously you guys get asked about by the media all the time, the first being your ages. Is everybody 19?
All: Yeah.
So why do people care so much? And do you even care?
Cadien: No, we certainly don't care.
Jack Dolan: I mean, I care. I care about being young. It's fun.
And I guess the other one would be your name obviously. Everyone's saying, 'change your name' and 'are these guys even fans of the show?' Does it even matter? Have you reached out to David Lynch? Have you gotten cease and desist orders yet?
Clay: I don't mind that people are mad at us for taking the name. I think they should relax a little bit. I think it's a good show — we all enjoy it. There's that restaurant called Twin Peaks. I don't see anybody up in arms about that.
Jack: A rose by any other name — Shakespeare. There ya go.
You all are also big advocates of the local music community. I want to know what you're listening to and what you recommend. Jack?
Jack: I'm really into our buddies Sister Crystals' most recent LP. It's self-titled. They're super psychedelic rock. It's a girl and a dude who basically recorded mostly everything themselves and they're both super talented. She's got an incredible voice, and he's really talented so they're really good.
Connor Brodner: I really love The Yolks. They're an older band in Chicago that's been around for a long time. It's like old garage rock mixed with '60s revival awesomeness. Also, The Boxers — they're some other young dudes that we're pretty good friends with and they just got off their first tour.
Clay: Well, I'm wearing this t-shirt right now — The Funs are a Chicago band. It's just a two-piece. They're killin' it. They just bought a farm or something out in Illinois so they're getting their experiments going. They were probably the first people to put out Sunken. They had a tape label called Manic Static. We wanted to put out a tape and we didn't have anything, so we just organized eight songs — four songs to a side on the cassette.
Jack: Sometimes I forget that's where it started.
Cadien: I'll give quick three shouts. White Mystery has always been super awesome. They have a fan base across the country.
Jack: Across the world really.
Cadien: Yeah, they're one of the biggest DIY — completely DIY — bands I know. They're so radical — the nicest people in Chicago. Alex White's a sweetheart. Uh Bones is super awesome since Conner mentioned The Yolks — it's their organ player. And then also Today's Hits who we just played with and we play with a lot. He moved to Chicago in January or something, hit us up with an e-mail that was just, "I work at a liquor store. You guys should let me play a show with you guys."
Clay: Chillest e-mail to play a show with ever. Yeah he said, "Here, check out these songs about pizza!"
Cadien: He records a song a day on Tumblr. He's on day 870 now or something. He's amazing.
Clay: Yeah, actually our record release show was with the bands that Jack was talking about — Sister Crystals and Today's Hits. And that was right before we left on tour so that was really good.
Jack: We sold out Schubas. It was awesome. It was our first sold-out show.
That's a good segue: what's next? What are you guys doing now?
Clay: We're lucky that we still have dates — because we were only going to do two more shows with Foxygen in Vancouver and Seattle. But we're lucky enough to have dates in LA, in Portland, in San Francisco and Fullerton.
Connor: We're just going to head west.
Cadien: Now we just need to fill the space.
Clay: And three of us went to Evergreen, so I think the plan is to see some friends and kind of relax for awhile. That's nice, but it's also a bummer because we loved the Foxygen dudes. But we're lucky, and we wish them a recovery.
Resources