The Current's Public Music Meeting: A polarizing playlist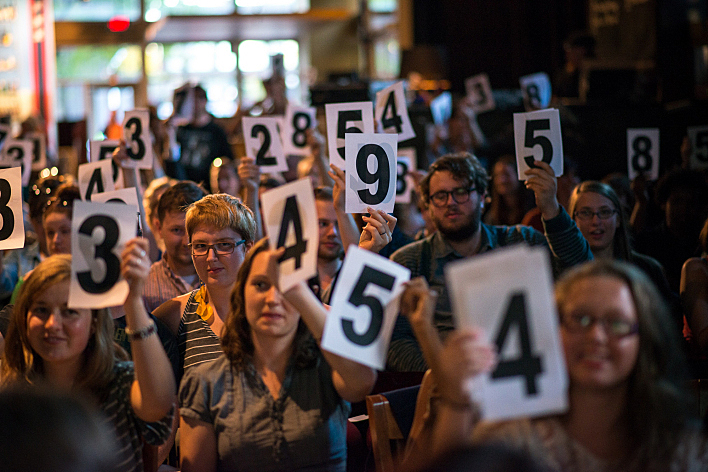 Back in February, The Current staff got together and thought, "What would happen if listeners could sound off on music that the programming team were considering adding to our playlist?"
Thursday night at the Amsterdam Bar and Hall, The Current hosted its second public music meeting, an event where listeners have the opportunity to hear brand-new tracks and voice their opinions.
Without giving away the artist and song, the audience got to listen to a clip of the track in question, rate it using some handy number placards and then express their approval or dismay via microphone or #currentmusicmtg on Twitter.
More photos and comments can be found below.
It was a good night to connect with fans of the station and to give us insight into what works and doesn't work after a basic, first-time listen.
And at the end of the night, attendees were in for a treat. From handing Mary Lucia a CD out of a brown paper bag to becoming labelmates with Mumford & Sons on Glassnote Records, Jeremy Messersmith has come a long way in the Twin Cities music scene. He's expanded his sound for an early 2014 release, and music meeting audience was the first to hear the first single, "Tourniquet".
If you have an opinion about any of the songs played, regardless of whether you were at the meeting or not, feel free to add your comments below.
Here are the top five songs as voted by the audience based on our über scientific analysis.
Top 5 Audience-Rated Songs
1. Janelle Monae - "Givin Em What They Love" feat. Prince
2. Caroline Smith - "Magazine"
3. Rudimental - "Feel The Love" feat. John Newman
4. Destroyer - "Babieca"
5. Best Coast - "I Don't Know How"
Other Songs Played
Arcade Fire - "Reflektor"
Bastille - "Pompeii"
Blitzen Trapper - "Shine On"
Cults - "High Road"
Brent Dennan - "Wild Child"
Earl Sweatshirt - "Burgundy"
The Fratellis - "Seven Nights and Seven Days"
Mansions - "Climbers"
Mazzy Star - "California"
Sleigh Bells - "Bitter Rivals"
Twitter Highlights
Read the complete #currentmusicmtg feed here.
Lots of Wooooos at #currentmusicmtg reveal: Janelle Monae feat. Prince "Givin Em What They Love" http://t.co/3nPOfPOk9G

— TheCurrent (@TheCurrent) September 12, 2013
I like that some dude gave a high score to this Blitzen Trapper song because he liked the snare mix. #Insidebaseball #currentmusicmtg

— David Campbell (@thewombatt) September 12, 2013
Blitzen Trapper was just referred to as "Kid Rock lite." Burn! #currentmusicmtg

— Andrea Swensson (@LocalCurrent) September 12, 2013
"I'm not funky, but I'd dance to that." #currentmusicmtg

— Leah Sawyer (@leah_are) September 12, 2013
surprising rating for Arcade Fire at #currentmusicmtg. "6.8" says the panel.

— Leah Garas (@leahgaraas) September 12, 2013
So funny to see couples next to each with SERIOUS NUMERICAL DIFFERENCES. Good luck, kids #currentmusicmtg

— Julia Schrenkler (@juliaschrenkler) September 12, 2013
Rudimental Feel the Love - any song that can bridge gaps in music is a huge winner in my book. #currentmusicmtg

— PrincessAwesomesauce (@specialkayebird) September 13, 2013
"Skipping ahead to song 11; putting the house speakers' woofers through a workout. #currentmusicmtg" 2nd song with a #kidrock reference.

— Tess O'Connor (@Tess_OConnor) September 13, 2013
Guy at #currentmusicmtg said that last song sounded like "Stevie Nicks took a lot of Nyquil"

— Julia Schrenkler (@juliaschrenkler) September 12, 2013
I'm a middle aged Norwegian who wishes he was the face of Latin pop. #currentmusicmtg

— Katrina DeWit (@KatrinaDeWit) September 13, 2013
We had a 6, sitting next to a 6, next to a 6. What to think of this song!? #currentmusicmtg

— TheCurrent (@TheCurrent) September 13, 2013
Caroline smith's song magazine is a must #currentmusicmtg @TheCurrent

— Trisha Gabriel (@trishainterrupt) September 13, 2013
Echoes of Jobim in song 14 at #currentmusicmtg

— Luke Taylor (@LukeTaylor_MN) September 13, 2013
Hey @jmessersmith I think they are playing you at #currentmusicmtg

— Tom L (@TRL) September 13, 2013
Related Stories
12 Photos
Reed Fischer of City Pages, Star Tribune music critic Chris Riemenschneider, and The Current's Andrea Swensson at the public music meeting writer's table.

(MPR / Nate Ryan

)

Mary Lucia is not impressed with a track at The Current's public music meeting.

(MPR / Nate Ryan

)

Jill Riley of The Morning Show gives a listener to voice his opinion at The Current's public music meeting.

(MPR / Nate Ryan

)

A listener rocks out at The Current's public music meeting.

(MPR / Nate Ryan

)

Digital Producer Luke Taylor tracks the official music meeting hashtag #currentmusicmtg on Twitter.

(MPR / Nate Ryan

)

Music Intern Tara, host Steve Seel, Leah Garaas of the digital department, and host Bill DeVille rate a song at The Current's Music Meeting.

(MPR / Nate Ryan

)

A new track played at the public music makes polarizes the crowd's ratings.

(MPR / Nate Ryan

)

Program Director Jim McGuinn and Music Assistant Jon Schober reveal the top rated songs.

(MPR / Nate Ryan

)

David Campbell shares a had-to-be-there moment with an audience member at the public music meeting.

(MPR / Nate Ryan

)

The Current's Morning Show host Jill Riley asks an attendee of her opinion.

(MPR / Nate Ryan

)

David Campbell reminds listeners to vote based on the artistic merit of the song.

(MPR / Nate Ryan

)

Jim McGuinn consults the writer's table at the public music meeting.

(MPR / Nate Ryan

)
View 11 more photos
---
comments powered by

Disqus