The Current's Guitar Collection: J Roddy Walston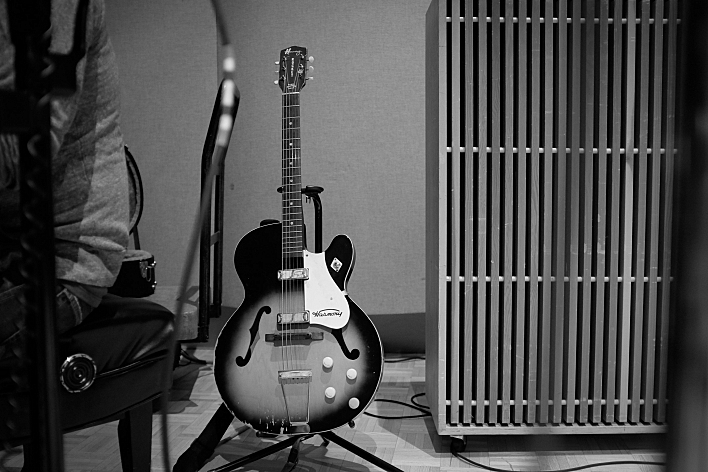 When J Roddy Walston and The Business stopped by Minnesota Public Radio to play a few songs in The Current studios, we asked him about his guitar. Here's what he had to say:
Leah Garaas: So first of all, what kind of guitar is it?
J Roddy Walston: It is a Harmony Rocket, which is a cheap guitar sold at Sears and places like that in the '50s and '60s. I think the name still exists, but it's kinda completely different now. The first time I saw one was with our producer of the record we just made. He was in a really obscure band in the '90s. I saw it and was like, "That is an amazing guitar and it sounds awesome." And it wasn't a Fender or a Gibson, so it was kind of like, "Wow, there's more than two brands of guitars out there." The pickups on them are amazing, really weird, unique, and not like anything Gibson or Fender makes. I think it technically is a single-coil, but it's way higher than either of those two pickups. It sounds really open and distinct.
What year was it made?
I don't know what the year is on it. I think it's late '60s but I'm not exactly sure. I got it at a random music store. When we were touring a bunch, there seemed to be money in the band, so it was like, "Oh! Let's buy that!"
It's from the '60s, but when did you purchase it?
I got it two years ago.
That leads to my next question: Where did you buy it?
It was a really cool store in Knoxville [Tenn.]. Wish I could think of the name of it. Basically it was like if someone had made a store for me. It had vintage records, vintage audio gear, clothes, cool furniture, and actual music equipment. I was like, "This, this is amazing," because the last thing I want to do is look at endless aisles of music equipment. It's, like, have 16 things that are amazing and then have, like, a cool chair. There's just all this kind of rad situation stuff. That might have gotten me more amped to buy from the guy, to be honest.
It's like a lifestyle store, a one-stop-shop?
Yeah! But for guys. Which there's not a lot of. I feel like there's a lot of stuff for girls, but it's like, if you go into a store, there's way more stuff for girls than there is for guys, so I just kinda got lost.
What do you like about playing this guitar?
The thing is, it's not necessarily easy to play, but I'm like a shredder kinda guy. It feels right for me. I'm just gonna bang on this thing, it's probably going to be a little out of tune but it doesn't really matter because I don't really play that well anyway, so it all just kind of globs into some weirdness. I think it's probably the debate of old gear vs. new gear generally. It's like, why bother? They can make something that's way more consistent and it won't break down on you, and it's not going to fall apart, or you can get a replacement part easy. There's just something that's not sterile [about it]. It feels vibey.
It's a hollow body, right?
Yeah, and it's still a hollow body which can — in clubs where you need to get really loud it can be a problem because it starts to feed back. I don't know. I have another guitar. It was a custom Tele that I had built, and I toured with it forever and I love it, but now that I've started to play this other guitar on stage — I got second Harmony now that I'm trying to get ready for tour because I just want to be able to switch between those two. That Telecaster is way more consistent. It's not breaking down all the time. It stays in tune.
I know when you bring an instrument on the road it can get kind of banged up, but it's doing all right?
I don't play guitar as much as I used to on stage, so I don't think it's getting worked as hard as my Tele. My Tele is, like, almost rotted in half from sweaty grossness. In honesty, when you pick [the Harmony] up it feels like a piece of paper. It's so light. The wood is cheap wood, it's not a guitar that was made well. It's kind of surprising that it actually sounds good. You would think that it would just kind of — the other day we played at LouFest and I had it sitting in the shade. Sun comes out, goes further back, and like it dropped a step and a half or something. We were playing and it was just like brrruggg. It's bad.
What do you do when that happens?
I put my guitar down and jumped around like a stupid monkey. It was like, this is not good, this is not what I planned on. I should have just put on my tuner and acted like I was playing.
Related Stories
J Roddy Walston and the Business perform live in The Current studios After opening for The Lumineers' extensive arena tour, including a date at the Target Center in Minneapolis last May, J Roddy Walston & The Business are looking forward to performing more intimate shows on a headlining tour. They stopped by The Current studios to play a few songs off the forthcoming Essential Tremors and chatted with host Mary Lucia.
The Current's Guitar Collection: Laura Marling The Current's Guitar Collection is a look at some of the instruments that have been played in The Current's studios. Many times, there's a good story behind a guitar, often known only to the person who plays it.
The Current's Guitar Collection: Jake Bugg The Current's Guitar Collection is a look at some of the instruments that have been played in The Current's studios. Many times, there's a good story behind a guitar, often known only to the person who plays it.
---
comments powered by

Disqus