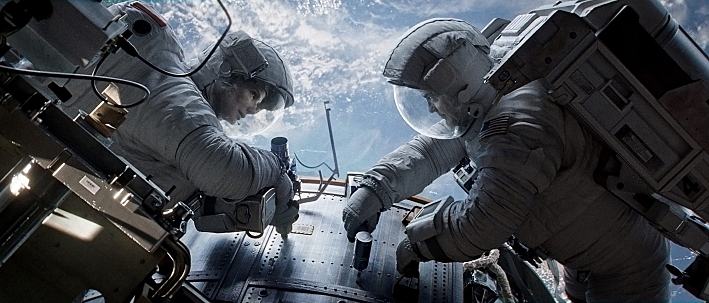 MPR News' Cube Critic Euan Kerr joins Steve Seel and and Jill Riley to review the new space adventure film directed by Alfonso Cuarón and starring Sandra Bullock and George Clooney.
Gravity is rated PG-13, and Euan recommends seeing it on the biggest screen possible.
And speaking of big screens, Euan also briefly describes a non-fiction film called Space Junk that's playing at the Minnesota Zoo's Great Clips IMAX Theatre in Apple Valley, Minn.
Gravity is in very wide release, showing in movie theaters throughout the region.
Gravity, official trailer:
MPR's Movie Maven, Stephanie Curtis, joins The Current's Morning Show to talk about films every Friday at 8:30 a.m.
Resources
Related Stories
Cube Critics: A split take on Gordon-Levitt's 'Don Jon' The Cube Critics issue a split opinion on this week's movie, "Don Jon." The film, which Stephanie finds to be a delightful romantic comedy, follows a man addicted to pornography who is trying to deal with the real women in his life.
The Cube Critics: 'Prisoners,' 'Salinger,' 'Informant' suspenseful, exhaustive, revealing -- in that order If movie going is part of your weekend plans, you now have some good leads, thanks to the Cube Critics, Stephanie Curtis the Movie Maven and arts reporter Euan Kerr.