On the Ball with Mark Wheat: Who's Your Team?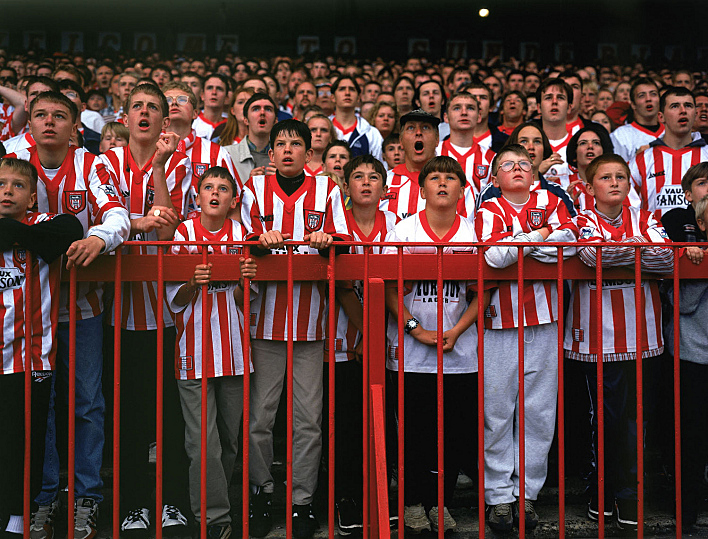 On the Ball with Mark Wheat is a new Monday feature on The Current that celebrates the connections between music and soccer, with an eye to the past weekend's results.
Another interesting weekend of results and stories in the English Premier League (EPL). Not the least of which, again, featured my team Manchester United. They were struggling to overcome the least successful team of the year so far at half-time, losing by a goal to nil. They are a team known for coming from behind, so much so that I actually prefer to have them behind at half-time than in front! But the way they achieved victory this weekend will go down in the history books of this storied club.
Adnan Januzaj an 18-year-old prodigy playing his first-ever game for the team, scored two goals in the second half, the second of which should be a contender for 'Goal of the Season' when we look back in June of 2014. In fact, Januzaj's volley from the edge of the box made the #2 spot in NBC Sports' Top 5 goals of the weekend:
Now if you're still looking for a team to follow and you like supporting an underdog, United's unfortunate opponents Sunderland would be your best bet. They are now solidly stuck at the bottom of the table with ONE point and no manager! They also have one of the best American players in the EPL, also considered a prodigy, New Jersey-born and Florida-raised Jozy Altidore.
But there are other reasons to choose Sunderland. My mate Gazzer, an avid Anglophile from St.Paul, details the way he decided to throw his support behind "The Black Cats" (that nickname is another good reason!).
"It was the close season — the summer of 2000. My friend Peter and I decided to each adopt a Premier League club for two reasons: 1) to make the sport more interesting to follow from afar via fledgling Internet technology, and 2) to form a friendly rivalry between us. We agreed to research independently and discuss after about a week to reveal our selections.

The process basically went by elimination:

1. ALL CLUBS WITH NAMES I RECOGNIZED WERE STRUCK IMMEDIATELY: I felt there could be nothing worse or more clichéd than adopting a big-name club. What fun would that be? That cancelled out Arsenal, Man U, Chelsea, Leeds United, Liverpool and Newcastle — clubs I'd perhaps seen or heard referenced on Monty Python.

2. LONDON-BASED CLUBS WERE OUT. Again, this seemed too easy. It just seemed too much like what an American would pick.

3. MIDLANDS CLUBS WENT OUT NEXT, THEN SOUTHERN CLUBS: The northern clubs, I imagined, had followings and hardscrabble histories comparable to teams I knew in the post-industrial northern U.S. — like the Pittsburgh Steelers, the Chicago Bears, the Boston Bruins. Teams with their glory days well behind them but with an unreasonably loyal fan base.

4. I WANTED MY SELECTION TO BE OBSCURE ENOUGH TO INVOKE CURIOSITY FROM BRITS. I like attention. Upon being asked what my club was, I wanted the answer to elicit a pause and "Why?" from actual English football fans.

So it all quickly focused laser-like on Sunderland. Passionate fans. Championships in their DNA but mostly before the war. Newly promoted but doing well and seemingly on the ascendancy. In the shadow of a nearby rival (Newcastle). On the sea. A new, brilliantly named home ground, the Stadium of Light, built on a colliery! And it's the U.S. equivalent of a Yorkshireman decking his home, inexplicably, in Buffalo Sabres memorabilia. Perfect.

So I picked them. Independently, so did Peter. It's been many years now — some in the Premier League and some not. The club's fortunes matter way, way too much to me than they should. My wife thinks I look ridiculous in the shirt, which to an American may look like a TGI Friday's server uniform. Peter has made the pilgrimage to North East England, but I have not. A brick in the Stadium of Light bears our names. One day, I will get there.

Sunderland till I die. Ha'way the lads."
Brilliant! Follow Gazzer's rules to pick your team, or tell us how YOU decided who to support.
The band most closely connected to Sunderland AFC are The Futureheads, who played at a packed Stadium of Light in 2005 in celebration of The Black Cats winning the Championship, a division below the Premier League. Then this year, the Futureheads' rock 'n' roll dream-gig came true, as they wrote on their blog:
"We're all big fans of classic rock in the 'Heads, and they don't come more classic than Bon Jovi. We'll be opening for them at Sunderland's Stadium of Light on June 13th, which will be fantastic for us because who wouldn't want to play a huge rock show in their hometown stadium?"
The Futureheads are recording a new album near Sunderland this fall, but here's their biggest hit to get you pumped for Sunderland's next game — which, by the way, will be in two weeks' time as the EPL is on hiatus until then for the International qualifying matches for next year's World Cup.
As a new supporter of the Black Cats I hope you have some... "Decent Days and Nights"!
Which team do you support? Is it a Premier League club? An MLS team? Minnesota United FC? How did you come to be a supporter of that club? Share your story in the comments below.
Related Stories
On the Ball with Mark Wheat On the Ball with Mark Wheat is a new Monday feature on The Current that celebrates the connections between music and soccer, with an eye to the past weekend's results. This week, Mark looks at West Brom's 2 - 1 defeat of Manchester United in the Premier League.
---
comments powered by

Disqus