On the Ball with Mark Wheat: How I Became a Man Utd Fan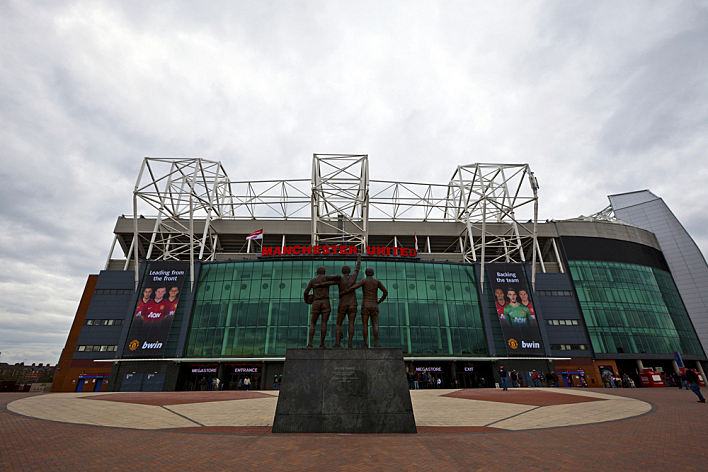 On the Ball with Mark Wheat is a new Monday feature on The Current that celebrates the connections between music and soccer, with an eye to the past weekend's results.
No EPL games this weekend with the entire world of football focused on next year's World Cup. The final qualifying matches are being played out. Team USA, already assured of going, are one up on England who still have to win their match vs. Poland tomorrow at Wembley to ensure that they'll be there.
Of course the English always have illogically high expectations of the national team. This is partly because they're seen as the "birthplace of soccer," but also because at the old Wembley stadium in 1966 they actually won the World Cup, beating their arch rivals West Germany.
I think I can ALMOST remember that game as a 6-year-old, but the highlights were replayed so many times that it's hard to be sure. I certainly remember the feeling of triumph that resonated throughout the country at the time and again two years later when Manchester United were crowned as the very first English winners of the European Cup. It was that team, featuring the likes of Bobby Charlton, Denis Law and my fave Georgie Best, the first rock-star footballer, that I fell in love with and I distinctly remember explaining to my father that they were going to be my team from then on.
Here's a video of Georgie's best goals:
My father was puzzled and it didn't make much sense at the time. We lived in a tiny town close to Cambridge, but not close enough to a major team to travel regularly to home games. We were on the other side of the country from Manchester and had no personal ties to the city; our ancestors are Irish, Welsh, Yorkshiremen and Midlanders. Norwich City and Ipswich Town were the only teams that I could go to see when I was that young, but they were both in the second and third divisions, and I felt little more than a vague local pride if they did well.
Now for years I have been stung by comments such as Brandon's after my column last week, which suggest that supporting United is the equivalent of following the Yankees or Dallas Cowboys, because they are NOW so big and dominant in their sport. Perhaps in 1968 they could have been compared to Dallas, considered England's Team because of their amazing success only 10 years after the club was decimated by the Munich Air Disaster, which killed the majority of their first team at the time. It was the kind of glorious story of overcoming a setback that the English love.
But after the triumph in '68, Man Utd didn't reign supreme forevermore. In fact, throughout my prime years as a teenage spectator they were often terrible! When Best, Charlton and Law had all left in '74, United succumbed to RELEGATION!! Yes, they were demoted to the Second Division (this is before the advent of the Premier League) while I was struggling through my 15th year, with all the other teenage angst — that was tough! Especially as that was also the start of the Liverpool era of domination when they DID resemble the Yankees and seemed invincible. Liverpool FC are historically United's greatest foe, although I could never buy in to hating them entirely because they were BBC DJ John Peel's favorite team!
John didn't let football bias his musical judgments, either. He was a big fan of David Gedge, calling him one of the greatest songwriters of our time, having him play at many special occasions, birthdays and anniversaries.
David Gedge is a huge United fan, too — so much so that his first band, The Wedding Present, recorded an album named George Best. Its front cover reminds me of a poster that I had on my bedroom wall. I had to save up enough Typhoo tea coupons to get this limited-edition picture.
So don't hate on all United fans; some of us have definitely paid our dues!
Last week we got some great stories, but if you haven't told yours yet: Which team do you support? How did you come to be a supporter of that club? And is there music to go with your story? Share your thoughts in the comments below.
Related Stories
On the Ball with Mark Wheat: Who's Your Team? What team do you support? Maybe you don't have a fave yet. If not, here are some reasons why you may want to throw your support behind The Black Cats of Sunderland AFC. Plus, goals of the week and a music selection.
On the Ball with Mark Wheat On the Ball with Mark Wheat is a new Monday feature on The Current that celebrates the connections between music and soccer, with an eye to the past weekend's results. This week, Mark looks at West Brom's 2 - 1 defeat of Manchester United in the Premier League.
Wedding Present perform in studio While the UK-based band has been in existence for over 20 years, it's frontman David Gedge who been there through its various incantations. The group joined Mark Wheat in the Current studios to talk about their storied career and perform songs new and old.
---
comments powered by

Disqus