The Current's Guitar Collection: Eric Earley of Blitzen Trapper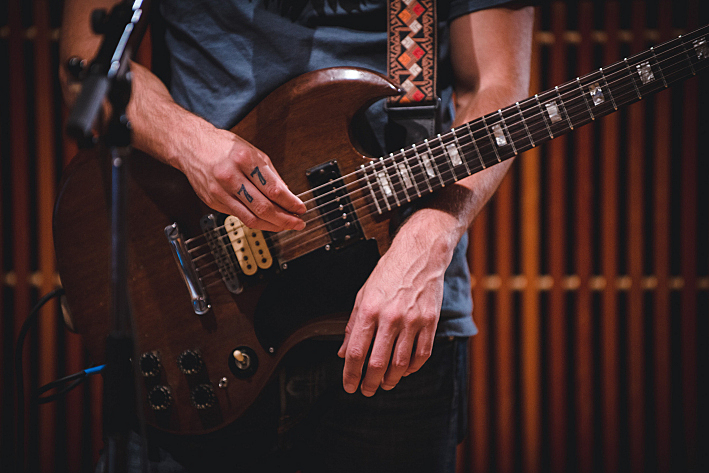 When Blitzen Trapper stopped in for an in-studio session at The Current, we asked front man Eric Earley about his vintage Gibson SG. Here's what he had to say:
How long have you had this guitar?
I've had it three or four years, probably. I think I just got it in Portland [Ore.] somewhere. I had bought a new SG because all my guitars broke on one tour: the neck snapped on one, pickups died on another. So I just went to Guitar Center and picked up one of those new SGs that they've got, and I liked it, but I wanted a good old one, so I went and picked up this '74 somewhere, probably in Portland.
So this is a '74?
Yeah, but it's got some weird modification on it, I'm not even really sure. I had my guy check it out and he said there's a coil tap in the back but that it's done improperly, which is why it gives me that sound. But he said, 'You should keep it because it sounds cool!" And I'm like, "All right!" (laughs)
What in particular do you like about the sound?
The back pickup has an almost Tele thinness to it, which I like. And then the very front has this straight, weird humbucker sound, but the humbucker's not stock and I'm not sure what it really even is. Some old black, plastic thing — I don't know! (laughs)
Do you write with this guitar?
I usually just write with an acoustic. Whatever's just sitting around. I have an old Gibson Hummingbird, and an old Alvarez I've had since I was a kid, and an old classical guitar. Just whatever's sitting around, I write on it. It's not a big deal.
Any stories from the road with this guitar?
This one had the headstock break off once. I was playing with this country band I was in called Denver, the guitar was onstage and it fell on the ground somehow and the head busted off, but it already busted off about four times according to the guy I'd bought it from. And actually when you put a Gibson SG headstock back on after it's broken, it's actually stronger, supposedly. So I had the headstock put back on this one. But you can see the headstock's cracked off five times now! It doesn't hurt 'em, though.
Is this guitar your primary instrument?
Yeah, it is. I don't fly with it, so when we go to Europe or Australia, I'll take my new SG. But I like SGs because they're lightweight and they're really fast, really simple.
Related Stories
Blitzen Trapper perform live in The Current studios On tour in support of their seventh studio album, the appropriately named VII, Portland, Ore., band Blitzen Trapper stopped in to The Current's studios to play some songs and to chat with Bill DeVille.
Blitzen Trapper perform in The Current studio Portland, Ore. folk-rock troupe Blitzen Trapper have been exploring the boundaries and possibilities of Americana for over a decade now, releasing a half-dozen full-lengths and winning the hearts of the national indie scene along the way.
1 Photo
Eric Earley of Blitzen Trapper plays his 1974 Gibson SG while performing in The Current's studio.

(MPR photo/Nate Ryan

)
---
comments powered by

Disqus