Interview: MN RollerGirls' Citizen Pain and Scarmen Hellectra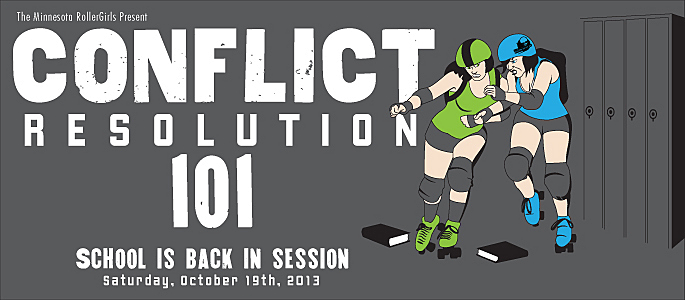 Former Minnesota RollerGirl Jill Riley of The Current's Morning Show sat down and chatted with Scarmen Hellectra of the Rockits and Citizen Pain of the Garda Belts about the opening night of the Minnesota RollerGirls' 10th season at Roy Wilkins Auditorium on Saturday, Oct. 19, at 6:30 p.m.
Why is Jilly Riley a former RollerGirl, you ask? Well, it turns out Jill, a.k.a. Savage Animal, badly broke her leg and ankle during a home bout and had to skip the skates post-surgery.
It's been a "decade of destruction," Scarmen says. She and Citizen Pain are looking forward to bringing back the old broads during the Minnesota RollerGirls' 10th season. When the organization first started back in 2004, the derby leaned more towards sports entertainment but it has matured; it's recognized more and more as a legitimate sport.
If this is your first time heading out to see the MN RollerGirls, there's a few things you should know:
If this event were a movie, it'd be rated PG-13
Come early, because the first 200 to enter Roy Wilkins will receive a limited-edition, screen-printed t-shirt
There will be a presentation beforehand if you're unfamiliar with the rules of roller derby
Home Bout: Conflict Resolution 101
Saturday, Oct. 19, 2013
Roy Wilkins Auditorium, St. Paul, Minn.
6:30 p.m.
Tickets and more information can be found here.
Resources
Related Stories
---
comments powered by

Disqus