Elvis Costello and The Roots: Live at the Brooklyn Bowl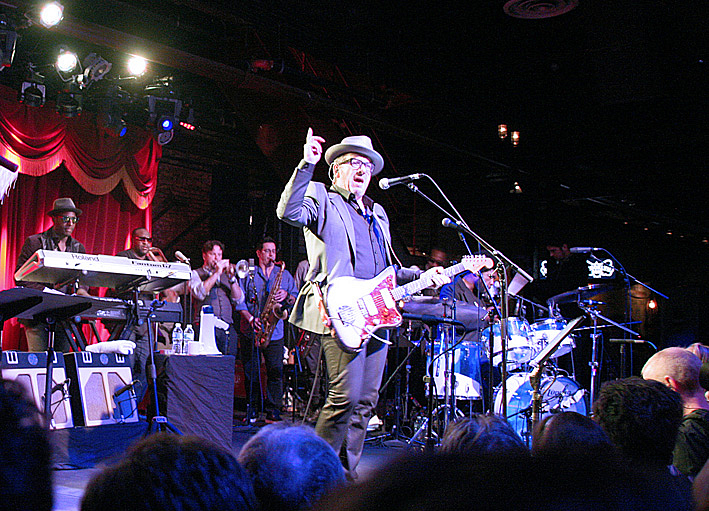 On the eve of the release of their collaborative debut Wise Up Ghost, Elvis Costello and The Roots dazzled a New York City audience with a stellar performance from the Brooklyn Bowl. Now you can hear it too.
Tune in for The Current Presents: Elvis Costello and The Roots, live from the Brooklyn Bowl this Sunday, Oct. 27, 2013 at 10 p.m. hosted by Derrick Stevens.
As on record, the live performance highlights both Costello's and The Roots' strengths. Costello's jittery-cool vocals fit naturally among The Roots perfectly-timed instrumentation. And while Elvis borrows songs and phrases from his vast catalog, The Roots, unsurprisingly churn out brand new rhythms, arrangements and grooves as if they could make music in their sleep.
The hour-plus set is great for fans of the new album, but it also provides ample reconstructions for enthusiasts of both acts' previous records.
Set list
Wake Me Up
Refuse to Be Saved
Stick Out Your Tongue
Watching the Detectives
Shabby Doll
Sugar Won't Work
Tripwire (with Diane Birch)
Spooky Girlfriend (with La Marisoul)
Cincos Minutos Con Vos (with La Marisoul)
Ghost Town (with La Marisoul)
(I Don't Want to Go to) Chelsea
Walk Us Uptown
I Want You
Wise Up Ghost
Pump It Up
I Found Out (John Lennon cover)
Thanks to WFUV.org for allowing us to share this audio with our audiences.
Guests
Related Stories
2 Photos
Ahmir Thompson, aka Questlove of The Roots

(Laura Fedele / WFUV

)

Elvis Costello at the Brooklyn Bowl, September 16, 2013.

(Laura Fedele / WFUV

)
View 1 more photos