The Head and the Heart perform in The Current's studios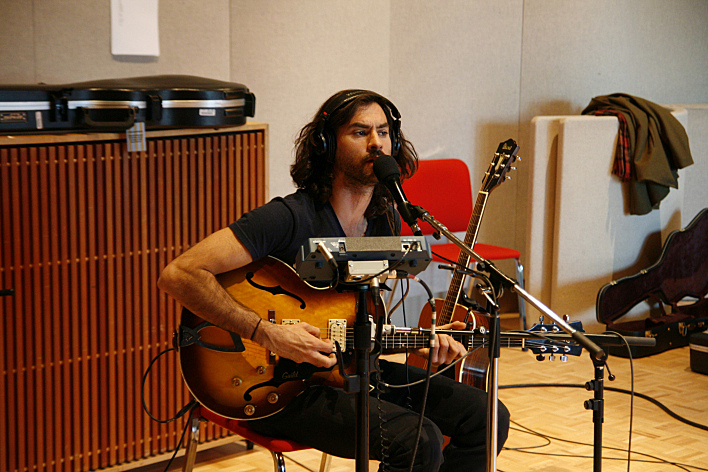 Between their sold-out Saturday and Sunday shows at First Avenue in Minneapolis, Seattle-based The Head and the Heart stopped in to The Current's studios to chat with Mac Wilson and to play some songs of their new album, Let's Be Still.
The album debuted in the top ten of the Billboard charts, and although the band members were certainly pleased with that, The Head and the Heart's Josiah Johnson notes that chart position is not what drives the band. "The goal is to do this [i.e. make music] a long time," Johnson says.
In the course of the interview, Johnson, along with bandmates Jonathan Russell and Charity Rose Thielen, compare the rivalry of Seattle-Tacoma with that of Minneapolis-St. Paul, and they describe what it was like writing and recording their self-titled first album versus the new release. Russell also talks about the thoughtful discernment he went through when he wrote "Another Story" in reaction to Sandy Hook Elementary School.
And for those who have seen The Head and the Heart play live, Johnson explains the past and (possible) future of those acoustic songs that are in the band's live set but not on the albums.
Songs Performed:
"Shake"
"Another Story"
"Let's Be Still"
All songs off Let's Be Still, out now on Sub Pop Records.
Hosted by Mac Wilson
Produced by Lindsay Kimball
Engineered by Michael DeMark
Guests
Resources
Related Stories
5 Photos
Josiah Johnson of The Head and the Heart in The Current's studios.

(MPR photo/Luke Taylor

)

Charity Rose Thielen of The Head and the Heart in The Current's studio.

(MPR photo/Luke Taylor

)

Pianist Kenny Hensley of The Head and the Heart, in the studio of 89.3 The Current.

(MPR photo/Luke Taylor

)

The Head and the Heart bass player Chris Zasche performs in The Current's studios.

(MPR photo/Luke Taylor

)

Drummer Tyler Williams of The Head and the Heart in The Current's studio.

(MPR photo/Luke Taylor

)
View 4 more photos
---
comments powered by

Disqus