Today in Music History: Honoring Link Wray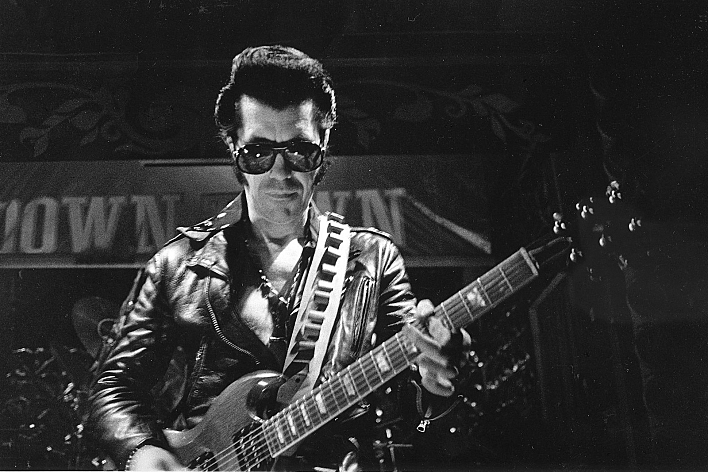 Today's Tribute:
Today in 2005, Guitarist Link Wray died aged 76. Wray was credited with inventing "fuzz" guitar after punching a hole in a speaker giving him a distorted guitar sound. He was nominated for the Rock and Roll Hall of Fame in October 2013. His song "Rumble" was also associated with juvenile deliquency and banned by a number of radio stations during its day.
Also, Today In:
1977 - The manager of the Virgin record store in Nottingham, England was arrested for displaying a large poster advertising the new Sex Pistols album, Never Mind The Bollock's, Here's The Sex Pistols. High street stores banned the album after police warned they could be fined under the 1898 indecent advertising act.
1983 - Topper Headon, of The Clash, was arrested for walking his dog while drunk on London's Fulham Road.
1995 - Producer Butch Vig's new band Garbage made their US live debut when they played at The 7th Street Entry, Minneapolis.
1998 - Former Smiths singer Morrissey lost an appeal ruling that all band profits should have been split equally and faced a backdated payout to former Smiths member Mike Joyce estimated at £1 million.
2002 - The funeral took place for Jam Master Jay, (Jason Mizell) from Run-DMC who was murdered by an assassin's single bullet on 30th October 2002.
2010 - Keith Richards' autobiography Life was at No. 1 on the New York Times Hardcover Nonfiction Bestseller list.
Birthdays:
Ryan Adams is 40 today. (It's also Bryan Adam's 55 birthday)
Jonny Greenwood, Radiohead guitarist, 43.
Ken Coomer, former Wilco drummer and drummer for Uncle Tupelo, is 54 today.
Art Garfunkel is 73.