On The Ball with Mark Wheat: Records and Referees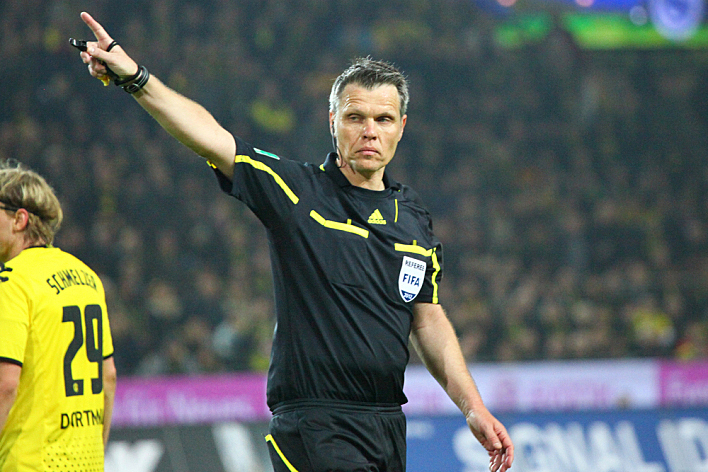 On the Ball with Mark Wheat is a new Monday feature on The Current that celebrates the connections between music and soccer, with an eye to the past weekend's results.
It was a record-breaking weekend in the EPL. One massive record was continued: Chelsea's manager Jose Morinho hasn't lost at home for 66 games, but he was very lucky to keep that intact against a brilliant display from West Brom. And an almost mind-boggling record was broken at Old Trafford: Arsenal hadn't lost AWAY from home for 252 days?!?! That's extraordinary at this level, and I bet they weren't so happy that it was their old fave Robin Van Persie who scored the United goal. That win officially revived the Red Devils' title challenge and meant that Arsenal haven't run away from everyone else at the top. With Man City and Tottenham losing games they should have won, but now it really is an open race as we enter the second quarter of the season.
I used to be a goalkeeper at school, and many times I felt like an unsung hero, so it was especially good to see Newcastle's goalie Tim Krul get plaudits for his game-saving performance against Spurs.
He made 14 saves (a crazy high statistic), several with bright sunshine in his eyes!! For me the best was a double save from a deflected free-kick when he was completely unsighted, then going the wrong way, then on the floor with forwards barreling in, brave and cat-like reflex combined — bravo!
Watch Tim Krul's amazing saves (via NBC Sports):
Speaking of statistics...I'm afraid there must have been an error in the report at half-time in the Old Trafford game that Arsenal had 55% of possession. United were so dominant in that half, and Arsenal, who are known as the best possession team in the league, were so sloppy that they literally didn't have the ball for the first 13 minutes. I noticed when they put two passes together and it was 13:30 mins into the game! It was by far the best half of football that United have played all season, and I loved the inclusion of Phil Jones — picked as Man of the Match by NBC — and Kagawa, who's in my fantasy team!
After last week's incident with Spurs' goalie Hugo Lloris getting a concussion but still playing on, it was strange to see two similar situations play out at Old Trafford. Perhaps because everyone was a little on edge about the issue, Phil Jones got booked for his collision with the Arsenal keeper. Replays showed that he was in no way culpable. That bad decision could be excused, but I have to say the ref didn't have a good game in general. Rooney went down in the area in the first half and should have had a penalty. But even worse, two penalties that were given became big news as both were terrible decisions: The first involved Chelsea keeping their record by being given a PK in the 96th minute for an innocuous challenge, especially compared to some of the pushing and shoving that happened in the area at both ends throughout the game. Then a handball was given against Swansea, again in injury time to deny them a come-from-behind 3 - 2 victory, and not one Stoke player even appealed for it!
I hate to hate on the ref, it's a thankless job if ever there was one, but it was a day that emphasized how important their jobs are — and they are never second-guessed by the NFL-like review. So let's celebrate them in song with Johnny Cash's "The Man in Black"!! The song is doubly appropriate when Merle Haggard intros it in this clip saying, "how everyone is always scrutinizing you and trying to do you favors that you don't want!"
MLS Extra: As the season comes to a thrilling climax here and news of Beckham's new team being planned for Miami, the Beeb has an interesting, in-depth article, "Can Soccer Thrive in the USA?" It's up to you, the fans; as Barclays say in their EPL adverts: it's the fans that make the game!
Do you think soccer will thrive — or has it worked over here already, and is a moot point?
Related Stories
---
comments powered by

Disqus