On The Ball with Mark Wheat: Interview with MN United's Max Griffin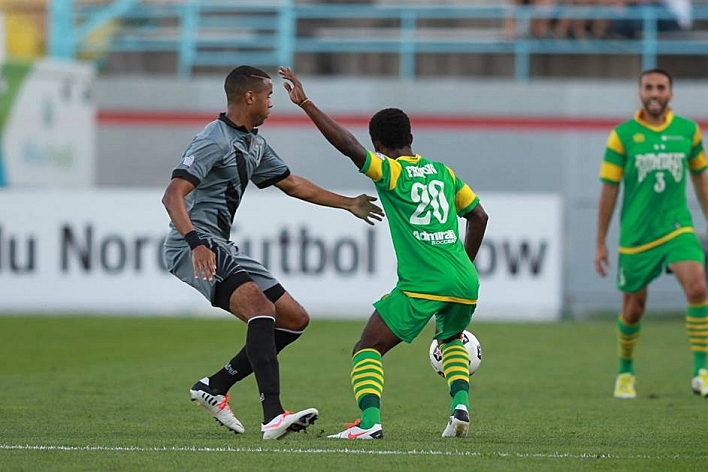 On the Ball with Mark Wheat is a new Monday feature on The Current that celebrates the connections between music and soccer, with an eye to the past weekend's results. Listen Mondays at 7 p.m. as Mark plays the music selection of the week.
The EPL and MSL take a break this week as the final places for next year's World Cup are sorted out. Tomorrow there's some intriguing second legs coming up in Europe: Can tiny Iceland become the smallest nation ever to qualify? Will Portugal be able to hold on to a slender one-goal lead in Sweden, and could France — '98 winners — crash out after losing in the Ukraine?!
We take this opportunity, then, to check in with one of local footie heroes who has a musical bent! Our local team were re-branded as Minnesota United FC this year, and they seem revitalized. The attendance improved at Blaine for the home games even though the team didn't out-perform their previous two seasons. Forward Max Griffin signed with the club on March 1, 2013, after three seasons at the USL Pro level. He was the 2010 USSF D2 Rookie of the Year with the Austin Aztex and moved with the club to Orlando following the 2010 season. He spent 2011 and part of 2012 with Austin — another great music city!
We asked Max about his plans for the off season, if he thinks Team USA will do well in Brazil, and does he really play the ukelele?!
Mark Wheat: Congrats on the year's campaign; finishing fourth in the table is certainly a respectable finish, and you guys had two really strong outings at the end of the season; do those games stand out most for you?
Max Griffin: Thank you. It was a bit of a bumpy season, but was great to finish the way we did. I think those last couple of games absolutely stand out the most. The most difficult thing for us throughout the whole season was meshing together as a team and being on the same page. Manny [Lagos] and Carl [Craig] did a great job really focusing on how we could build up play collectively to produce better results on the field, and I think those last two wins were a perfect display of that. I feel like we needed those wins, and use them as something to build on for next season.
Mark: We hear that the crowds were larger than ever. Why do you think that was?
Max: It is very noticeable how much work this organization is putting in as a whole. The atmosphere at the games has been unbelievable. This is my first year here, and it is very encouraging seeing how much the fan attendance and support has grown. Even from the beginning of the season to now, you can see a difference both on and off the field.
At the beginning of the year, not too many people knew of the club, and were a little confused because of the rebranding, but now you can go to so many places around the cities and people know the club, which is a great feeling. Even when we get back home and off the airplane from a road trip, people recognize us in the airport and ask how we did. I only see this club and fan support growing larger by the year.
Mark: What will you be doing during Minnesota United's close season?
Max: During the offseason I have a middle school girls soccer team that I coach in the Los Angeles area. This will be my fourth year coaching with them, and it's always a fun time.
Another thing that will keep me busy is working on a business that I just formed called Mind Over Matter Performance Style.
I am also really big into running. I used to run cross country when I was in high school, and as crazy as it sounds, running is one of my favorite hobbies. I try to participate in as many 5k and 10k races as I can, and that usually keeps my fitness up. There are also a lot of MLS and NASL guys in L.A. for offseason, so we organize pick up games to stay sharp on the soccer side, or I jump in and play with the UCLA soccer team from time to time.
Mark: We've been talking about a BBC article that asks, "Will soccer ever thrive in the USA?" We think there are lots of positive signs; do you think it's a moot point and the game will continue to grow?
Max: I think soccer in the USA will continue to grow without a doubt. Just seeing how much it has grown since the introduction of the MLS in 1996 has been unbelievable. We are not only getting more coverage within the States, but are starting to gain more recognition around the world, which is a very positive sign.
Mark: Besides your allegiance to Minnesota United, do you follow the Premier League at all? Is there a club you have a particular fondness for?
Max: I do follow the Premier League and I am a huge supporter of Arsenal. They've always been an exciting team to watch, and it is great to see that they have finally put together a team that is a contender to win the league.
Mark: What do you think are Team USA's chances for Brazil next summer?
Max: I think we might have a bit to go before we are contenders to win the World Cup, but I don't think you can completely rule us out. We had a slow start in the World Cup Qualifiers, but the win streak we had at the end to close it out is very promising. So to answer your question, I think we will have a very solid showing.
Mark: We're told you play ukulele! It's a pretty hip instrument right now, getting a lot of use in the contemporary music we play! How did you find your way to that instrument?
Max: The piano is actually my main instrument, which I have been playing since I was about 11, but I started playing the ukulele because I always enjoyed the sound of it, but never picked one up until a year ago. Now I can't put the thing down and I have so much fun with it.
Mark: Do you ever play the uke for the lads in the dressing room? What's their reaction?
Max: I do play for the guys in the dressing room, and especially for my roommates all the time back at the house! I would like to say that they all enjoy it. I like to jam out a lot with my teammate, Peter McKeown, who plays the guitar and sings. We have a good time playing different covers for guys. We have even brought our instruments on road trips, which always makes for a good time.
Mark: Who are some of the artists you listen to?
Max: I listen to so many different artists. Some of my favorites are Adele, Kendrick Lamar, Lil Wayne, Kanye West, Nina Simone, Ray Charles, Jackie Wilson, Queen ... just to name a few.
Mark: What song would you like to hear tonight?
Max: On the ukulele, I like to cover the song, "I've Just Seen A Face" by the Beatles, so that would be a good one.
Many thanks to Max Griffin — and I'm not sure if he knows this or not, but a Beatles tune is appropriate, as Ringo is apparently a massive Arsenal fan, too!
And it's a timely choice as I get to talk about a new book by John McMillian, Beatles vs. Stones on The Daily Circuit tomorrow at 10:20 a.m. on MPR News!
Resources
Related Stories
On The Ball with Mark Wheat: Records and Referees It was a record-breaking weekend in the EPL: One massive record was continued, and an almost mind-boggling record was broken. Meanwhile, some referees' decisions sparked news and debate — as well as today's music pick.
On The Ball with Mark Wheat: Arsenal gain more ground at the top The weekend's game highlights: Minnesota United FC finish their season with a goal fest; MLS Cup playoffs; and lots of Premiership action including a goal by a goalkeeper, a south Wales derby and a clash of the titans in North London. And naturally, a music pick.
On The Ball with Mark Wheat: an action-packed weekend An exciting weekend that featured the Tyne and Wear derby, Portland clinch a vital spot in MLS, and Minnesota United FC mainstay Kevin Friedland plays in a glorious victory at home as he prepares to hang up his boots.
2 Photos
Max Griffin in action for Minnesota United F.C.

(Ryan Siverson

)

Max Griffin in action for Minnesota United F.C.

(Ryan Siverson

)
View 1 more photos
---
comments powered by

Disqus