On The Ball with Mark Wheat: Tiger Poses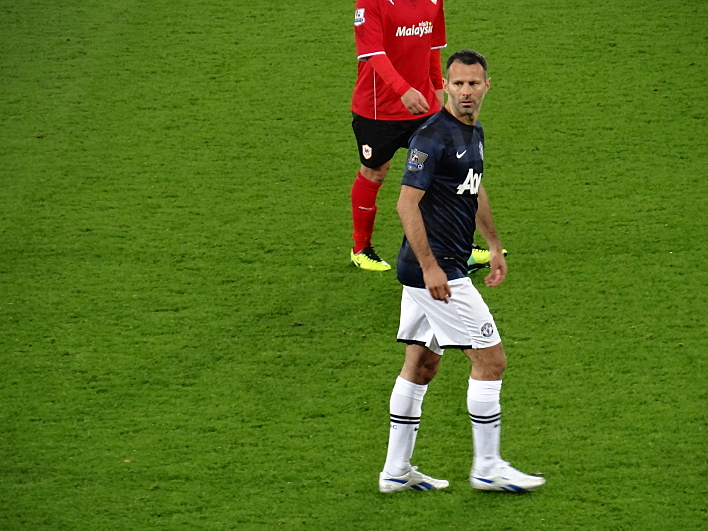 On the Ball with Mark Wheat is a new Monday feature on The Current that celebrates the connections between music and soccer, with an eye to the past weekend's results. Listen Mondays at 7 p.m. as Mark plays the music selection of the week.
While watching the first half of the Cardiff City vs. Arsenal game on Saturday morning, I heard two things that I never thought I would hear on a TV football commentary in my lifetime:
"If Arsenal win this game, they will go 7 points clear at the top of The Barclays English Premiership!!" (On Sunday, sanity was restored when Chelsea closed the gap to a mere 4 points.)
"That player [Arsenal's Mathieu Flamini] has explained that since he's taken up yoga, he's improved his 'core strength' and has fewer niggling injuries."
In the still all-too-macho world of soccer, it was refreshing to hear that yoga has caught on enough to be a part of the commentary. Indeed this was confirmed and highlighted on Black Friday, Ryan Giggs' 40th birthday. Still playing and starring in games like Man Utd's 5-0 win in Leverkeusen last week, Giggs is the most decorated player ever in British football. Media outlets across the land celebrated this milestone, and at the end of one of the tributes, Giggs was asked to explain what his secret is, maintaining the ability to still perform at the highest levels: yoga, he said!
So I guess it was appropriate that I had to leave at half time of the Arsenal game to go to my yoga class! It has certainly helped with my niggling injury, a chronic back pain. But most surprisingly, at my annual medical last week, I got the most literal measure of my progress: I've grown half an inch in the two years that I've been practicing yoga regularly! Mostly because my posture has improved significantly, this has reversed a trend; usually at this time of life, we start to shrink!
The other big surprise of the weekend was at Hull. They beat Liverpool convincingly, giving their supporters ample air time with a — for me — confusing banner that read, "The History is in the Name...Hull City." Apparently the team's owner wants to re-brand them The Hull Tigers!? (This must seem small potatoes to American sports fans who've become accustomed to whole teams moving to entirely new cities.) But that great result left Hull in 10th, at the top of the bottom half of the table. There's a 5-point gap between them and Spurs and Man Utd, who drew with each other, losing ground on the rest of the top 9 who all won, except Liverpool.
Hull City v Liverpool match highlights (via NBC Sports)
The season goes into its busiest period in the next month, culminating in the logjam of games around the end of the year, which traditionally sorts out the REAL contenders for the Championship. So there's a full slate of league games this week: Crystal Palace vs. West Ham is on the telly Tuesday, and there's a few tantalizing ties on Wednesday — Arsenal take on the surging Tigers and Man Utd host Everton, who used to be managed by David Moyes, the new boss at Old Trafford.
Also on Friday, watch for the draw for the World Cup in Brazil next year. Will Team USA and England be drawn together again? And who'll be in the "group of death"!?
Let's use yoga to make our musical connection this week. On Thursday at 7 p.m., I'll host another edition of "Theft of the Dial" — this time, it's with Mason Jennings ahead of his two shows at First Ave Friday and Saturday. In our discussion, Mason mentioned that to keep himself fit for the road and centered for his performances, he also uses yoga and meditation.
Here's a new video for the all-important track 7 of his new Always Been album: "Wilderness". The very first lyrics seem to come straight from his practice on the mat!
Do you practice yoga? Have you noticed any health benefits? Beyond that, what games were you watching this weekend? Share your thoughts below.
Related Stories
---
comments powered by

Disqus