Top 89 Staff Picks: Mac Wilson, Host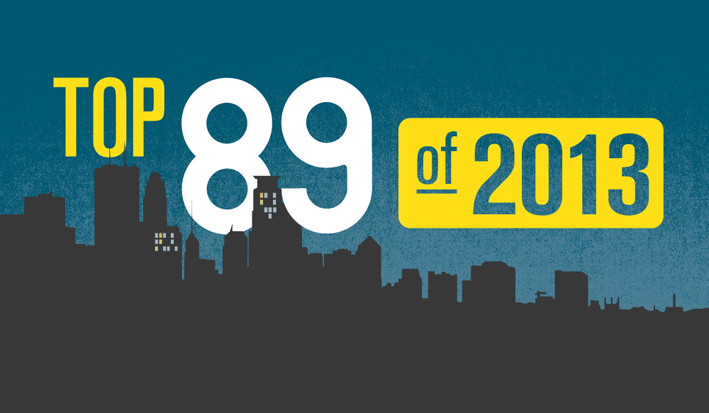 Albums
(Listed alphabetically by artist)

Arcade Fire - Reflektor
Courtney Barnett - The Double EP: A Sea of Split Peas
Eleanor Friedberger - Personal Record
Laura Marling - Once I Was an Eagle
Cass McCombs - Big Wheel and Others
The National - Trouble Will Find Me
No Joy - Wait to Pleasure
Vampire Weekend - Modern Vampires of the City
Kurt Vile - Wakin' on a Pretty Daze
Volcano Choir - Repave
Honorable Mentions:
Arctic Monkeys, Au Revoir Simone, Bill Callahan, Neko Case, Nick Cave and the Bad Seeds, CHVRCHES, Mikal Cronin, Cults, Daft Punk, Foxygen, HAIM, the Love Language, Mazzy Star, Janelle Monae, My Bloody Valentine, Smith Westerns
Songs
2013 saw a wide breadth of great songs, ranging from established, canonical artists to fast-rising stars-in-waiting. As a measure of delineation, I've helpfully established two categories.
Legends
My Bloody Valentine - "New You"
The alternate universe where MBV's Loveless follow-up soundtracked every teen rom-com of the late '90s.
Daft Punk - "Get Lucky"
You knew this was going to be special when someone turned the brief Saturday Night Live teaser into a 10-hour loop, and it never got old.
Arcade Fire - "Afterlife"

The (literal???) climax of Arcade Fire's sprawling opus raises all the tough, important questions of life and love, all while managing to sound celebratory.
The National - "Humiliation"
One of the band's most vivid, sharply-rendered portraits.
Nick Cave and the Bad Seeds - "Jubilee Street"
A crescendoing epic that builds both terror and awe in the world's shortest six minutes.
Leaders
Phosphorescent, "Song for Zula"
No other song in recent memory has had such an impact in instantly converting listeners — you hear "Song for Zula," and you're a Phosphorescent fan, simple as that.
Jagwar Ma - "Come Save Me"
Just enough wacky effects to stay consistently intriguing, from one of the year's most promising debuts.
Wavves - "Demon to Lean On"
If a mad scientist melted down Green Day's Dookie, Weezer's Blue Album, and Nirvana's Sub Pop era into a single song, you'd have Wavves' gloriously lunk-headed riffmonster.
Haim - "The Wire"
CHVRCHES - "The Mother We Share"
Both bands released their hotly-anticipated debuts this fall, and both managed to live up to colossal expectations. Every Haim single was gold, not the least among them "The Wire", which both resurrected and redeemed not only the Eagles, but Shania Twain. Wherever CHVRCHES' career goes from here (and I suspect it will be a long one) they'll have joined the Ramones and Arcade Fire in the league of Bands Whose First Song On Their Debut Album Is Also Their Best Song.
One thing that struck me about 2013 is that spotlight records tended to fall in one of two categories: 1.) Sprawling, or 2.) Concise. Of my top 10 listed above, two are double-disc sets (Arcade Fire, McCombs), three are de facto double albums (The National, Marling, and Vile records are all structured in an old-fashioned, four-sides-of-vinyl sense) and one is, well, a double EP. Many other notable artists took advantage of an expanded canvas, including Daft Punk, David Bowie, Janelle Monae, the Knife, and Primal Scream. The opposite side of the spectrum is the tight, impeccably-manicured album without an ounce of fat; admittedly, Kanye West's latest release is the highest-profile example. Vampire Weekend, Volcano Choir, No Joy, and Eleanor Friedberger's albums were all (relatively) concise distillations of their creators' strongest attributes.
I don't have an overarching thesis behind this. It was a great year for music, and making this list was tough.
Related Stories
The Top 89 of 2013 Starting Dec. 31 at 4 p.m. we'll countdown the best songs, albums and artists of the year according to The Current's listeners.