Top 89 Staff Picks: Scott Olstad, Associate Digital Producer, Commerce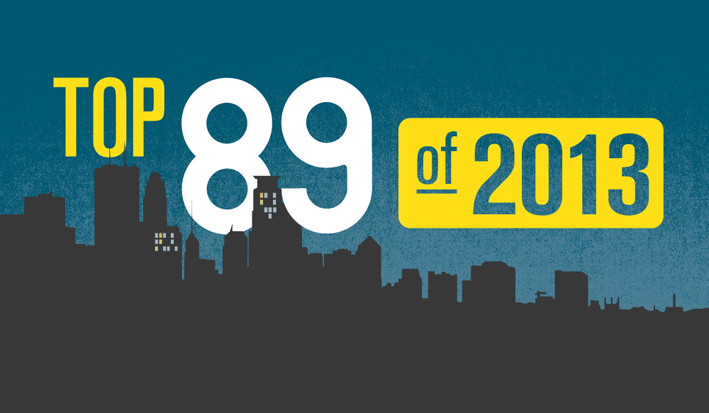 Songs:
10. Jay-Z -- "Somewhereinamerica"
Jay delivered a disappointing Samsung app album but there are still worthwhile songs to be found. I'm a sucker for any track that uses piano chords to accent the beat. Hov is so ahead of the game, he dropped his "Miley Cyrus Twerking" reference two months before the VMAs
9. Childish Gambino -- "Centipede"
Donald Glover's new album drops next week. Judging from early previews, it's definitely worth your time. Unfortunately, December albums are hard to fit on "year-end" lists that are due on the first week of the month. But that's the way things must be done these days ... because the internet.
8. Earl Sweatshirt -- "Sunday"
The spiritual successor to the duo's memorable collaboration on Channel Orange's "Super Rich Kids," this song features Frank Ocean boastfully rapping about his toughness, his sexuality and even his confrontation with Chris Brown. It is a refreshing reminder that Frank is a card-carrying member of Odd Future.
7. Kid Cudi -- "Immortal"
Kid Cudi has indulged his artistic whims since his debut, Man on the Moon: The End of Day (one of my all-time favorite records). While Indicud continues Cudi's unmooring, there are several bangers on this album that would feel at home on Man on the Moon.
6. HAIM -- "Forever"
That three-second drum intro always brings a smile to my face. This might as well be the opening track to the album, because I always play it first.
5. Statik Selektah -- "Bird's Eye View"
Black Thought proving that age is nothing but a number. This man can spit.
4. Anamanaguchi -- "Endless Fantasy"
If this is the first chiptune song in Top 89 history, I'm glad Anamanaguchi receives that honor. They're terrific.
3. Drake -- "Too Long"
Drake's album underwhelms, but standout tracks like "Too Long" keep me coming back.
2. Holy Ghost! -- "Dumb Disco Ideas"
Not everything I think comes out of my mouth
1. Pusha T -- "Numbers on the Boards"
I knew this was my song of the year from the day I heard it. THIS BEAT. Yeezus eventually clarified the production ideas at work, but even 'Ye wasn't able to improve on what he created here.
Albums:
10. The Foals -- Holy Fire
A friend recommended Holy Fire, telling me that The Foals "command and convey the cosmos through their tones and tunes." I don't know about that, but it got me to listen to this terrific record. And for that, I am grateful.
9. Classix -- Hanging Gardens
It pays to dig through the piles of free CDs in The Current offices. This fun, poppy dance record is more light-hearted than Disclosure's offering and never fails to improve my mood.
8. Tyler, the Creator -- Wolf
Tyler gets it. He's my Joan of Arc.
7. Disclosure -- Settle
When a fire starts to burn -- right? -- and it starts to spread? She gonna bring that attitude home.
6. D/A/D -- The Construct
If there's a theme to my list, it is the synthesizer. Nothing on my list encapsulates that synthesized sound more than this radical record (except for possibly Giorgio Moroder pronouncing the word "synthesizer"). This album sounds like a crunchy saxophone solo wailing through Mario Kart's Rainbow Road.
5. Daft Punk -- Random Access Memories
My expectations for this record were so high; I still can't believe Daft Punk managed to exceed them.
4. P.O.S -- WDELH/MDS/RMX
Remix is such a repellent name. This album both complements last year's essential We Don't Even Live Here and stands on its own. And it is free. Marijuana Deathsquads' chaotic, dissonant contributions are appropriately anarchic and recast Stef's biting lyrics in a whole new light.
3. Janelle Monae -- The Electric Lady
Janelle's talent blows me away. We're watching a very special artist develop before our eyes. If you haven't yet, it's time to get on board this bandwagon. There is room for everyone.
2. Kanye West -- Yeezus
I wanted to dock Yeezus after Kanye cancelled his Minneapolis show, but I can't bring myself to do it. This record is the gospel. May we receive it.
1. Arcade Fire -- Reflektor
You know how it goes -- one minute you're listening to the Arcade Fire, and the next thing you know, you find yourself awake at 4:00 AM two weeks later reading the philosophy of Soren Kierkegaard. Our year-end music lists provide an opportunity for us to vanquish our reflektors. Pick your favorite songs and albums and don't worry about which ones are supposed to be the hippest or trendiest. Reading year-end lists to try to form an idea of 2013's best music = reflektor. Making your own list or reading year-end lists with the perspective that every list is subjective and there is no objective best album of the year = Not a reflektor.
Bonus:
Because videos are cool too.
Related Stories
Top 89: Staff Picks The staff and hosts on The Current share their opinions on this year's best music.
The Top 89 of 2013 Starting Dec. 31 at 4 p.m. we'll countdown the best songs, albums and artists of the year according to The Current's listeners.
Top 89 of 2013: Bonus Categories Don't forget to vote for our bonus categories, including best album, best concert and best new artist.