On The Ball with Mark Wheat: MN United FC coach Manny Lagos talks World Cup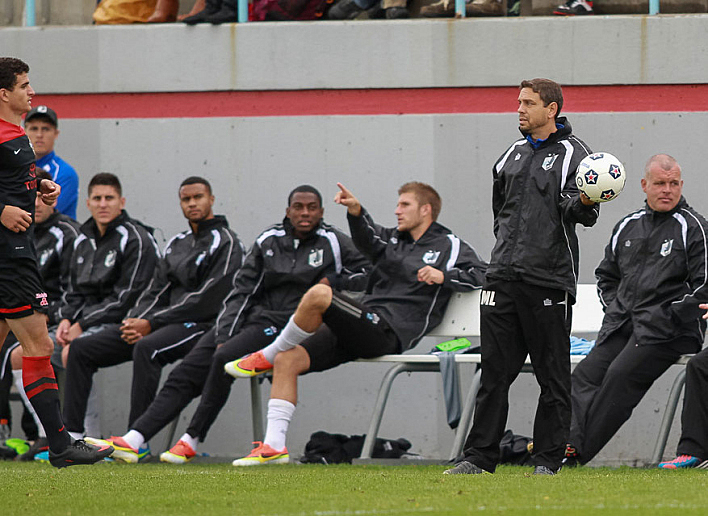 On the Ball with Mark Wheat is a new Monday feature on The Current that celebrates the connections between music and soccer, with an eye to the past weekend's results. Listen Mondays at 7 p.m. as Mark plays the music selection of the week.
This weekend the finale of the MLS season was not a cracking game as is often the case with Cup Finals, but it did break a few records. It was the longest ever and the coldest! Perhaps because they had a Norwegian goalie, Jimmy Nielsen, used to playing in those temps Sporting Kansas City won:
In warmer climes on Friday the draw for the 2014 World Cup Finals were made. Here are the groups: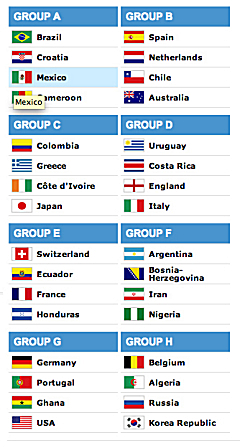 We thought we'd ask a local expert for a reaction to the draw. Manny Lagos was born in St. Paul, Minn., on June 11, the day before the finals begin in Brazil next year, so it seems appropriate to ask him. More importantly, he played in MLS for the Columbus Crew, earned three caps playing for the U.S. national side and is currently the Head Coach of Minnesota United F.C.!
After every draw, the media across the world establish which is "The Group of Death." This is deemed to be the toughest group to get out of and into the sudden death Second Round. Only two teams from the four can qualify and the Group of Death must have at least 3 or perhaps all 4 teams who are expected to go through. To me this year ,it's undoubtedly Group G: Germany, Ghana, Portugal and the U.S.A.!
Manny was immediately optimistic about our chances; here's what he had to say:
"We have some of the best world powers from the continents of Africa and Europe, and on paper, it's probably the hardest group. But you know, you can look and say, hey, the Ghana match-up hasn't gone our way in World Cups in the past, but they've been all great, close, games that could've gone either way. So I think psychologically maybe it's a good thing that we play Ghana first, where we can start the group strong and pick up points and then you go from there. So soon after the draw, I can only be totally biased right now, but let's go with USA and Germany to advance. Let's get nostalgic about our ability in 1950 to have a couple upsets and make it out."
Wow! He couldn't resist having a dig at this Englishman! For years, the '50 victory against England was the most famous the U.S. ever achieved. Next year, they may have to outdo that achievement. Perhaps it's good to have the U.S.A. up against the odds as they are more acquainted with performing as underdogs. They can take solace in the fact that Portugal have often under-performed in the past, but if Ronaldo is fit and has the right attitude, this must be his best chance to prove that he's the world's best player. The most intriguing game has to be against Germany — always strong favorites to go all the way, but our coach Jurgen Klinnsman knows them better than anyone!
Manny also agreed with the British press that England have a very tough group, with Uruguay, Italy and Costa Rica. The last final in 2010 was between Spain and the Netherlands, and they were drawn together with Chile and Australia. Perhaps this is the first final that will have three Groups of Death!
Speaking of death...EPL action this week saw the end of Man Utd's title retention chances. They've now lost 5 games, and no champion has ever lost more than 6. I wasn't too worried by the loss against Everton in mid-week; that was a cracking game. United made a ton of chances and hit the woodwork several times, and American goalie Tim Howard had a great game for The Toffees. But on Saturday, the return of Van Persie was tepid and we never really deserved to score. Newcastle did once and that was enough to give them an historic victory. They hadn't won at Old Trafford in 41 years!
Speaking of Premier League, I asked our special guest Manny Lagos if he supports an EPL team; here's what he had to say:
"I don't support any one club. I like good soccer, and so at the moment the teams I am following and enjoy watching are Arsenal, Bayern Munich and always Barcelona."
For our musical selection today, we asked our Manny for an appropriate song, and he came through for us BIG time! Not only does this suggest how tough it will be for Team USA, but it is also going out to Manny Lagos's wife Aimée as they celebrate their 13th wedding anniversary today!!
Wilco "Impossible Germany"
What do you think of the World Cup draw? Share your thoughts in the comments below
Resources
Related Stories
---
comments powered by

Disqus