Top 89 Staff Picks: Jay Gabler, Digital Producer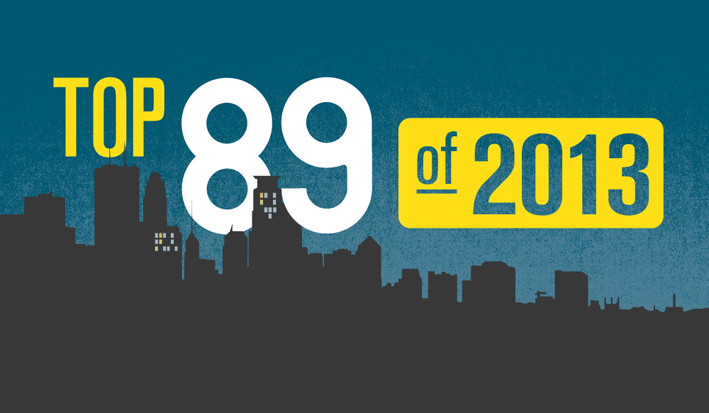 Love it or hate it, when the history books — er, blogs — are written, 2013 in music will be remembered as the year of Miley and Robin. When the former Disney starlet twerked up on the Beetlejuice-costumed IRL son of the Growing Pains dad, the world couldn't look away. Was Miley offensively appropriating black culture? Is Robin a misogynist cad? The substance of this year's musical debates was not dissimilar to the substance of the debates radio listeners were having in Elvis Presley's prime, and the songs were — if airplay and online streams are any indication — just about as addictive.
It was appropriate that the year's most iconic musical moment took place on MTV, since this might have been the year that video finally did kill the radio star. With Billboard incorporating YouTube streams into chart rankings, having a viral video became more important than ever. Ylvis became this year's Psy, and just about every major hit — from Robin Thicke's top-optional "Blurred Lines" to Miley Cyrus's steel-toed "Wrecking Ball" to JT's smooth-as-silk (iPad scene excepted) "Suit & Tie" — had a buzzworthy video to accompany it. Today, videos are more important to the music industry than they've been since MTV's mid-80s prime.
As for the music itself, it was an uneven year in the Top 40, with a few big singles dominating an unremarkable run-of-the-mill pack. Hip-hop and country music, America's two biggest genres, largely continued to talk past, rather than with, each other; it will take a breakout crossover artist to change that, and Cowboy Troy wasn't it.
On the indie scene, female-fronted synthpop acts had a big year, with Americana also staying strong. Below are my lists of the best songs and albums by artists you heard on the Current (yes, we played JT); for a list that includes Robin, Miley, and some others outside our wheelhouse, as well as a lot more local artists and others who narrowly missed making these top-tens, check out my Best of 2013 list on Spotify.
Songs
1. "Mirrors," Justin Timberlake. This epic track was the one truly great single from a comeback album that was artistically ambitious but tough to penetrate.
2. "Only a Clown," Caitlin Rose. A contemporary classic from one of several promising young singer-songwriters coming out of Nashville's indie scene.
3. "How Come You Don't Want Me," Tegan and Sara. "Closer" was technically released in 2012, so I'm giving this spot on the song list to the second-best song from my favorite album of 2013.
4. "Reflektor," Arcade Fire. I was a fan of this song from the first, but I had a moment of revelation on Thanksgiving Eve when Jake Rudh slipped this track in among the 80s hits he was playing at Transmission — and put in that context, it sounded even better.
5. "Black Skinhead," Kanye West. As a full album, Yeezus isn't in a league with its justly acclaimed predecessor, but this indelible track is latter-day Ye at his disturbing best.
6. "Love," Dr. Dog. One of the sappiest songs in the Philly country-rockers' long and illustrious career. Naturally, I'm totally into it.
7. "Dance Apocalyptic," Janelle Monae. Personally, I'm more about the peppy Monae than the funky Monae, so I didn't fall in love with this album the way many others did — but I could listen to this track about a billion times.
8. "No One's Gonna Know," Tristen. Another Nashville artist, Tristen took a synthier turn with her new album and I was blown away by the new material — this track in particular — she played this year when she came to the 7th Street Entry.
9. "Royals," Lorde. Sasha Frere-Jones of The New Yorker calls this song "perfect." I'm not sure if I'd go that far — but I wouldn't argue, either.
10. "Get Lucky," Daft Punk. The year's simplest, most guilt-free pop pleasure.
Albums
1. Tegan and Sara, Heartthrob. After the disappointing Sainthood, the Canadian sister act returned to form by taking a stylistic risk that paid off in abundance. There's not a single clunker on this concise collection, which is sweet to the ear but also complex enough to reward a lifetime of listening.
2. Tristen, C A V E S. I discovered Tristen when she opened for Justin Townes Earle in 2012, and I immediately fell in love with her album Charlatans at the Garden Gate. When she came back to town this year, she brought a whole set of new material that sounded almost nothing like Charlatans, yet was just as good. An artist to watch.
3. Caitlin Rose, The Stand-In. A lot of artists strive for that effortless 70s singer-songwriter vibe — and they sound like they're striving. Caitlin Rose just does it.
4. Lorde, Pure Heroine. Everyone's trying to understand how this New Zealand teen came out of nowhere to drop one of the best albums of the year. I won't even try to get to the bottom of that story; I'll just add my voice to the chorus of approval.
5. Noah and the Whale, Heart of Nowhere. This album came out in May, which is unfortunately an eternity ago for critics compiling year's-best lists. If you're looking for an album to change your life, give this shimmering disc a spin.
6. The National, Trouble Will Find Me. This quiet, intense album has that deep and focused Automatic-for-the-People feeling, and was immediately recognized as one of the year's best. Grab a hanky and find a quiet place.
7. Arcade Fire, Reflektor. Someone apparently goosed Win Butler, and his band shed the ponderous weight of The Suburbs for this superb, surprisingly danceable set.
8. Eleanor Friedberger, Personal Record. I tell publicists not to bother sending hard-copy CDs — download links are easier and more enviro-friendly — but Eleanor Friedberger's label sent a physical copy anyway, and once this multi-faceted, crisply-produced disc found its way into my car stereo, I didn't take it out for days.
9. Polica, Shulamith. I always thought Solid Gold would be the act to serve as Ryan Olson's emissaries to the world, but with two remarkable LPs, Polica have suddenly become the best-known practitioners of what I like to call the New Minneapolis Sound.
10. CHVRCHES, The Bones of What You Believe. This might be the most "2013-sounding" album on this list, a standout example of the synthpop vibe that the Current rocked all year and will — to all indications — continue rocking into 2014.
Related Stories
The Top 89 of 2013 Starting Dec. 31 at 4 p.m. we'll countdown the best songs, albums and artists of the year according to The Current's listeners.
Top 89: Staff Picks The staff and hosts on The Current share their opinions on this year's best music.