The Current's Guitar Collection: Gary Clark Jr.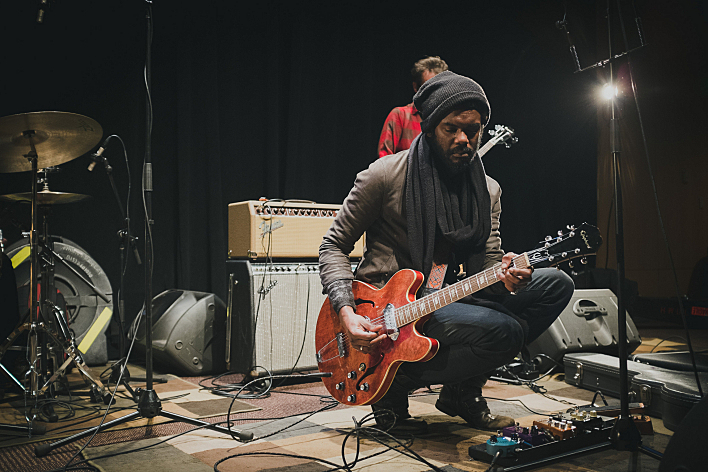 When Gary Clark Jr. visited The Current's studios for an interview and performance, we asked him about his guitar. Here's what he had to say.
Jill Riley: What was your first guitar?
Gary Clark Jr.:It was an Ibanez RX20. A black electric guitar, maple neck, humbuckers, simple little deal.
I've been YouTube stalking you for a little while now. I notice you play this guitar in particular a lot. Are you a big fan of Epiphone guitars, or is this the one that just feels right for you?
This one is the one that feels right. I got this a few months ago when I was in London. But the original, I went with Zapata [fellow guitarist] to this Musicmakers down in Austin. I was looking for a hollow body like all the blues greats had, you know? You see these guys with these big red Gibsons, and I didn't have any money to buy a Gibson, so we went in and looked for something inexpensive and found a stock Epiphone Casino. I've been playing them ever since.
When you went into the guitar shop, were you just wandering around London? Did you ask the person you bought the guitar from if they knew who played it before you?
He didn't know. He just said this guy brought it in and said it had been sitting under his bed for like 50 years and he wanted to sell it. So here it is!
Related Stories
Gary Clark Jr. performs live in the UBS Forum Austin, Texas, guitar player Gary Clark Jr. paid a visit to the UBS Forum at Minnesota Public Radio to play an intimate show for a live audience before his sold-out show that night at First Avenue. Between songs, he spoke to Jill Riley about his trajectory thus far and about his approach to music-making.
3 Photos
Gary Clark Jr. performs live in the UBS Forum at Minnesota Public Radio.

(Nate Ryan

)

Gary Clark Jr. performs live in the UBS Forum at Minnesota Public Radio.

(MPR photo/Nate Ryan

)

Gary Clark Jr. performs live in the UBS Forum at Minnesota Public Radio.

(MPR photo/Nate Ryan

)
View 2 more photos
---
comments powered by

Disqus