Album Review: Nick Lowe, 'Quality Street'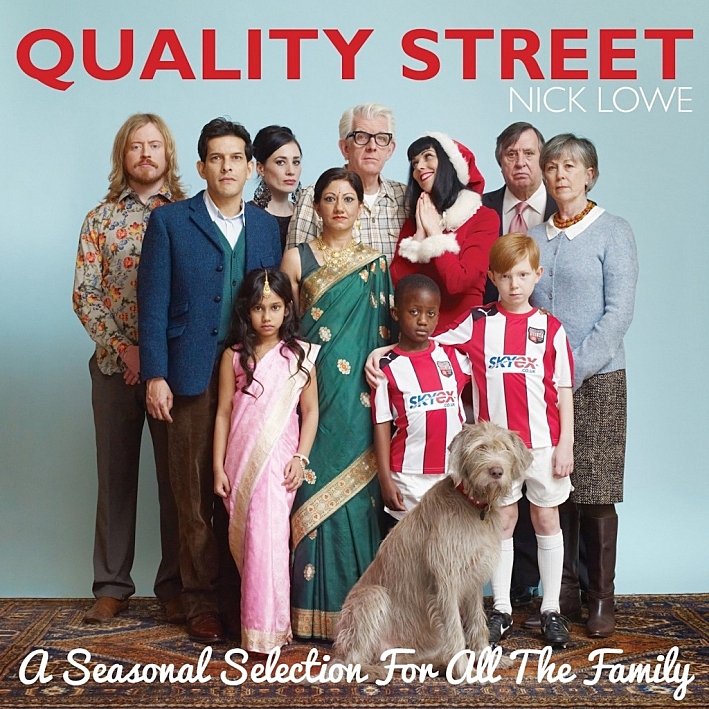 When Nick Lowe was first approached by his record company to write a Christmas album, he balked. First of all, if you think a holiday record is an uncool thing for an otherwise cool artist to make in the US, you might be surprised to learn they're even more scorned in the UK, where it's practically akin to turning to prostitution. Needless to say, Lowe was a bit taken aback by the suggestion. This is the guy, after all, who named his first album "Jesus of Cool."
But then he thought about it for, as he says, "about thirty seconds." It occurred to him that there was no reason just because most holiday records are tacky, lifeless rehashings of the same old ten songs that he had to do the same. So he gave himself an assignment: come up with a Christmas album he would be proud to put his name on.
The result is an utterly delightful holiday confection - and so it's not inappropriate that Lowe would title his record "Quality Street," after the tin of festive candies that are so plentiful on store shelves in the UK around this time of year. A colorful assortment of forgotten gems, traditional songs (that are far from the overplayed chestnuts), and originals, it's a record that Nick Lowe describes as "a sleigh-bell free zone."
The album opens with nothing less than a full-on spiritual, "Children Go Where I Send Thee," and then ups the ante with the Eddy Arnold classic "Christmas Can't Be Far Away" before delivering the first knockout Lowe original, "Christmas At The Airport." Somehow, Lowe manages to take what could have been a corny novelty song and create a future classic.
Then there are the collaborations: Ron Sexsmith penned the tune "Hooves On The Roof" just for Lowe, and Ry Cooder contributes lyrics to "A Dollar Short Of Happy" (Cooder had been just as shocked to learn this man he respected was doing a holiday album; Lowe tells the story of how one day he received an email with an unsolicited set of lyrics from Cooder which became the song - the holiday spirit sometimes softens the hardest of cynics!)
Other elegant choices include Roger Miller's "Old Toy Trains" and the ska-flavored take on "I Wish It Could Be Christmas Every Day," and if you think you've heard "Silent Night" more times than you'd ever care to again, you'll be pleasantly surprised at how Lowe whispers new life into the classic.
I've never been one for the "modern" Christmas album - give me Vince Guaraldi's "Charlie Brown Christmas" or give me death - but Nick Lowe's "Quality Street" seriously lives up to its name. For something brand new, it manages to sound completely timeless - precisely what I personally want in a holiday record. It's an amazing feat - but no surprise, ultimately, from one of the most esteemed and respected crafters of song alive today.
Have you heard the album? What do you think of it? Share your thoughts in the comments below.
Resources
Related Stories
Interview: Nick Lowe One of the most respected performers, songwriters and producers in music over the past 40 years, Nick Lowe, has recently released a holiday album, Quality Street. Joining The Current's Steve Seel by telephone, Lowe talks about the new album and about how his initial hesitation turned to enthusiasm.
Nick Lowe performs live in The Current studio Nick Lowe is kind of an enigma. Probably more well-known for the hit songs he has composed rather than his name, it's still easy to discern that he has a reputation in the music world, and a big one at that.
---
comments powered by

Disqus