Album Review: CHVRCHES, 'The Bones of What You Believe'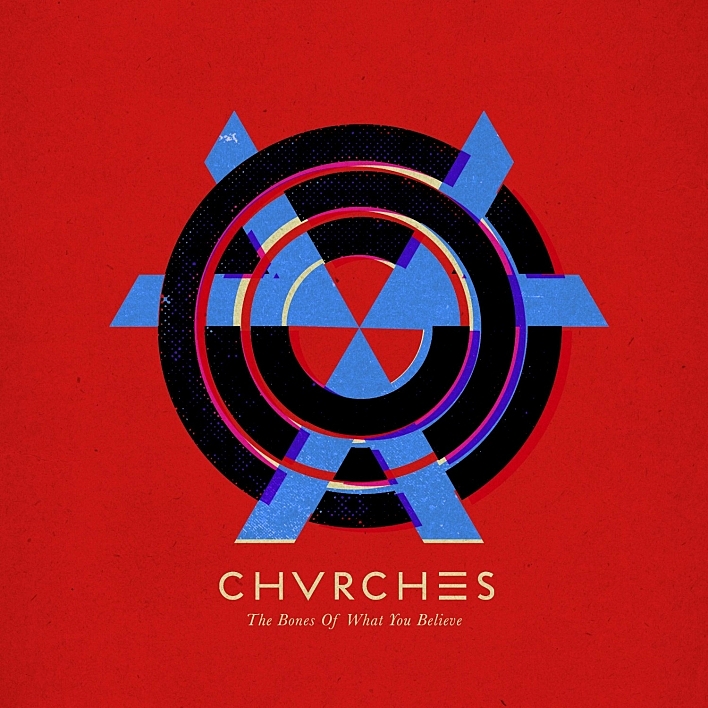 One primary trend that defined 2013 in indie music was the strength of the single and how one song could propel a band from complete obscurity to major label status.
CHVRCHES were one of those bands. With "The Mother We Share" — and then "Recover" — the Scottish trio quickly rose to stardom within the span of a year. It was an interesting progression to witness. Those songs literally got them signed to Glassnote Records, giving them labelmates like Phoenix and Mumford and Sons. From there, CHVRCHES were thrown into a nearly endless tour schedule, as well as the difficulty of actually creating a debut record which they could translate to a live setting. With just an EP on hand, it could be a challenge, and one that could make the band fail miserably under the weight of so much stress. And to be honest: a lot of the music world was watching to see what would transpire.
However, CHVRCHES surprisingly ended up releasing one of the most acclaimed debuts of 2013. Considering the amount of blog buzz and accompanying troll-hate from Internet dwellers, the record could have been a haphazard disaster. Instead, we got an almost immaculate recreation of '80s synth pop, albeit much darker than the bubblegum tendencies of that genre and era.
Perhaps I'm biased in my opinion of CHVRCHES — The Bones Of What You Believe is my favorite record of the year. It's not awesomely groundbreaking, nor is it perfect. But to be honest, I'm not looking to be completely blown away by a new sound experiment. Sometimes, the most straightforward music is the most pleasing and most effective.
That's probably why "The Mother We Share" became such a success. Lauren Mayberry sounds earnest with her young voice, and her range doesn't uniformly hit a stride like it does in the chorus. But she's singing her heart out, and the build pays off every time you listen to this song. More than a year later, it still sounds fresh. That's remarkable considering it's a rehash of a bygone sound.
The Bones Of What You Believe is a record divided by style. The first five songs are all tracks which were a) singles, or b) could be potential next singles. These are big anthems. "We Sink" drives relentlessly, "Gun" shimmers like the best of M83 (and the video is awesome), "Tether" slows it down before gradually easing into an absolutely glorious synth breakdown, and "Lies" is a dark exploration of the lower tones of CHVRCHES. And then Martin Doherty takes over vocals for "Under The Tide," a song which has become a live favorite. It allows Mayberry to take a step back and give the male timbre a chance to shine. And if there is one thing this record is missing, it's more of the Mayberry/Doherty duets. They complement each other better than most pairs this year in music.
So while the first half of the record is front-loaded with gems, that doesn't mean that the rest is for nought. CHVRCHES employed smart sequencing, throwing "Recover" in as the midpoint highlight track before going in a different stylistic direction, mostly evident by the hard-hitting "kill kill" refrains and relentless, pounding rhythm of "Science/Visions."
CHVRCHES didn't rush through the production of this album. Even when they were in over the summer at The Current for their first in-studio, the band members were still hard at work recording in between shows and promo stops — and that process had been going on for months prior. When you're a band who explode so quickly, you are working 100 percent of the time to keep up with a voracious live demand, in addition to actually producing songs that fans can recognize when they see you on stage.
And so this young Scottish trio succeeded, creating a cohesive and beautiful pop record that helped them hit #12 on the Billboard charts in their first week. That's a huge achievement alone. But when the critical reviews come in overwhelmingly positive, you've got another thing to celebrate. That's why I think we'll look back in 10 years and still say, "Remember that CHVRCHES album? That was a good one."
Have you heard the album? What do you think of it? Share your thoughts in the comments below.
Resources
Related Stories
---
comments powered by

Disqus