On The Ball with Mark Wheat: Not Spurning Spurs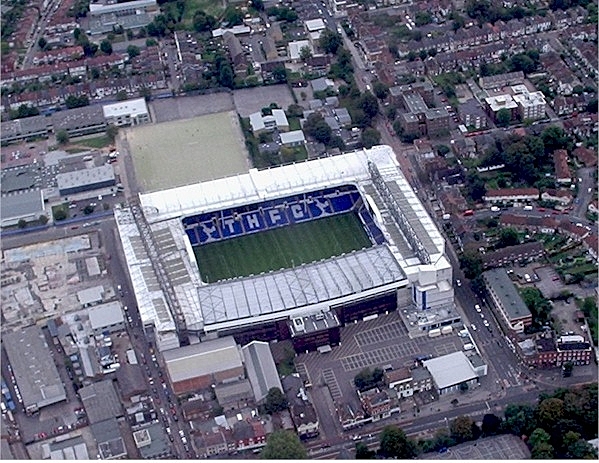 On the Ball with Mark Wheat is a new Monday feature on The Current that celebrates the connections between music and soccer, with an eye to the past weekend's results. Listen Mondays at 7 p.m. as Mark plays the music selection of the week.
RIP Eusebio. As a kid I used to pretend to be him rather than Pele after Eusebio's extraordinary feats in the 1966 World Cup for Portugal.
Thanks for all the bold predictions last week! I'll keep a record of them and see if any of us nails it! As you might remember I went against my fandom and predicted that Spurs would beat out Man Utd for the all important fourth place. This looks even more likely after Spurs won at Old Trafford on Wednesday, the last of the tortuous 12 days of Xmas footie spectacular, like Bowl season here, but with all the teams playing in all the games! So I thought it only right to hand over the column to a Spurs fan this week! One of the only MPR hosts that I can have serious soccer talk with is Fred Child, host of Performance Today. He tells a great story about growing into the game and even comes out as a goalie too (as I did a few weeks ago) So we get to celebrate another wonderful coming together of music and the beautiful game...
How is it that an American classical music radio host owns half a dozen Tottenham Hotspur shirts and is a rabid Spurs fan? Soccer was wildly popular when I was growing up in Portland, Ore., in the late 1970s and early 80s. The Portland Timbers of the old NASL turned Portland into "Soccer City USA" for several years. (Our song: "Green is the Color, Soccer is the Game.")

I was goalkeeper for my high school team, and much of my footie education came from weekly games on our local PBS TV station. They compressed one English game a week into 60 minutes for American viewing. I stumbled across this as a high school senior in 1981, and...anyone remember Wembley's Goal of the Century?

Spurs won the FA Cup that year, thanks to Ricky Villa's pirouettes. I was hooked. Plus: what a trippingly-on-the-tongue name: "Tottenham Hotspur"!

My job took me to London in the fall of 2002 (hosting the NPR broadcast of the Last Night of the Proms from the Royal Albert Hall), and wouldn't you know it...Spurs had a game next day! I went to White Hart Lane, elbowed in for beers (served only until 15 minutes to game-time), watched American keeper Kasey Keller and Spurs defeat West Ham 3-2. (Best memories: Robbie Keane's Spurs debut, and profane opera-based chants every time Paulo Di Canio touched the ball [NSFW, language]).

A clinching local connection for me: Kasey Keller played his college soccer in my hometown, at the University of Portland. A musical aside: in a historic 1998 USA victory vs. Brazil, Keller gave "the best performance by a goalkeeper I have ever seen" (Romario said about Keller), and for that was immortalized in 2000 by the band Barcelona with this song simply called "Kasey Keller.": (Here's another video of the song, with game footage of Keller's saves.)

Another musical Spurs connection for you: Clint Dempsey had a fine 2012-2013 season for Tottenham, starting 22 games, scoring 7 league goals, 12 total. (Including a game-winner at Old Trafford -- sorry, Mark Wheat!) And: Clint is a rapper of sorts. Under the name "Deuce," he teamed up with Houston rappers Big Hawk and XO for "Don't Tread."

Spurs had an disappointing first weekend of 2014, bowing out of the FA Cup with a 2-0 loss to Gunners on Saturday. But -- that'll allow us to concentrate on the league, yes? Only 2 points from the top four with half a season to go, and lots of new energy with our new manager on the sidelines, I foresee Champions League for Spurs next fall...

Arsenal v Spurs, FA Cup recap (via DailyMotion)

Arsenal vs Tottenham (2-0) - FA Cup | Goals (04... by 90minutesFR
Thank you, Fred! Here's that song "Kasey Keller" by Barcelona:
Did you watch any FA Cup games this weekend? What are your thoughts?
Resources
Related Stories
On The Ball with Mark Wheat: Prediction Time As the Premier League reaches the critical Christmas-New Year's week, it's time to make predictions. Have a look at Mark Wheat's picks and then share your predictions. And of course, Mark also has a music pick; this week, it goes out to Hull City.
On The Ball with Mark Wheat: Premier League managers feel the heat Being a Premier League manager is a tough job; four out of the bottom five clubs have sacked their managers. Malky Mackay and Sam Allardyce hold on to their jobs, but for how long? Plus, a look at some highlights from the weekend and today's London derby, and a music pick for the Kop at Anfield.
On The Ball with Mark Wheat: Weekend Goal Fest A crazy weekend in the Premier League brought goals aplenty and two sacked managers. Plus, we give a shout-out to a Minnesota-bred goalkeeper in the Premiership, have a look at the Champions League draw and make a music pick based on Man City.
---
comments powered by

Disqus