The Colourist perform in The Current's studios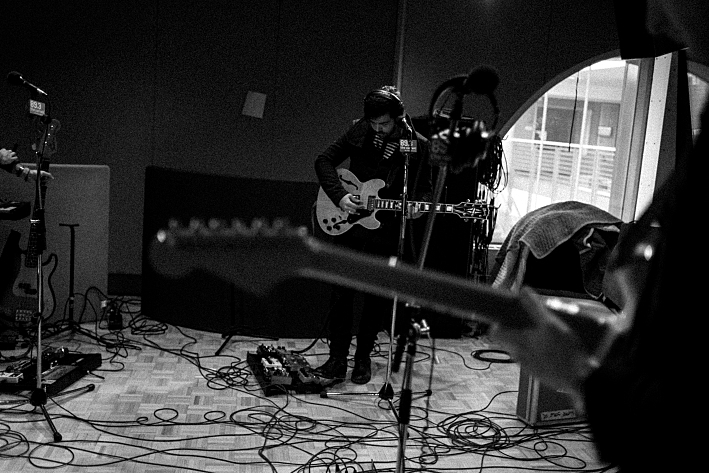 The Colourist's drummer, Maya Tuttle, says she and her bandmates have been to Minnesota before. "But it was 70 degrees that time; we could go outside in T-shirts and we were fine," she says. "Now we're freezing."
It's a point The Current's Jill Riley concedes to the Orange County, Calif., based pop quartet on a day that's -12° F, but Tuttle looks beyond the superficiality of the weather. "The people here are cool," Tuttle says, "and the food is great."
On tour supporting Panic at the Disco, The Colourist stopped in to The Current's studio to play a few songs and to chat with Jill Riley about their recent EP and their upcoming full-length, both produced by Carlos de la Garza, who has worked with such artists as Travis and Tegan and Sara.
Tuttle and front man Adam Castilla trade off talking about how the band came together (including an apocryphal story of guitarist Kollin Johannsen's purported experience in a Van Halen tribute band), about where the EP title Lido came from, what it was like performing in a TV commercial for Nokia, and what fans can look forward to in 2014 — including a forthcoming full-length album and gigs at SXSW and a show announcement for Friday, April 4, at the 7th Street Entry in Minneapolis.
Songs Performed
"Little Games"
"Yes Yes"
"We Won't Go Home"
All tracks off The Colourist's 2013 EP, Lido, on Republic Records.
Hosted by Jill Riley
Produced by Jade
Engineered by Michael DeMark and Andrew Danielson
Guests
Resources
Related Stories
Grizfolk bring SoCal and Stockholm to The Current studios Adam Roth left the south to pursue music in Los Angeles. It was there he met up with two producers from Stockholm who inspired him to meld his Americana roots with electronic production. Thus, Grizfolk was born, and it's been a quick ascent to the spotlight since then.
Buffalo Moon perform live for The Local Show Three years since their last performance in our studios, Buffalo Moon has gone through big changes in that time. Most notably: lead singer Karen Freire made the move to New York to clear her head after some personal trials. That transition follows the path of so many other local acts in recent years -- members splitting time between Minnesota and other places out-of-state.
11 Photos
Drummer Maya Tuttle and bassist/multi-instrumentalist Justin Wagner of The Colourist.

(MPR photo/Nate Ryan

)

Guitarist Kollin Johannsen of The Colourist in the studio of 89.3 The Current.

(MPR photo/Nate Ryan

)

The Colourist loaded in to The Current's studio for a live session with Jill Riley.

(MPR photo/Nate Ryan

)

The Colourist prepare to perform live in The Current's studios.

(MPR photo/Nate Ryan

)

The Colourist's drummer Maya Tuttle performs live in The Current's studio.

(MPR photo/Nate Ryan

)

The Colourist's Adam Castilla in the studio of 89.3 The Current.

(MPR photo/Nate Ryan

)

The Colourist's Adam Castilla

(MPR photo/Nate Ryan

)

The Colourist's Kollin Johannsen

(MPR photo/Nate Ryan

)

The Colourist's Adam Castilla sings in the studio of 89.3 The Current.

(MPR photo/Nate Ryan

)

The Colourist's Maya Tuttle

(MPR photo/Nate Ryan

)

The Colourist's Justin Wagner (L) and Kollin Johannsen (R)

(MPR photo/Nate Ryan

)
View 10 more photos
---
comments powered by

Disqus