The Current's Guitar Collection: Ross Clark of St. Lucia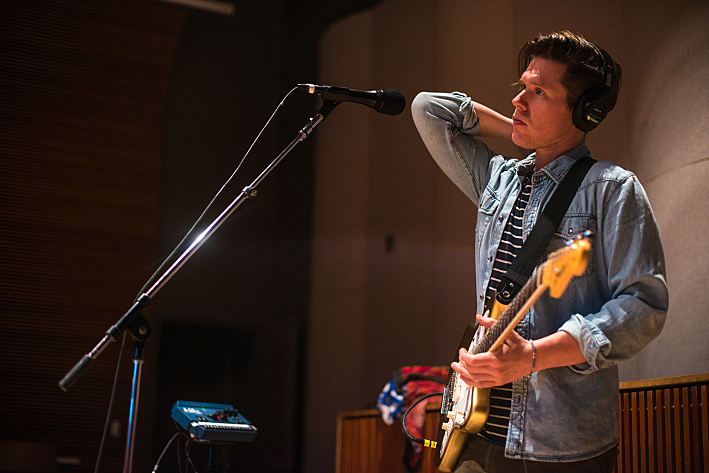 Ross Clark is a guitarist and bassist with New York-based band, St. Lucia, who recently visited The Current for an in-studio session. For Clark, it was a homecoming of sorts; he attended McNally-Smith College of Music from 2004 to 2006, during which time he lived off Wabasha Street just a few blocks from Minnesota Public Radio.
Clark took a few minutes to talk to us about his guitar (including the ill effects Minnesota's weather had on it), about his favorite effects and about songwriting — both in the studio and on the road.
It looks like you're playing a Fender Jazzmaster.
Yes, absolutely.
Do you remember where you got it and how long you've had it?
Yeah, I actually just got it — the people at Fender have been really awesome to us and helping us out with a lot of our gear. I think I've had it for almost a year now.
Before this, I was playing a Fender Telecaster, a thinline — you know, the Humbucker sound. In New York, I used to do a lot more freelance work before St. Lucia started taking up more time, so the Telecaster was more like a working man's guitar, a good workhorse; I could play a lot of different styles on it.
The Jazzmaster has that just-left-of-right sound. It's not a Tele, it's not a Strat. It has its own unique sound, and you can get that nice, punchy, funky sound with it as well. So I really love this guitar, absolutely. Even though it's a little dinged up, now. This is the first night that the wood is a little cracked and stuff, so I'm a little bummed about that.
Was it the weather? [Temperatures reached -18° F in Minneapolis the night before.]
Yeah, it's definitely a result of just how cold it is here. Because literally yesterday, it was fine, and then today, I took it out and there are cracks all over it. But what are you gonna do? It's Minnesota!
Speaking of, you've lived around here before. Did you study guitar and bass when you were a student at McNally Smith College of Music?
I studied guitar there for two years before transferring to a The New School for Jazz and Contemporary Music [in New York]. But yeah, I did study guitar at McNally Smith. I was a little bit more of a jazz nerd back then.
You've got quite an effects rig — which ones are your favorites?
I think it's funny because I really love this Diamond Bass Compressor. It's just amazing, especially for the price, and it's really portable. It's a really great one. The Big Muff is also just awesome for overdrive and bass — I don't think there's anything better for me. The digital reverb, the RV-5, the Boss pedal — that's my favorite reverb I've ever heard. The Boss CE-20, the chorus pedal, they don't even make those anymore — a lot of people just hated those, I think, but I love it. It's got the coolest chorus sound. You get that real African vibe, that Rhythm of the Saints, Paul Simon thing out of it, which I really dig.
The Memory Man is also a nice delay, and I love the Boss DD-7; it's my go-to. That's just awesome. It's never enough, though. It's never enough. You always could do with more pedals. There's always something more you can get.
St. Lucia's songs are deeply layered. How do you as a band work together on arrangements?
A lot of times, Jean[-Philip Grobler, front man of St. Lucia] will have an idea and he'll have it kind of sketched out. He'll have it on a computer, he'll have it all kind of produced then call me in. For example, the bass line on "Elevate," I wrote that. Usually, I have to really think about what I'm going to play the first time; he usually keeps the first thing I play. He doesn't like it if I think about it too much. So I really have to go, "All right, he's going to ask me to play something, so I really have to have something I feel proud of on the first go." Otherwise, he's going to keep it and say, "No, you can't come back in to re-record it." So yeah, he'll usually bring something and I'll record a guitar part or bass part or some cool little ideas we've done. He usually has the product and he kind of brings the rest of us in to add our own little takes, spice it up a little bit.
And we've written on the road! After the Two Door Cinema Club tour, we were driving back to New York from Nashville. Some of the other band members were gone; they flew back or whatever. But basically during that whole car ride, we just wrote and recorded guitar stuff. Jean had a cool guitar MIDI interface thing which was taking the signal directly from the guitar and turning it into a MIDI signal, which is a really interesting tool to write with.
So you were actually writing and recording demos on the road.
Yeah — it's kind of cool. We can't always get to a studio, and just having the ability to just get the ideas down before the initial inspiration goes away is really important.
I think now, these days, we all have the tools to be able to do that. It's kind of amazing.
Resources
Related Stories
2 Photos
Ross Clark's Fender Jazzmaster

(MPR photo/Nate Ryan

)

Ross Clark's guitar effects rig.

(MPR photo/Luke Taylor

)
View 1 more photos
---
comments powered by

Disqus