On the Ball with Mark Wheat: Like a Pass in Reverse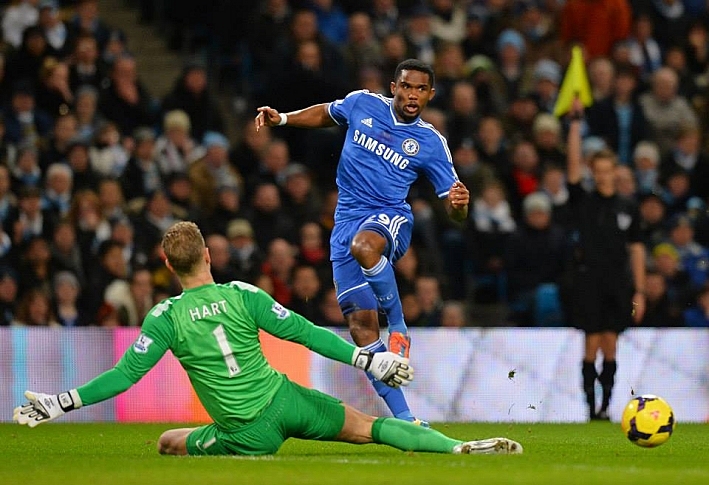 On the Ball with Mark Wheat is a new Monday feature on The Current that celebrates the connections between music and soccer, with an eye to the past weekend's results. Listen Mondays at 7 p.m. as Mark plays the music selection of the week.
As I'm writing this, Manchester City and Chelsea are playing and I've been following the BBC's live text updates. Today's game is a big one for both teams [Update: as this page published, the game ended at Etihad Stadium: Manchester City 0 - 1 Chelsea. Match report via BBC Sport]
Meanwhile, the rest of the Top 4 contenders had a mixed weekend. Arsenal showed great patience to break down a very organized Crystal Palace. The returning Alex Oxlade-Chamberlain took both of the team's best chances. That augurs well for England in Brazil, as Oxlade-Chamberlain is one of the most promising new talents who should be in the World Cup squad.
Arsenal v Crystal Palace highlights (via NBC Sports)
Everton showed great character, coming back from behind against Aston Villa, while Liverpool and Spurs showed a little less character in drawing with less-accomplished sides.
Man United had absolutely no character whatsoever in losing to Stoke for the first time ever in Premier League history! This, despite having all the big guns back: Van Persie, Rooney and Mata together for the first time wasn't enough, none of them seem to have that character, the passion to get a side fired up to do better. They looked really fragile when injuries to Jonny Evans and Phil Jones decimated the defence. So the next big import has to be a quality defender.
Stoke City v Manchester United highlights (via NBC Sports)
That means that I probably will not bother making a road trip this summer to see Manchester United in the new International Champions Cup: United play Roma in Denver on July 26. Whereas area Liverpool fans might wanna go to Chicago on the same day to see Liverpool play Greek side Olympiakos.
I will make a short road trip up Portland Avenue this Thursday, however, to have lunch with two-time Olympic gold-medal winner and 2012 FIFA Coach of the Year Pia Sundhage at the American Swedish Insitute! Our digital producer, Luke Taylor, is coming with so we'll have photos and a report on the blog next week if you can't make it there (pre-registration is required).
Sundhage is the former U.S. Women's National Team coach and current head coach of Sweden's Women's Team. The U.S. Women had another good win at the weekend, extending their unbeaten run at home to 78 games by beating arch-rivals Canada 1-0. So let's celebrate women playing the game with our musical feature this week. I was literally stunned to watch this video of life-long soccer player Annie Clark, aka St. Vincent, doing tricks usually reserved for Brazilian beaches:
How to do a Rainbow Kick with St. Vincent (via Pitchfork)
And she just released a video for her forthcoming new self-titled album:
Which game did you watch this weekend? What are your thoughts? Share them in the comments section below.
Related Stories
---
comments powered by

Disqus