Erik Koskinen performs in the Radio Heartland studio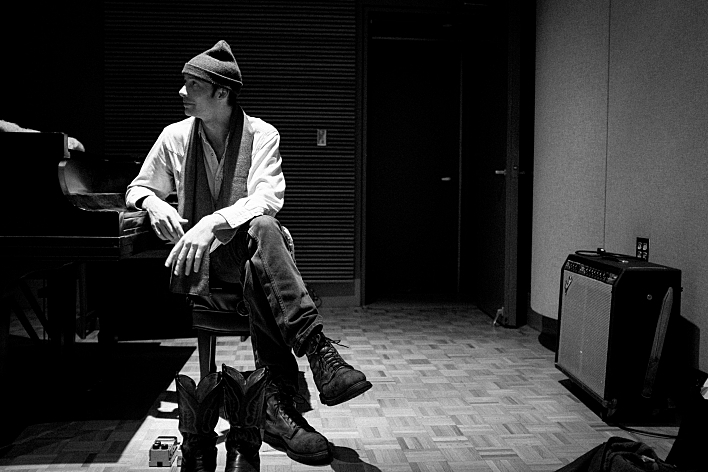 Even though he's only been in town for less than ten years, Erik Koskinen is everywhere. You can't walk into a music club somewhere in the Twin Cities without seeing a tall, lanky guitar player with a hat...playing the HECK out of his guitar.
Erik is originally from Michigan, but he's also lived in New York state and even spent time in Nashville, Tenn. The Twin Cities is now home to Erik. He is a guitar player's guitar player and a part of several bands: Molly Maher and Her Disbelievers, The Real Phonic Band; he sits in with everybody who's anybody ... oh, and he's also in the Erik Koskinen Band.
Erik also writes songs, and listeners at clubs often shout out things like "Pretty Girls!" or "Six Pack of Beer!" — names of just two of the many songs Erik has written.
Koskinen has a brand-new album of original material called America Theatre. The album release show is Thursday, Feb. 20, at the historic James J. Hill Library in St. Paul. Erik and his band stopped in the Radio Heartland studio to play a few tunes from the album.
Songs Performed
"First Time in Years"
"Six Pack of Beer and a Pack of Cigarettes"
"Nothing Without You"
Guests
Erik Koskinen
Paul Bergen
Steve Garrington
JT Bates
Resources
Related Stories
Erik Koskinen - Six Pack Of Beer and A Pack Of Cigarettes Erik Koskinen - Six Pack Of Beer and A Pack Of Cigarettes, from the new album "America Theatre."
Dead Man Winter performs in The Current studio When Dave Simonett, Ryan Young and Tim Saxhaug are not playing at break neck speeds in Trampled by Turtles they can be found with electric instruments in tow performing as Dead Man Winter. Joined by country blues guitarist Erik Koskinen, and drummer Noah Levy, Dead Man Winter takes the tempo down a few notches from Trampled by Turtles and adds a bit of country charm.
9 Photos
Erik Koskinen performs in studio on Radio Heartland

(MPR photo/Nate Ryan

)

Paul Bergen on guitar with Erik Koskinen in the Radio Heartland studio.

(MPR photo/Nate Ryan

)

Steve Garrington (from Low) provides bass accompaniment to Erik Koskinen.

(MPR photo/Nate Ryan

)

Paul Bergen on the Fender Telecaster during Erik Koskinen's in-studio at Radio Heartland.

(MPR photo/Nate Ryan

)

Bassist Steve Garrington in the Radio Heartland studio.

(MPR photo/Nate Ryan

)

Erik Koskinen performs in the Radio Heartland studio

(MPR photo/Nate Ryan

)

Drummer JT Bates accompanies Erik Koskinen in the Radio Heartland studio.

(MPR photo/Nate Ryan

)

Paul Bergen on guitar

(MPR photo/Nate Ryan

)

Erik Koskinen tunes his guitar before playing in the studio of Radio Heartland.

(MPR photo/Nate Ryan

)
View 8 more photos
---
comments powered by

Disqus